Joseph Parker vs. Dereck Chisora Analysis & Picks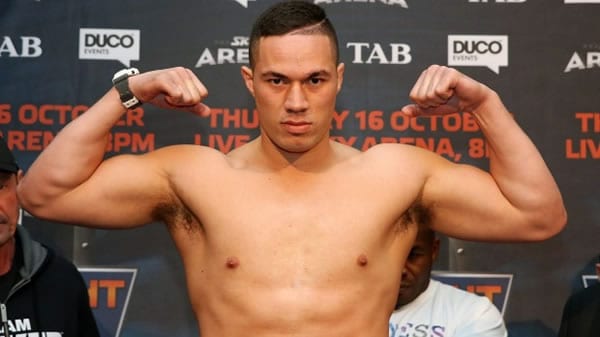 Joseph Parker (28-2, 21 KOs) vs. Dereck Chisora (32-10, 23 KOs)
When: Saturday, May 1, 2021
Where: Manchester Arena, Manchester, England
TV: PPV
Weight Class: Heavyweights
Betting Odds:
Joseph Parker (-165), Dereck Chisora (+135)
Fight Analysis
In a key heavyweight showdown, contenders Joseph Parker and Dereck Chisora tangle at the Manchester Arena on May 1. The winner of this fight could end up in some big fights, while the loser goes to the back of the pack. For Parker, the former WBO champ, losses to Anthony Joshua and Dillian Whyte made him lose steam, but he looks for his fifth straight win to get back in the big-fight picture. For Chisora, eight years older at 37, he looks for another big win in an up-and-down career that finds him still a dangerous fighter even at this late stage. Let's break this one down!
Parker is an interesting study. Losses to Whyte and Joshua slowed him down, but he went the distance against those two heavy-hitters. And his body of successful work, which includes wins over Carlos Takam and Andy Ruiz, among others, shows he belongs in the upper reaches of the division. At 29, however, there is diminishing heat around Parker's name. At one point, he was a young titleholder with promise, but along the way, something went wrong.
During his reign, we saw Parker stop developing. He became more conservative in his approach. As opposed to getting better, he seemed to get worse. It's like he couldn't get out of his own way. And nothing against decorated trainer Kevin Barry, but there is some renewed hope now that Parker has enlisted former middleweight champion Andy Lee, who can maybe tap into some of Parker's potential. And there is a lot to like—good athleticism, youth, proven durability, and a ton of top-level experience. Can Lee help him reemerge as an appealing X-factor in the division? Or will Parker just remain an afterthought?
DEPOSIT $100 AND RECEIVE AN ADDITIONAL $100 FREE AT MYBOOKIE SPORTSBOOK! (MUST USE BONUS CODE PREDICT100 WHEN REGISTERING FOR AN ACCOUNT!
Chisora is an unusual study in modern heavyweight boxing. He just won't go away. He has almost managed to carve out a different set of standards for himself, where losing isn't necessarily the end of the world. Chisora has fought them all—Tyson Fury (twice), Robert Helenius, David Haye, Vitali Klitschko, Kubrat Pulev, Dillian Whyte (twice), and Oleksandr Usyk. And while he usually comes up short at the highest levels, there are still a lot of fighters who were more highly-regarded than Parker is now who struggled mightily and were even maybe fortunate to get the nod against the erstwhile Chisora.
When you plunk your money down on Chisora, you can never be too sure what you're getting. He has come into the ring with a wide range of condition in recent years. And that can also apply to his overall level of motivation. With double-digit losses, Chisora simply doesn't always deliver. And the range of what you might get as a bettor supporting him is wide. Will you get that possessed, take-no-prisoners, brawler with a cast-iron jaw and an unbreakable will? Or will you get the going-through-the-motions Chisora looking to cash yet another nice paycheck? You just don't know.
Career trajectory-wise, it's hard to pick against Parker. He's on a roll, and while he hasn't been titillating, getting a new corner to work with should give way to an at least focused and somewhat energetic performance. Now, Parker is no Usyk, the former cruiserweight king looking to move up to the big boys, but Chisora looked fairly impotent against Usyk. And while he's not necessarily shot, a tough career of nearly 15 years could be catching up.
There are some matchup components that don't paint Chisora's hopes in a great light. First off, after sponging the blows of guys like Ruiz, Joshua, and Whyte without adverse effects, what can Chisora do? Power-punching is Chisora's game, and he's not as strong as some of the guys Parker has already survived. Chisora also needs a certain amount of cooperation from his opponents in order to get cooking. Chisora needs a guy to open up and trade to give himself a chance to shine in free-swinging exchanges. But even if he opens it up a little, Parker is a more-measured fighter who isn't likely to relinquish his advantages in height and reach to meet Chisora in the trenches. And whether Chisora still has the drive, conditioning, and heart to pursue a more unwilling combatant remains to be seen.
Still, some fairly recent results suggest that Chisora might not be hopeless in this proposition. He is still good enough to knock out guys like Takam, Artur Spzilka, and David Price. And in his first fight against Whyte, a tip-top contender, he lost only a split decision, doing better against Whyte than Parker did. When we see that Parker has been enjoying better results overall, it's important to remember the context. Chisora's roster of opponents is almost unmatched in this division, so his failings need to be kept in perspective.
I just think that these two fighters are intersecting at a time that is more favorable for Parker. I do anticipate a small surge with the new trainer. Conversely, I think we may have reached a point in Chisora's career where the surprises will come less frequently. He is still an X-factor, and if he gets in great shape and enters the ring with the right mindset, I think he deserves to be just a +135 dog. Following his career, however, that is no guarantee. I see a fairly routine points win for Parker in this one.
My Prediction to Win the Fight:
I'm betting on Joseph Parker at -165 betting odds. I think he has more in the tank and a better overall winning disposition with a new trainer and four straight wins. Which version of Chisora manifests in this fight is anyone's guess, but even a higher-end Chisora could be up against it versus the measured and iron-chinned Parker. Bet your Parker/Chisora pick for FREE by scoring a 100% real cash bonus on your first deposit of $100 to $1000 at BetNow Sportsbook!