Mike Tyson vs. Roy Jones Jr. Fight Analysis & Picks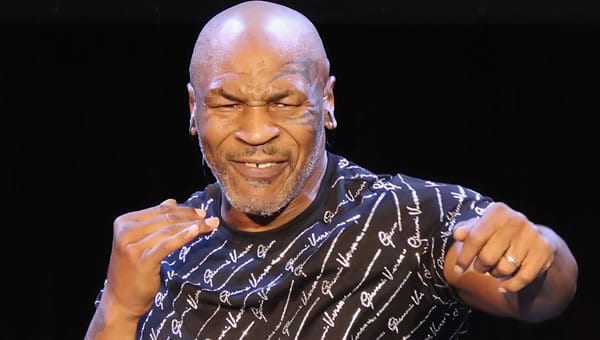 Mike Tyson (50-6, 44 KOs) vs. Roy Jones, Jr. (66-9, 47 KOs)
When: Saturday, November 28th, 2020
Where: Staples Center, Los Angeles, California
TV: PPV
Weight Class: Heavyweights: 8 Rounds
Fight Analysis:
Betting Odds: Mike Tyson (-175), Roy Jones, Jr. (+145) Bet your Tyson vs. Jones Jr. picks for free by taking advantage of a 100% real cash bonus at MyBookie! Simply deposit anywhere from $100 to $300 and they'll match your deposit dollar for dollar! You must sign up through this special link to take advantage of the offer! (Must use bonus code: PREDICT100)
Former Heavyweight Champion "Iron" Mike Tyson takes on ex-champion Roy Jones, Jr. in an eight round heavyweight exhibition match on September 12. It was a fight that was briefly toyed with in the '90s but never came to fruition. But with Tyson feeling the itch again and wowing audiences with some recent workouts, along with Jones still fit and not far-removed from action himself, we're getting this in 2020, which is somewhat mind-blowing. Can Tyson come back and still make noise in the ring after all this time away from the sport?
One of the first things we need to do is figure out what "exhibition" means. It has been a long time since exhibitions involving big-name fighters were in fashion. In the '70s, Muhammad Ali engaged in some high-profile exhibitions, namely with wrestler Antonio Inoki and football player Lyle Alzado. They were sometimes spirited affairs, but not with the same bloodthirsty approach you'd see in a regular fight. One of the reasons Ivan Drago was such a villain in Rocky IV was because he killed Apollo, not in a fight, but an exhibition. It's a fight, but it's not a regular boxing match, giving this a bit of funky feel.
But on the surface, it appears they are serious and since they are both boxers, what else can they really do but go at it? I wouldn't expect either one to be particularly cutthroat, but in an eight-round bout, it's bound to get serious at some point. And if that's the case, I think Tyson is going to be hard to stop.
Tyson, 54, has been out of action since 2005. And he didn't leave a good last impression, getting stopped by the likes of Kevin McBride and Danny Williams. And if anything is less-than-bankable, it's a 54-year old fighter who hasn't tasted victory in over 17 years. Still, there is something to be said about his turnaround in life—how he grew wiser and started looking after himself better. Footage shows him looking lean and mean and dare I say, quite fearsome. That's just focus-pad work, though, and we just need to entertain the notion that it would not register as a shock if this fell flat. Just to be writing a Mike Tyson fight preview at this point is surreal.
Roy Jones. Jr. is a Hall of Fame fighter, a unique fighter who did things in the ring we've never seen. And having been active as recently as 2018 would appear to give him a big edge. The former multi-division champion, who was nearly untouchable in his prime, has fought nearly two dozen times since Tyson last graced a prize ring. Not all those times were good, however, and Jones' fall from grace has been far more precipitous than Tyson's. At one point, whenever Jones took on a good fighter, he'd be left for dead in the ring—one violent KO loss after the next. It has been a decade since he's been a viable fighter. In the 2010s, he was still able to beat so-so opposition but was squashed whenever he tried to step up.
So on the one hand, you have a more recently active fighter in Jones, but one who has really been chewed up and spit out by the biz more than Tyson. He's only a few years younger than Tyson. And while he's a cruiserweight/heavyweight now and by no means in bad shape, Tyson is such a naturally bigger man, having been a heavyweight since he was 13 years old. Jones' best work was in the 160-175 pound range.
There are still some reservations in giving a full endorsement to Tyson. Activity counts for something, and at the very least, Jones has shown himself to be presentable. The only time he has been embarrassed has been against world-class fighters. And even if those weren't heavyweights, they also weren't men in their mid-fifties who first shot into prominence during the Reagan administration. Jones has shown he can perform in the ring. It might not be great anymore. It certainly hasn't been against good opposition. But at this age, just going rounds, keeping it together, and performing without issue counts for a lot. We don't know if Tyson can still do this. Not all men this age can hop in the ring, go rounds, and have it pass the sniff-test.
I still think whatever questions we may have about Tyson's wherewithal at 54 are outweighed by Jones' issues at this stage of the game. It has long ago gotten to the point where any solid clout to the head really short-circuits Jones. That doesn't mean a still fleet-footed Jones couldn't avoid a wooden and ancient Tyson, but the margin for error is going to be painfully-small.
With Roy, we more or less know what we're getting. Everything else about this is speculation. Looking impressive in a workout and doing it in the ring are really two different things, so it's unclear what a 54-year old Tyson can bring into the ring in 2020. Combine that with this exhibition format, and the picture is somewhat murkier than you find with most fight previews. But if these guys get in there and put out, I see Tyson's size, freshness, and power giving him the edge. I'll take Tyson.
My Prediction to Win the Fight:
I'm betting on Mike Tyson at -175 betting odds. Opting for Jones' recent activity is an understandable angle. But in boxing, and particularly in a legends only exhibition framework, I think following the money is wise. And there is absolutely no money in Jones winning this, while the financial possibilities are endless with orchestrating a successful Tyson circus at this point. Special offer for small bettors: Deposit $25 and get an additional $50 free when you sign up for a new betting account at Intertops Sportsbook. They are rock solid as they've been around since the 1990's! You must sign up through this special link and use bonus code ROOKIE200 to get the bonus!