Saul "Canelo" Alvarez vs. Sergey Kovalev Picks – Fight Analysis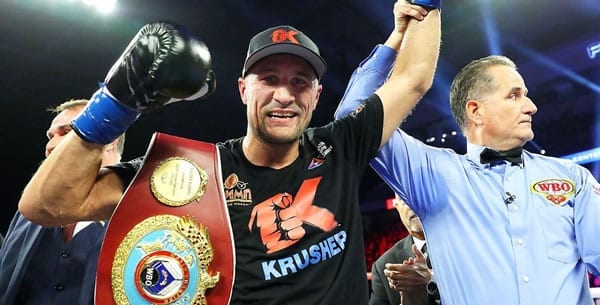 Saul "Canelo" Alvarez (52-1-2, 35 KOs) vs. Sergey Kovalev (34-3-1, 29 KOs)
When: Saturday, November 2, 2019 at 10PM EDT
Where: MGM Grand Garden Arena, Las Vegas, Nevada
TV: PPV
Weight Class: WBO Light Heavyweight Championship
Betting Odds: Canelo Alvarez (-400), Sergey Kovalev (+325)
Fight Analysis:
Sergey Kovalev defends his WBO Light Heavyweight Title against Saul "Canelo" Alvarez on November 2 at the MGM in Las Vegas. For Canelo, this is a chance to win a belt at 175, which would be the fourth division in which he has won a title—quite a feat at this high of a weight where the divisions are more spread out. But to do so, he will have to unseat a veteran champion in Kovalev, one of the more accomplished 175-pounders of this generation. Coming off a big win in August, he showed he is still a handful. Who can get the upper-hand in this one?
A few things stand out about this fight. First off is that it's a little surprising to see Canelo at this high of a weight. Having fought at 154 pounds just three years ago, a jump to 175 is quite a leap. He has fought over middleweight poundage just once when he beat the far less-threatening Rocky Fielding in a 168-pound bout. At just 5'8," he qualifies as a pretty small light heavyweight. On the one hand, you can see the thought process behind the move to make this fight. Kovalev is past his prime, and Canelo can add yet another big name to his resume, and as you can see by the odds, he is favored heavily to do just that. Still, it's an ambitious move by Team Canelo. Kovalev is a big 6-foot guy, and with 29 KOs in 34 wins, Canelo will certainly get a sample of what light heavyweight power feels like.
Kovalev's last fight showed both sides of the coin. He's a bit more ragged than he used to be—slightly less-lethal, a bit more reachable, and getting a little long in the tooth. His opponent Anthony Yarde—a young unbeaten KO artist, had Kovalev in some big trouble and was very resolute in his own right, getting schooled early to make a mid-rounds surge. But all those wars and everything Kovalev has been through has given him the ability to remain calm in the eye of the storm. He got through it, and pretty soon, it was Yarde who was reeling—stopped in the 11th round of a grueling title defense. I like the way Kovalev not only bounced back from that but also came back from stoppage losses to Andre Ward and Eleider Alvarez. Just when it seemed he was through, he beat Alvarez clearly in the rematch, before thwarting the challenge of the ambitious and talented Yarde.
By the same token, Kovalev isn't the same fighter he once was. Nothing against him. After all, why would he be? He has been near or at the top of the division for the better part of a decade, taking on a whos-who of what has been an underrated era of light heavyweight boxing—guys like Jean Pascal, Bernard Hopkins, and Andre Ward. He can still hit. More of a brute in the past, he has developed some wrinkles and nuance over the years and is actually quite cagey now. He is long, has a good jab, and can still put that right hand over with a lot of authority. But he's a little more brittle. His legs do a little dance when he's hit real solid. His resistance to body-shots appears to have waned with time, and opponents know this.
That's just one of the style-components that might give one pause on backing the underdog. Canelo lustily attacks the body, and with a longer target than what he's accustomed, look for him to double-up on that for this matchup. A lot of people neglect the true brilliance of Canelo. Even if you think he lost both fights to GGG and maybe even another one along the way, you can't really question his credentials. At just 28, he already beat names like Shane Mosley, Austin Trout, Josesito Lopez, Alfredo Angulo, Erislandy Lara, Miguel Cotto, Amir Khan, two fights with GGG, and Daniel Jacobs. It's hard to touch his credentials.
Canelo is a completely together fighter. His technique is crisp. He's never out-of-school. There is nothing that he can't do well. Even his weaknesses aren't really drawbacks. He might be a bit stumpy, especially at this weight, but it's never hurt him. He's not that quick, but it never seems like speed-deficits bother him or hinder his ability to fight. He isn't a one-punch KO artist perhaps, but he's still a punishing hitter who can batter his opponents. Still, there are things he does well—exceptionally well
Alvarez has good vision of a fight—where he stands and exactly what's going on. He is the ultimate professional. Sometimes in a sport, you just marvel at a performer who delivers that utmost professionalism every single time. He's not going to undermine himself, get messed up mentally over emotions, or be anything less than perfectly prepared. Alvarez is always in stellar shape—physically and mentally. Canelo is not a guy who is going to blow it. In terms of what he does in the ring, he's very precise and well-schooled. He doesn't waste punches or come outside of himself. For the purposes of this fight, his best attribute might be his durability. He has been in the ring with some punishing fighters, and it's hard to remember a time when he was on the verge. He's been hurt before, as anyone would have been who has fought the same roster of opponents. But he's a very hard nut to crack. Can he keep that going at this high of a weight, against one of the division's all-time noted hitters?
In his prime, I think Kovalev represented a level of menace that would have forced Canelo to steer clear. When the "Krusher" was wiping the floor with everyone, the mere idea of throwing a then-154 pound Canelo in there with him would have seemed maniacal. Now, however, Kovalev's shelf-date has passed, and while he still has the guile, champion's heart, and skills to win fights, I think this level is a bit out of reach. I'm going with Canelo in this one.
My Prediction to Win the Fight:

I'm betting on Saul "Canelo" Alvarez to win at -400 betting odds. The size and power of Kovalev can't be neglected. But Canelo's durability and technique and the fact that he's still in his prime give him the edge against a version of Kovalev that is a depreciated facsimile of his peak-self. In a fight that will call upon all his resources, I think Kovalev at some point in this bout will come up empty.
100% Free Play up to $1,000