Super Middleweight World Title Picks: Alvarez vs. Charlo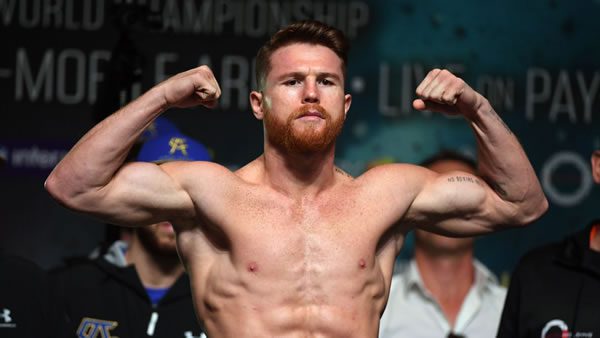 Saul "Canelo" Alvarez (59-2-2, 39 KOs) vs. Jermell Charlo (35-1-1, 19 KOs)
When: Saturday, September 30, 2023
Where: T-Mobile Arena, Las Vegas, Nevada
TV: PPV
Weight Class: Super Middleweight World Title (168 Pounds)
Betting Odds: Canelo Alvarez (-385), Jermell Charlo (+265)—Odds by Bovada (You can bet the fight live-in-progress there!)
Fight Analysis:
Saul "Canelo" Alvarez defends his Super Middleweight Championship against current 154-pound unified champion Jermell Charlo in Las Vegas on September 30. Canelo is two wins removed from his light heavyweight title loss to Dmitry Bivol in 2022, only the 2nd loss in a 63-fight career that now spans back 18 years. Still only 33, Canelo is still big business, and this should be a huge fight in Vegas against a really credible opponent. Charlo, also 33, is coming off a KO win over Brian Castano in a rematch from their draw in 2021. This will be Charlo's first appearance since May 2022.
A few things stand out about this pairing that perhaps don't paint Charlo's chances in the best light. First is that for a guy who has reigned at 154 pounds for seven years, his career progression has been painfully-slow, only now booking the really big fight. Despite good connections, he has been seemingly on the precipice of big things, along with his twin brother Jermall, without it ever coming to fruition. That doesn't mean he can't do it, but in the other corner is a guy who has taken on one big name after another. Say what you will about Canelo in terms of the favoritism he may have received or his sometimes-cagey matchmaking, but his ledger of opponents really puts Charlo's to shame.
It's also important to frame what Charlo is going to need to do to win this fight. We've never seen Alvarez all that close to being stopped, despite taking on the most dangerous fighters from several different weight classes. Now, Charlo is taking on a bigger fighter, and I don't think a stoppage win for the challenger is all that viable of an option. And let's face it, winning a decision against Canelo in Las Vegas isn't the easiest thing in the world to do. Charlo might be in a position where he's jumping up two weight classes and being put in a spot where he's going to need to win eight rounds to get a draw.
About that weight business, this is a big jump for a longtime 154-pounder to take a shot at the 168-pound crown. Dimensions-wise, Charlo isn't outsized very drastically, especially as it is he who holds a several-inch edge in both height and reach. But with Charlo having spent well over a decade in this weight class, while Canelo is taking on full-sized light heavyweights is a concern. Alvarez first made his bones at 154 pounds. And even if he's probably pushing the limit, taking on guys the size of Bivol, 168 pounds would be his preferred weight if you had to identify an ideal landing spot. And while not long, he is, in fact, very robust and will be the bigger man in this fight.
Another concern for Charlo is that while he is a very good fighter, he hasn't been above reproach even within the reduced context in which he operates in relation to Canelo. You can say Canelo was the recipient of a few generous calls over the years, but even then, it was against the absolute best. Meanwhile, we see Charlo going only 1-1 against Tony Harrison and needing two shots at Brian Castano before getting the "W." Those are good fighters, but Canelo has been operating in a far higher stratosphere of world championship boxing.
Still, the Houston-based champion is a major talent. His offense is real, and when he zeroes in, he can land with speed and power. He has been "on" some nights and "off" on others, maybe not developing the continuity of success needed to become a superstar. But this is his one-shot cure-all, a way to make the frustration of being shut out of big fights all this time worth it. We have seen fighters move up a few weight classes and perform better than expected, where the weight difference doesn't register as anticipated. Instead, the speed of the lighter fighter is what surfaces to the top, in addition to the urgency of the lighter fighter that comes from him knowing he can't slip up and make mistakes. And the bigger fighter maybe doesn't work quite as hard, overlooks the smaller guy, and banks on his edges in strength and power.
Charlo has a good vision of the fight and nice timing when it counts. And at 33 with a lot of tough fights on his odometer, maybe we're looking at a version of Canelo who peaked a few years ago. He's used to a certain speed from the super middleweights and light heavyweights he has been facing, so maybe Charlo can just be a little quicker on the draw and stay a step ahead of a slipping Canelo. I think that could be wishful thinking. I think Alvarez is the more complete boxer, able to be technical while also being hurtful. He has always been very durable.
Even if Charlo were the same size, I'd see him having trouble outboxing Canelo. And with the prospects of a KO win so dim, not only will Charlo need to outbox Alvarez, but do so to a fairly startling degree. I don't think, based on talent, that this is an all-too-realistic outcome. I think this is a dangerous outside-the-box opponent for Canelo. If anything, despite being the same age, Charlo might be the fresher fighter. But the flip side of that coin is a lot of inactivity and a dearth of big-fight experience in relation to Canelo, which I think has to cost him in this spot. I'm going with Alvarez.
My Prediction to Win the Fight:
I'm betting on Saul "Canelo" Alvarez at -385 betting odds. It would be one thing if Charlo has been spending all this time laying to waste the non-elite 154-pounders he has been fighting, but he has not. You'd have liked for his first really super-major fight to have been against someone his own size or maybe even a big-name welterweight moving up in weight. Instead, he draws a guy who has won world titles at 175 pounds who is in his best division fighting in a town where he seems to get the benefit of the doubt an awful lot..
Wanna bet the Canelo/Charlo fight for FREE? Get a massive 100% real cash bonus on your first deposit of $100 to $500 at the web's oldest sportsbook! Everygame! Here's how it works… You'll need to register for a betting account through this special link. Deposit $100 to $500. After you've deposited, go to their "Special Offers" page. Enter bonus code PREDICTEM. Your account balance will DOUBLE!