Tyson Fury vs. Dillian Whyte Fight Odds & Picks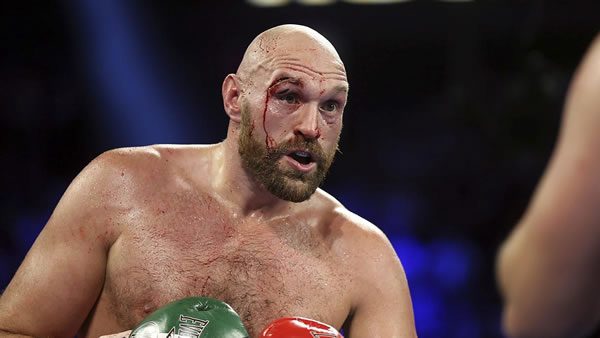 Tyson Fury (31-0-1, 22 KOs) vs. Dillian Whyte (28-2, 19 KOs)
When: Saturday, April 23, 2022
Where: Wembley Stadium, London, England
TV: PPV
Weight Class: World Heavyweight Championship
by Loot Levinson of Predictem.com
Betting Odds: Tyson Fury (-800), Dillian Whyte (+475)
Fight Analysis:
World Heavyweight Champion Tyson Fury defends his crown against top heavyweight contender Dillian Whyte on April 23 at Wembley Stadium. Fury is coming off a signature win, an 11th-round KO over Deontay Wilder in their third fight. Fury had to overcome a lot, getting up off the canvas and scoring an impassioned knockout win. Whyte, meanwhile, is coming off a KO over former champ Alexander Povetkin, reversing an upset loss from the previous year. Who can get the upper hand in this battle of hard-hitting big men?
This is about of considerable worldwide interest, but it should do big box office in England, where both men are from. Both men have done most of their best work domestically and have big followings, hence this being held in the cavernous Wembley Stadium. Fury has shown himself to be the preeminent figure in heavyweight boxing, but suffice to say that Whyte represents a dangerous task. And after being put on ice and long denied a title shot, he's a dangerous and hungry contender.
Whyte's case makes itself. A puncher with considerable power, Whyte is a dangerous contender and one whose title shot is among the more overdue in recent memory. Fury's track record can't really be brought under fire, but his past is sprinkled with fights where he was either hurt or dropped. So far, he has been able to use his otherworldly guts and recuperative powers to navigate his way out of trouble. But Whyte is a puncher who commands respect at the highest levels.
Fury is a better fighter. Whyte is a guy with a prodigious offense when he gets rolling. But when it comes to the actual act of duking it out, it's hard to top Fury. Even if Whyte is able to dial it in and land the kind of shots that put Fury in trouble, will he be able to surpass the amount of punishment Deontay Wilder put on Fury? And what about the flip side of the coin, where Whyte is getting pelted with heavy leather from the six-nine champion while trying to get in position to unleash his own volleys?
Wilder, the only fighter to really put Fury right on the precipice of defeat, has a different kind of power than Whyte has. Not to impugn the power of Whyte, who has laid out a variety of contenders and former champions on his way to this spot, but he doesn't have the same one-shot equalizer that Wilder wields. What he does offer, when in shape and when in the right mindset, is a more-complete game—a more consistently-applied offense and a fuller repertoire from top to bottom.
With the heavy punching and a general notion that their careers are intersecting at a good time for Whyte, his hopes are more than simply those of a "puncher's chance." But when the Heavyweight Championship of the World is in the balance, a tough assessment will be in order. And with Fury, you have a man who has always delivered and has done so at the highest levels. He has come through punishment that no other big man can absorb. Whyte has been stopped twice, once by Anthony Joshua, whose stock has since dropped, and also against Alexander Povetkin in the last win of his career. Fury has what seems like a better engine and great cardio for a man his size and ring work rate. You have to wonder if Whyte will have the stamina in the event that this turns into a prolonged and taxing battle.
Even a Whyte backer would concede that he's operating at deficits in certain areas, even if they didn't think it matters enough to decide the fight. The issue of dependability counts for a lot at this level. And not that Fury hasn't seen his share of issues. But with Whyte, his conditioning seems to be an outstanding problem. He can sometimes let a certain amount of apathy set in when battling the element of fatigue. In his defense, though, the road to this title shot was made to be so difficult by the powers that be to the point where you can't blame him for slipping up a little along the way. It's reasonable to expect a well-prepared and conditioned Whyte to surface for this once-in-a-lifetime opportunity.
Even those on the side of the spectrum where you're forecasting an easy Fury win can't be loving the -800 Bovada line on the champion to prevail. It's like you're really paying for all the things that made Fury the man he is when taking that quote. And the fact that his rep is largely built on getting through a trilogy with Wilder without losing, he was on the precipice of defeat in two of those bouts. And even if Whyte has shown himself to be a notch below ultra-elite, I'm not so sure it's easy to stomach the -800 price tag for Fury in this bout. But then we see the odds plummet to just +475 for Whyte, and one is perhaps pressed to some extent to identify the true superior betting value in this title fight.
Obviously, you don't want to take a wager that doesn't represent how you really feel just for the sake of superior value. At the same time, if you like Fury, saying "damn the torpedoes" and just accepting the -800 rate might not be the ticket, either. As the fight draws nearer and more betting options become available, maybe a more-specific winning bet on Fury with much better odds will be the best option. Maybe waiting this out to closer to fight night can bring that number down to a more-appetizing level. But if simply betting on the money line as it now stands, Whyte is the only move that makes sense. I'll entertain a small wager on the money line for the challenger.
My Prediction to Win the Fight:
I'm taking Dillian Whyte at +475 betting odds. On the money line, this appears to be the only wager that contains any value. Fury at -800 is just brutal, and though he seems to be the right pick to win, the odds just make it unfeasible. With his power, experience, and other skills, Whyte fulfills the role of an underdog with some upside and betting value. Bet your Fury vs. Whyte prediction and ALL your boxing picks for the next month for FREE by taking advantage of a 100% real cash bonus on your first deposit of $100 to $300 at MyBookie Sportsbook! (Must use bonus code PREDICT100 during registratijon process).