WBA Lightweight Title Picks: Gervonta Davis vs. Rolly Romero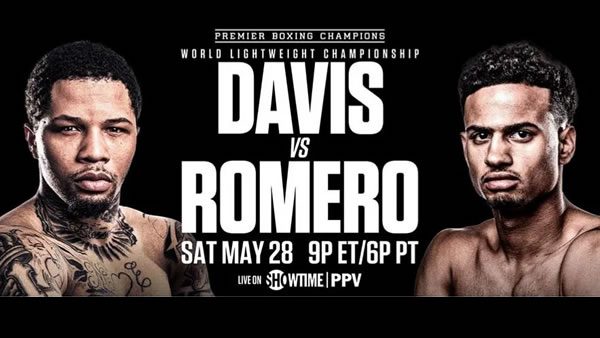 Where:
Barclays Center, Brooklyn, New York
TV: PPV
Weight Class: WBA Lightweight Title
Betting Odds: Gervonta Davis (-1000), Rolly Romero (+550)–Bovada
Gervonta Davis defends his WBA Lightweight Title against interim titleholder and unbeaten puncher Rolly Romero. With a combined record of 40-0 with 36 KOs, this promised to be a hard-hitting battle between these young lightweights. Davis, the more-known quantity, is favored, but in the 26-year-old Romero, he has drawn a dangerous task. One year older at 27, Davis looks to move toward some mega-fights in the near future. Can he overcome Romero, or will the underdog serve notice that he's a factor in this talent-rich division?
Fight Analysis
The stakes are high in a title fight at this weight, as the division shapes up to be an exciting battleground with some major players at or around this poundage. Davis is more the blue-chipper, a former decorated amateur who has shown prodigious skills, namely with his huge punching power. A nine-year run as an unbeaten pro is about to culminate in some big things. The last 18 months finally saw Davis make a belated move, scoring big stoppage wins over Leo Santa Cruz and Mario Barrios, followed up with a decision win over dogged Isaac Cruz.
If you throw in Davis' background and the other work he has done in winning different titles, it's clear that he's been operating at a higher level than the 14-fight pro Romero. The challenger started boxing relatively late but turned pro quickly and impressed with his punching power. And for all his perceived deficits in polish and experience, punching power is a nice weapon for an underdog to have in their bag. But even in a controversial decision over Jackson Martinez and some other troubling sequences, one wonders if Romero's chances eclipse those of a typical puncher looking to land something big whole outgunned across every other area.
Romero can certainly punch, and he has a little range on Davis. It's just that when both men sit down and start letting it fly, it will be the more-fluid and pure offense of Davis that figures to stand out the most. Romero is certainly capable of putting over a big shot that changes the complexion of the fight, but Davis can get low and be responsible defensively before coming up with huge hooks and uppercuts. Davis throws more combinations and is simply the more-complete fighter in an overall sense.
Davis might be more-focused than normal. First of all, he has to be against a fighter whose main avenue to victory is to score a sudden KO. But the vitriol leading up to this fight has been substantial and even unsavory at times. At a recent press conference during a faceoff, Davis appeared to be intimidating Romero, who was almost cowering at the pumped-up Davis. But those sequences can be misleading. But I do think Davis is well-set on taking it to Romero in this fight.
One almost gets the feeling that while Davis will be a responsible professional who acknowledges Romero's danger potential, he will be confident in his talent and seasoning when it's time to exchange. He won't eschew his boxing ability to elect for an uncontrolled brawl, but I don't see him being shy about letting his offense fly, knowing that it's far more advanced than anything Romero has had to deal with in his career. I'd expect at least a slightly less-measured performance than what we typically see from Davis.
I just wonder if Romero has the seasoning needed to fight what might need to be a perfect fight for all intents and purposes. When you think of the things that would work well against Davis, these are not things Romero brings to the table. First off, he doesn't have the background, skills, or seasoning to be all that slick. And you're left with a guy with a puncher's chance who somehow has to keep himself out of big trouble. Romero will need to see his power surface and quickly, or he could be getting run out of the ring.
Davis has power that is proven to resonate at the top levels. And it's not his only out, being that he can box and do other things. When scouting an opponent, it's nice to have someone like Rolly who can at least theoretically hang in there with Davis from a power-punching angle. It's just tough when Davis' power shots are being delivered so much more-smoothly and with so many more avenues to victory at his disposal. With Romero, it's a narrow route to the winner's circle. He needs to do something that hasn't come all that close to happening, and that's knock Davis out while simultaneously dealing with things he hasn't seen before in his career.
Again, maybe Romero is a better upset candidate than a punch-less fighter whose chances of outboxing Davis are going to be bleak indeed. Romero is a big dog, and having that punching talent makes it, so it's an underdog pick with some teeth to it. And when fighters come out of nowhere to become stars, as has happened innumerable times, it's always by surprise. So we can't utterly rule that out. But it is hard to envision nonetheless, and my feeling is that once the leather starts flying, Romero will soon realize that he's out of his element; I'll take Davis in this one.
My Prediction to Win the Fight:
I'm betting on Gervonta Davis at -1000 betting odds. Romero's power notwithstanding, he's outgunned in every area, probably even the thing he does best. The Bovada line on Davis winning could be easy money. As fight night nears, a more-specific bet on an earlier Davis finish might also be in order, as I don't see this getting into the 8th round. Bet your Davis vs. Romero pick for FREE by taking advantage of a 100% real cash bonus on your first deposit up to $300 when you use bonus code PREDICT100 at MyBookie Sportsbook!