Arizona vs. Oregon Point Spread Pick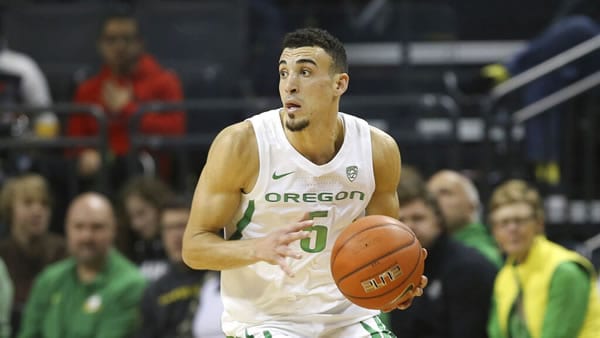 Arizona Wildcats (17-8 SU, 10-15 ATS) vs. Oregon Ducks (16-5 SU, 10-11 ATS)
When: Monday, March 1, 9 p.m.
Where: Matthew Knight Arena, Eugene, Ore.
TV: ESPN2
Point Spread: ARIZ +3/ORE -3 (Bovada - The absolute BEST live betting platform on the planet! They also give you a 50% real cash bonus on your first deposit! Credit cards work for deposits there!)
Total: 143.5
Last Time Out:
Arizona edged Washington 75-74; Oregon defeated California 74-63.
About the Matchup:
Both teams are surging at the end of the year, but only one of them will be able to do anything with their momentum beyond this game. Oregon's trying to build its profile to the point where it won't have to sweat anything on Selection Sunday, and with a win here, the Ducks will likely feel pretty good about their chances.
There's nothing Arizona can do about its chances, as the Wildcats are ineligible for postseason play. However, there's plenty to play for in the season finale, as the Wildcats will try to end a six-game losing streak against the Ducks. There's also an opportunity to both end the season with a four-game winning streak and prepare themselves for next season, a great start for a team that hasn't won an NCAA tournament game since 2017.
Scouting the Wildcats:
Arizona's got to get better shots from inside the arc than it did in the first meeting. The Wild-cats actually shot it better from deep than from inside, as Arizona hit just 13 of 34 from inside the arc, including a 3-for-10 performance from James Akinjo. That was really a shame for the Wildcats because they wasted a strong performance on the defensive end, one that they're like-ly going to need in this one.
That's because coming to Eugene has typically been one of the toughest trips for Arizona's of-fense. In six of their past trips north to Oregon, the Wildcats have finished with 66 points or less in regulation. Arizona's been relying more on defense than offense as of late anyway, but the Wildcats really need to get something going at the offensive end in this game because the odds are that they'll struggle to produce the kind of defensive performance that they came up with in Tucson.
More Picks: Get Dan's Tar Heels at Orange Point Spread Pick >>>
Scouting the Ducks:
Oregon has about as tough a finish as anyone in the country, in large part because the Ducks had multiple games called off by COVID. While Arizona is finishing up its schedule, Oregon's got to play three games this week. On the plus side, all three games will be played in the state of Oregon, as the Ducks follow this game with UCLA at home and a trip to Corvallis to face Ore-gon State, but the Ducks still have to worry about pacing themselves for a three-game week.
The last time Oregon faced this situation, it didn't go well. The Ducks allowed USC to score the first 15 points and were basically never in the game, in large part because they simply couldn't overcome such a large deficit to start the game. Oregon is not a great offensive team and nev-er will be, but the Ducks usually don't have to be. As long as Chris Duarte and Eugene Omoruyi are hitting, Oregon usually has enough defense to get the job done. Even with Duarte shooting just 4-for-14 in Tucson, the Ducks were still in control against the Wildcats in the first meeting, which has to worry Arizona.
X-Factor:
Ending the season. How exactly does Arizona choose to go out? The Wildcats are the rare team that knows that this will be their final game of the season because Arizona self-imposed a postseason ban this year in hopes of avoiding a penalty down the road, meaning they won't compete in the Pac-12 tournament or any postseason play. Because of that, the Wildcats can truly play with nothing to lose, or they can choose to pack it in and get the season over with.
That makes this game a true wild card because situations like this don't come around often. Ari-zona is a good team that's capable of beating anyone in the Pac-12 and would love to finally beat Oregon after three years of frustration. On the other hand, the Wildcats know that in 40 minutes, they don't have to worry about the pressure of trying to keep a season going during a pandemic.
Arizona will Cover If:
The Wildcats can rebound better than they did in Tucson. Oregon is not a great team on the boards, but the Wildcats actually lost the rebounding battle to Oregon in the first meeting, which was the biggest reason why the Ducks did just enough to earn a win. Ore-gon got outrebounded by both USC and Stanford last week, and Arizona needs to follow that ex-ample.
Oregon will Cover If:
Duarte can shoot the way he did last week. Duarte didn't get the job done in Tucson, but his team bailed him out in that game. Duarte hasn't needed anyone to bail him out lately, as he's shot 45% or better in four of his past five games. If he's hitting, Oregon is a much stronger side. The Ducks will never be a great offense, as they've scored 74 or less in each of those games, but again, they don't have to be great on offense.
Dan's Pick to Cover the Spread
The bet I like best here is the under. I don't expect either team to score all that much in this one, and this is a tricky spread to pick because I'm not sure what kind of motivation Arizona will have to win this game. One thing I do know is that these teams usually play very close games, as six of the last eight have been decided by five points or less.
I'd wait two or three minutes to see how motivated Arizona looks before choosing a side, but based on where things are right now if I had to pick someone before tip-off, I'd go with the Wildcats and the points. Bet your college hoops picks for FREE this week by cashing in on a 100% real cash bonus on your first deposit of $100 to $500 at one of the web's best betting sites –> BetNow Sportsbook!