North Carolina Tar Heel vs. Syracuse Orange Pick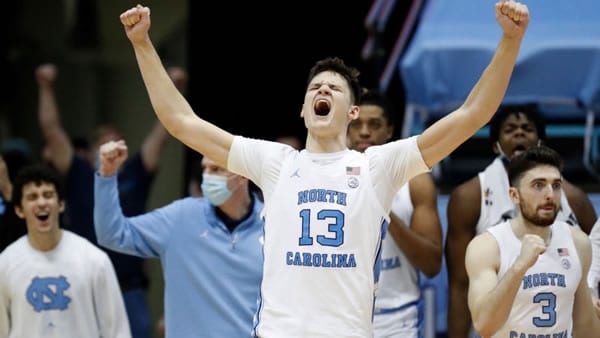 North Carolina Tar Heels (15-8 SU, 10-12-1 ATS) vs. Syracuse Orange (13-8 SU, 8-13 ATS)
When: Monday, March 1, 7 p.m.
Where: Carrier Dome, Syracuse, N.Y.
TV: ESPN
Point Spread: UNC -1/SYR !+1 (BetOnline - Bitcoin payouts within 30 minutes! 35% crypto reloads! Quickly becoming one of the best sportsbooks on the web!)
Total: 149
Last Time Out:
North Carolina handled Florida State 78-70; Syracuse lost 84-77 to Georgia Tech.
About the Matchup:
One team is looking to lock down its spot in the NCAA tournament, while the other is simply try-ing to stay in the conversation. The Tar Heels managed to turn their week around by getting a win at home over Florida State, undoing the damage they did to their profile by losing to Mar-quette. North Carolina isn't safe yet, but the Heels are pretty close to earning their way into the field.
On the other hand, Syracuse gave away its last opportunity for a solid road win at Georgia Tech. The Orange have been rock solid at home, where they've only lost once all season, but they also haven't exactly seen much in the way of competition coming to the Carrier Dome this year. Other than Virginia Tech, the one good win on the Syracuse profile, the best win of the year all season for the Orange was over a mediocre N.C. State. Against the Yellow Jackets, it looked like Syracuse finally had things figured out, only to give up 50 points in the second half and come away with another loss. Given what North Carolina just did to Florida State in the second half, can the Orange avoid another costly loss?
Scouting the Tar Heels:
At this point, it's well established that North Carolina isn't going to be shooting its way past an-ybody. Part of the Heels' 38% from the floor was the quality of their opponent, as few teams play defense as well as Florida State, but part was because Carolina just isn't a great shooting team.
But what the Heels can do is rebound, and in the second half, they did get some offense in the person of Walker Kessler. Kessler was the one player in Carolina blue who was hitting regularly, as he was responsible for nine of his team's 23 baskets. Of course, if you're a fan of math, you might realize that means the rest of the Heels shot 28 percent against Florida State, which was why they fell behind by 16 points in the first place. Carolina simply can't rely on doing the job at the free-throw line (27-for-30) again, especially not on the road.
Scouting the Orange:
Spring might be coming soon in central New York, but inside the Carrier Dome, it's as dark as a Syracuse winter. That's because the Orange have had multiple opportunities to pick up a signa-ture win, but they've blown all of them and are now looking like they're going to face a very difficult opener in the ACC tournament. Losses to Duke and Georgia Tech have pushed the Or-ange to the very fringe of the bubble, and with one more loss to either Carolina or Clemson, Syracuse could find itself playing on Tuesday in the ACC tournament.
The problem for Syracuse is the same problem Syracuse has faced all year: the Orange just don't play defense well enough against decent teams. Against lesser teams, Syracuse has no problem holding the opponent under 70 points, which the Orange have done in 10 of their 13 wins. But when they play quality teams, the Orange don't get out and defend. In all but one of their eight defeats, Syracuse has given 78 points or more.
The one team that Syracuse was able to stop who will play in the NCAA tournament was Virgin-ia Tech, but besides that, the Orange simply seem to lose interest when they face a strong op-ponent. Against North Carolina in Chapel Hill, Quincy Guerrier and Buddy Boeheim combined for 41 points, but it didn't matter because Guerrier fouled out, and the rest of the Orange didn't do anything on defense. A repeat would be disastrous for Syracuse.
X-Factor:
Desperation. Both teams need to approach this game as a must-win situation. For North Carolina, this is a chance to ensure that it doesn't have to sweat on Selection Sunday. With a win here, as long as the Tar Heels don't do something stupid in Greensboro, such as los-ing to Wake Forest or Boston College, North Carolina will have done enough to qualify.
Syracuse is playing to give itself hope. Realistically, the Orange need at least two wins in Greensboro to have even the slightest chance at a bid, and that's with wins over both Carolina and Clemson. If Syracuse gets beaten here, the Orange will almost certainly have to win the ACC tournament to qualify, which would likely mean winning five games in five days. In short, both teams should be going all out to win this game.
North Carolina will Cover If:
The Tar Heels can dominate the glass again. This is almost a given that the Heels are going to dominate on the glass because that's just what North Carolina does under Roy Williams and what it likely always will do under Roy Williams. North Carolina can afford to shoot as poorly as it does because it rebounds so well, and it will have to do the same thing again.
More Picks: Arizona at oregon Spread Play >>>
Syracuse will Cover If:
Guerrier can stay on the floor for 40 minutes. Syracuse is going to have a hard enough time keeping North Carolina from getting second-chance points with Guerrier on the floor, but if he either goes out early or is forced to play timid because of foul trouble, it's going to be hard for Syracuse to stay in this game.
Dan's Pick to Cover the Spread
The one thing that worries me here is that Carolina is not a great road team. The Tar Heels have just three road wins on the season, and two of them were against weaker opponents in Pittsburgh and Miami (the third was Duke, which barely counts as a road game with an eight-mile bus ride). But Syracuse really doesn't seem to have that higher gear to beat a good team, and the Tar Heels seem to recognize that they need to get wins like these. Give me the Heels to cover. Bet your college basketball picks for FREE this week by scoring a massive 100% real cash bonus on your first deposit of $100 to $500 at BetNow Sportsbook!