[et_pb_dcsbcm_divi_breadcrumbs_module hide_homebreadcrumb="off" homebreadcrumbtext="Home" separator="sep-raquo" hide_currentbreadcrumb="off" homebreadcrumborientation="left" _builder_version="3.8″ fontsbreadcrumbs_font="Lato||||||||" fontsbreadcrumbs_text_color="#000000″ fontsbreadcrumbs_font_size="15px" fontsbreadcrumbs_line_height="16px" fontsseperator_font="||||||||" fontsbreadcrumblinks_font="||||||||" fontsbreadcrumblinks_text_color="#2567cf" custom_margin="25px|||" custom_margin_phone="30px|||" custom_margin_last_edited="off|desktop" custom_css_main_element="font-family: Helvetica Regular;" disabled="on" global_module="3641″ saved_tabs="all"][/et_pb_dcsbcm_divi_breadcrumbs_module]
Basketball Pick: New Mexico State vs. Kansas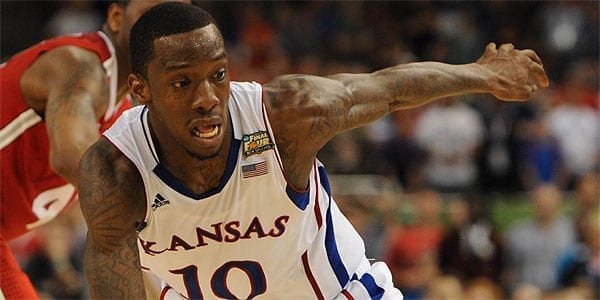 New Mexico State Aggies (7-1, 4-3 ATS) vs. Kansas Jayhawks (7-0, 4-3 ATS)
When: Saturday, December 8th, 2018 – 8:30 pm ET
Where: Sprint Center – Kansas City, MO
TV: ESPN2
By: Kyle Cash, NCAA Basketball Handicapper, Predictem.com
Point Spread: NMSU +14/KU -14 (5dimes Sportsbook)
Total: 148.5
It's been a while since I dove into the College Basketball landscape, and my previous pick went up in flames like Sean Miller in an Elite Eight game. To be fair, Iowa was covering for 39.5 minutes of that game. Does that count for something?
I'll try to redeem myself with the NCAA basketball community as I break down the game between the New Mexico State Aggies and the Kansas Jayhawks. NMSU has dispatched its last five opponents with ease, including in their last game – a 35-point rout of their rival New Mexico team. Meanwhile, Kansas is looking to add on to their undefeated record after stomping Wofford on Tuesday night, but they may have stepped a little to hard as star Center Udoka Azubuike will be resting his injured ankle for the foreseeable future.
Kansas currently sits as a two touchdown favorite over NMSU in a Saturday evening match-up on ESPN2. With a total set to 148.5 and two teams averaging 80 points per game, let the offensive explosion commence.
Aggie-ravating Their Foes
We're starting to see a bit of a revolution, both in the NBA and in college, of teams gravitating towards a more balanced, less star driven approach to team-building. In college, most of that is necessitated by recruiting, and I can't imagine that 5-stars are lining up to go to school down the road from Walter White's meth ring. However, the egalitarian system is working in NMSU's favor. The Aggies have 12 guys currently averaging 11 minutes per game with no one over 14 points per game, but they've still managed to score 80 points per game and jump out to a 7-1 record.
TIRED OF YOUR CREDIT CARD NOT WORKING AT SPORTSBOOKS? IT WILL AT BOVADA + GET A 50% CASH BONUS!
To keep things competitive with Kansas, NMSU will have to do exactly what they did against New Mexico: dominate the glass. Without Azubuike manning the midddle, the Jayhawks will be forced to play Dedric Lawson out of position or grant more minutes to freshman center David McCormack, and the Aggies will be to exploit the mismatch. NMSU's strength lies in their front court depth, with a rotating cast of standout junior forward Ivan Aurrecoechea causing headaches inside and Eli Chuha and Johnny McCants battling hard for offensive rebounds. Balance will be key, and if the Aggies can ugly this game up, they might have a chance to topple the second best team in the country.
Jay Hawk Down
Udoka Azubuike, when healthy, is legitimately one of the most exciting and talented big men in the country. Unfortunately, availability is not one of his abilities, and his injury-plagued collegiate career continues. However, there may be a silver-lining. There aren't many traditional 7-foot, back-to-the-basket centers left in basketball, so undersized Dedric Lawson may be strong enough to battle opposing bigs inside. With Azubuike our, Kansas will also most likely evolve into more of an outside-in offense, and now is the time for Lagerald Vick to prove his worth and for freshman lottery pick Quentin Grimes to climb the draft board.
However, Kansas will have their hands full yet again on Saturday night. Coach Bill Self likes to pick up quality wins in his non-conference play, and he's schedule 12 non-conference games against teams projected to finish 1st or 2nd in their conference. Take notes, Nick Saban. However, this leads to little down-time and breathing room for Kansas, and they've had to go to war more often than not. If not for the heroics of Vick and Lawson's stellar play, Kansas would be in a much worse position, but instead, they've shown resiliency in the face of adversity and earned their elite status.
To topple the spread, Kansas is going to need to have a repeat performance of their previous game. They've yet to play a complete game from top-to-bottom, but a bout versus another potent offense may be just the recipe they need to cook up an epic performance.
Best Bet
I'm always cautious when it comes to non-conference play, particularly when the opponent is outside of the Power 5. How the hell am I supposed to know the strength of schedule of the Sun Belt conference? What do I look like? I'm a blue blood type of guy, so teams like Kansas, Duke and Kentucky move the needle for me more-so than peeking in on #Pac12AfterDark. I believe that Kansas is exactly who we think they are – a top-4 team in the nation, but maybe lacking the elite, shut-down talent that other teams have at their disposal. Moreover, I've been following Kansas closely, and there's just something missing from their DNA. Their undefeated record looks great on paper, but they are very nearly a 4-3 team, and I'm not ready to buy what they're selling. New Mexico State is a dangerous team, and in a game that I think has the possibility of turning into an upset, I'll gladly take the money (and the points) and run. Catch me if you can.
Final Score Prediction: Kansas 81 – New Mexico State 76