Minnesota Timberwolves vs. Portland Trail Blazers Pick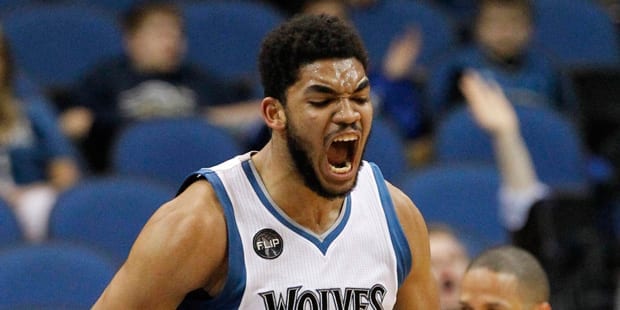 Minnesota Timberwolves (13-12, 14-11 ATS) vs. Portland Trail Blazers (14-11, 12-13 ATS)
When: Saturday, December 8th, 2018 – 10:00 pm ET
Where: Moda Center – Portland, OR
TV: NBATV
By: Kyle Cash, NBA Basketball Handicapper, Predictem.com
Point Spread: MIN +2/POR -2 (GTbets)
Total: 218
NBA Advent
To celebrate the holiday season, let's countdown with a fun NBA fact or statistic related to the number of days left until Christmas:
18 – If we were 100 days away from Christmas, I would have had an easier time incorporating Wilt Chamberlain into this list. Instead, we get to flashback to February 24th, 1967, when Wilt set a record for most field goals made in a game without a miss as he canned 18 straight shots in a row. Just for good measure, he added a casual 30 rebounds and 10 assists on top, and since steals and blocks were not an official statistic yet, we can safely assume he had a dozen or so of those as well. Once-in-a-generation is an insult to Wilt's talent. Once-in-a-lifetime is more like it.
Last Night in the NBA
Wowza. Friday night hoops did not disappoint. Two of the three best teams fell to tankers, DeMar snatched the crown off of LeBron's head and the Golden State Warriors won their revenge game and won us some money. Most importantly, the wife had girls' night with her friends, so I got to double-screen the Sixers and a rotating cast of other games as I scarfed down a Philly cheesesteak and a couple brewskis. #Winning.
With college hoops on the verge of breaking into full-swing, we might have our first legitimate 12-hour basketball day of the winter season with another 9-game NBA slate on deck. Let's focus in on the sole nationally televised game as the Minnesota Timberwolves travel to Portland to take on the Trail Blazers. The visiting team is currently a 2-point underdog with the total set to 218 points. Roads? Where we're going we don't need…roads.
Ewing Theory 101
For those of you unaware of Bill Simmon's Ewing Theory, here's the quick definition: when a player who is highly regarded by fans/coaches/media without ever actually winning anything suddenly gets hurt or gets traded and the team plays better without him. A reader of Bill's pointed out that the Knicks played better in games when Patrick Ewing was injured, and thus a theory was born. In Minnesota, we have checked every box above, and the committee has ruled in favor of the plaintiff. Go ahead and take Robert Covington's deflections and your Ewing Theory, Timberwolves fans. You'll have to pry Jimmy Butler from my cold, dead fingers.
In the meantime, Minnesota is actually enjoying a quality run with their new team. Covington was created in a lab to play for Tom Thibodeau and Karl-Anthony Towns has been emancipated from the shackles of Sheriff Butler. To topple the Trail Blazers, everything will have to run through Towns. KAT struggled in the Wolves' victory over Portland a few weeks ago, and Minnesota's revamped defense isn't nearly stout enough to force another 5-for-18 performance from Damian Lillard. Look for Minnesota to play inside-out through Town's hands to try to free up driving lanes and parlay that with 3-point opportunities for Covington and Saric. If all else fails, only one man will be able to save the Timberwolves: Derrick Rose. Oy vey.
Lazer, Blazer, Tazer – All Kinds of Azers
If I've said it once, I've said it 100 times: you can't let Jake Layman beat you. At one point, Layman was the number one all-time points per minute NBA scorer, and Portland's arsenal of weapons is starting to border on Ripley's Believe It or Not territory. Portland is one T.J. McConnell shy of rolling out my dream NBA lineup: an all-white guy starting five. Watching McConnell, Stauskas, Layman, Zach Collins and Meyers Leonard bumble through an NBA game is something straight out of 1962. If Portland ever obtained McConnell and played that lineup, I decree that ESPN should be forced to broadcast in black-and-white.
Until that day comes, I think Portland will be happy to stick to its current crop of talent. Damian Lillard is playing at an All-NBA level, and if McCollum is healthy, they still make-up one of the best offensive backcourts in the NBA. Against Minnesota, a double- date with Jeff Teague and Andrew Wiggins won't exactly leave C.J. and Dame shaking in their boots, but a backbone of Covington and Taj Gibson may give them second thoughts. Even if Portland's dynamic duo falls flat, there's plenty of danger lurking around every Trail Blazer corner. Evan Turner is a walking playmaker off of the bench, Aminu and Harkless split effort and rebounding duties, and Nurkic can pop off and start snapping necks at any time he sees fit. Portland still ranks 8th in Offensive Rating, and Minnesota doesn't have the guard defenders to disrupt their offensive rhythm. As long as Damian Lillard takes the court, Portland has a chance to burn their own house down.
Best Bet
For the sake of brevity, I've decided to forego today's four factors of winning analysis. Suffice to say that there was no statistical edge to be gained when assessing these two teams. I tend to lean on analytics more than gambling trends when making my betting decisions, but sometimes I find something too good to pass up. Here it goes: The Minnesota Timberwolves are 11-24 ATS in their last 35 road games, while the Portland Trail Blazers are 25-10 ATS in their last 35 home games. Furthermore, the home team has won 5 consecutive match-ups between these two squads. Do you really need to know anything more than that? I'm an over-thinker by nature, but let's keep this one simple, stupid. Goodnight, Minnesota. Thank agains for Jimmy.
Final Score Prediction: Portland 110 – Minnesota 102