Baylor Bears vs. Syracuse Orange Pick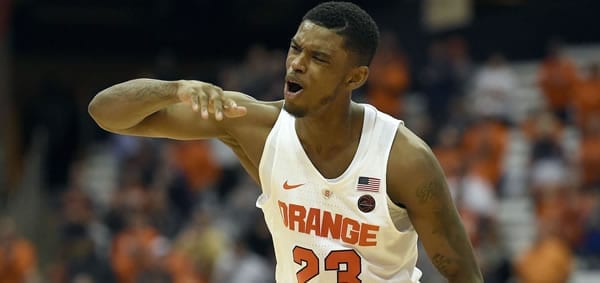 Baylor Bears (19-13 SU, 15-14-3 ATS) vs. Syracuse Orange (20-13 SU, 19-14 ATS)
When: Thursday, March 21, 2019 – 10 PM ET
Where: Vivint Smart Home Arena, Salt Lake City
TV: truTV
By: Dan Jamison, College Basketball Handicapper, Predictem.com
Point Spread: BAY +1.5/SYR -1.5
Total: O/U 130
Last Time Out: Baylor lost 83-66 to Iowa State; Syracuse lost 84-72 to Duke.
Scouting the Bears:
Baylor gonna Baylor. Actually, the Bears' tendency to choke on the biggest stage wasn't even given a chance to rear its head this time, as the Bears went into a four-game skid at the end of the season, losing convincingly in the Big 12 tournament to Iowa State to cap their regular season. Truthfully, two of the four losses were very reasonable, as the Bears fell by eight at Kansas and six at Kansas State, but they were also blown out by the Cyclones and lost at home to a bad Oklahoma State squad, making it difficult to know what to expect from the Bears in the NCAA tournament.
Their history suggests that the Bears struggle in the role of favorite, so playing the underdog might actually be the way to go for a program that was upset by Georgia State in 2015 and Yale in 2016. Baylor has only played one first-round game as the lower seed under Scott Drew, and that was back in 2008, leaving little to go on for what might happen. What does provide a clue is the fact that Baylor's offense ranked 28th in the nation and is totally fine with grinding out victories. The Bears don't shoot the 3-pointer particularly well, normally a requirement against the Syracuse zone, but they are excellent rebounders, ranking 17th in the nation in rebounding margin. Mario Kegler and Mark Vital haven't needed size to lead the Bears in rebounding, making that a real concern.
Scouting the Orange:
Distractions are never a welcome thing when you're going into the NCAA tournament, and Syracuse was just handed a big one with Frank Howard being suspended for an undisclosed violation of athletic department policy. The Orange have had just three days to learn about Baylor and learn how to play without their point guard, neither of which is an easy task. The only saving grace for Syracuse is that Baylor isn't the type of team that forces a lot of turnovers, but that's small comfort considering that the Orange already make a fair amount of mistakes on their own. Syracuse's assist-to-turnover ratio is below one, and that's with Howard in the lineup — a sign of a team that's wasteful with its possessions.
More NCAA Basketball: Villanova vs St. Mary's
X-Factor:
Momentum. Which team can regain it? Both of these teams limped down the stretch and barely qualified for the tournament, which is often the case in an 8-9 game that involves a pair of power conference schools. These teams are here because they weren't able to take advantage of their chances in the regular season, so now they're going to get fed to a top seed in the second round if they can survive the first game. In order to do that, they're going to have to rediscover what made them successful in the first place and put it to their advantage in short order.
Baylor will Cover if:
The Bears can use their athletic advantages. Baylor isn't the biggest team around by a long shot, but the Bears play a lot bigger than they are and can turn their weakness into their strength with their willingness to go for the ball. Baylor is aggressive when it needs to be and patient when the situation calls for it, which can work well in beating a defense that doesn't come out and attack.
Syracuse will Cover if:
Jalen Carey can take care of the basketball. Syracuse has to find a way to get the ball from point A to point B without Howard, and when it's tried to do that earlier this season, it hasn't gone particularly well. The Orange left the job to Carey against Connecticut, and his six turnovers were a large reason they lost. Against Oregon, also without Howard, every Syracuse starter had at least two turnovers in a 15-point loss. The Orange have to get the ball where it needs to go on a consistent basis to have any real chance.
Dan's Pick to Cover the Spread:
I don't really like either of these teams coming into this game, as both teams seem to be fading badly down the stretch. But when one team is facing a major distraction and the other isn't, it becomes a pretty easy call of whom to go with. I'm not sure why I'm getting a point and a half to take Baylor, but I will gladly take the Bears and my free points against a Howard-less Syracuse. Were the Orange at full strength, I'd likely look in their direction, but the reality is that they're not, and with no real point guard, Syracuse just doesn't look like it can move the ball well enough to beat Baylor. Give me the Bears in this one.
Who else wants $60 of FREE member picks & predictions?
(NO commitments. NO Credit Card. NO Salesman.)