Villanova Wildcats vs Saint Mary's Gaels Pick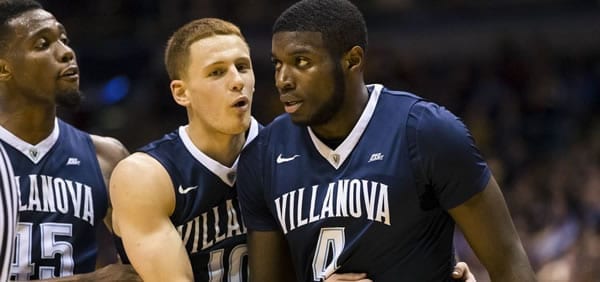 Saint Mary's Gaels (22-11 SU, 19-14 ATS) vs. Villanova Wildcats (25-9 SU, 20-14 ATS)
When: Thursday, March 21, 2019 – 7:20 PM ET
Where: XL Center, Hartford, Conn.
TV: TBS
By: Dan Jamison, College Basketball Handicapper, Predictem.com
Point Spread: SMC +4.5/NOVA -4.5 (Intertops Sportsbook)
Total: O/U 130
Last Time Out: Saint Mary's defeated Gonzaga 60-47; Villanova handled Seton Hall 74-72.
Scouting the Gaels:
Turns out you can change your team in the middle of the season. Saint Mary's was an average team on the defensive side of the ball for most of the year, until the Gaels went up to Spokane, Wash., and left with a 94-46 loss to Gonzaga. Something changed in the Gaels that night, and since that game, they haven't allowed an opponent to break 70 points. In the West Coast Conference championship game, Saint Mary's put on a clinic in how to shut down a good offensive team by slowing the game down and denying Gonzaga good looks at the basket, and when all was said and done, they'd held the nation's No. 1 offense to a mere 47 points.
Can they do it again? Odds are that they can. The Gaels' patient tempo is by choice, while Villanova has had to play a slower tempo out of necessity. That means that Saint Mary's is going to be all too happy to play slowdown, and the Gaels play it better than the Wildcats do. With Jordan Ford blossoming into a genuine threat, Saint Mary's is dangerous.
Scouting the Wildcats:
All season long, Villanova has been a three-legged stool: Phil Booth, Eric Paschall and one other option that rotates by the game. Sometimes it's been Collin Gillespie, sometimes Saddiq Bey and sometimes Jermaine Samuels, but it's consistently been only one of the three on any given night. That's not necessarily a bad thing for the Wildcats, as it does mean that all five players command attention from the defense, which frees Booth and Paschall to do what they do best, but it does mean the Wildcats are susceptible to a bad night if one of their two seniors gets shut down.
X-Factor:
Travel. One of the most overlooked parts of the first round is the travel to the site. With 48 teams having an officially unprotected seed in terms of travel, the first round often features a matchup where one team has to travel a long distance and the other does not. That's the case here, as Villanova only has to cover 200 miles while Saint Mary's must cross three time zones.
Best MLB Sportsbook Ranked By Dime Line Pricing
So it's time to jump on Villanova, right? Not necessarily. The Wildcats do have the travel edge, but the NCAA did not assign the Gaels a double whammy by giving them the first game of the day. Instead of having to play at what would be 9 a.m per their body clocks, the Gaels will play at a much more reasonable 4:30 p.m. Pacific. Travel will still be an edge for Villanova, but playing in the evening session will likely help neutralize that edge.
Plus, Saint Mary's has done this before. In 2010, the Gaels had to travel to Providence, R.I., to meet Richmond in the first round. Not only did Saint Mary's win that game, it also beat its second round opponent to earn a Sweet 16 trip.
Who was its second round opponent? Villanova.
Saint Mary's will Cover if:
The Gaels can shut down one of Booth or Paschall. Villanova's two stars are fantastic players, but against a defense like this one, there's a real danger that one could have an off-night. That's actually not something that the Wildcats got used to seeing in the Big East this season, as six of Villanova's nine league foes (the exceptions being Seton Hall, Marquette and Providence) had a worse defense than Saint Mary's. If the Gaels can either take one away or force one into foul trouble, they have the edge.
Villanova will Cover if:
The Wildcats can find a fourth option. Villanova has the talent to present a matchup nightmare to anyone, but the Wildcats haven't been able to consistently get that final scoring option that they need. They've gotten away with it in a down Big East, but they're not going to get away with it for long. If the Wildcats don't get more production, this will be a short stay.
Dan's Pick to Cover the Spread:
I haven't been high on Villanova for a while now, and it seems like Saint Mary's is peaking at the right time. I'd be lying if I said I wasn't a little concerned about the travel, but the reality is that Saint Mary's is a better basketball team. Not only do I think the Gaels can cover, I think that they can win this game outright. Villanova just hasn't shown me enough to convince me that this is anything more than a shell of the team that won last year's national title.
There's also the fact that despite two national titles in three years, Villanova is very inconsistent in March. In odd years, the Wildcats tend to flame out early. In their past six tournament appearances in an odd year (2007, 2009, 2011, 2013, 2015 and 2017) the Wildcats are 6-6 overall and have gone down in the first round three times. Outside of their 2009 Final Four run, the Wildcats are 2-5 in odd years, and the wins were over Lafayette and Mount St. Mary's.
Saint Mary's is a lot better than either of those teams, and I think it's going to show it here. I like the Gaels to cover and possibly pull the upset straight up.