College Basketball Picks: Cal at UCLA 1/19/20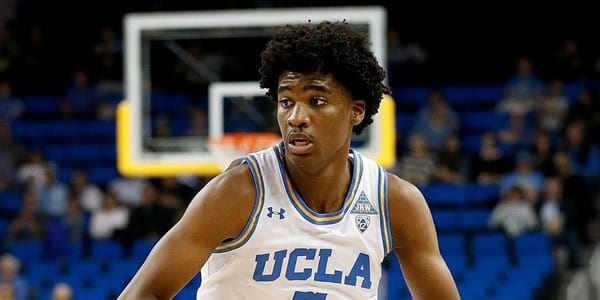 California Golden Bears (8-9 SU, 6-11 ATS) vs. UCLA Bruins (8-9 SU, 6-10 ATS)
When: Sunday, January 19, at 8 p.m.
Where: Pauley Pavilion, Los Angeles
TV: ESPNU
Point Spread: CAL +8/UCLA -8 (Best Bonus)
Total: O/U 131
Last Time Out:
California lost 88-56 to USC; UCLA lost 74-59 to Stanford.
Scouting the Golden Bears:
Pauley Pavilion in January is about the last place in the world that California needs to be right now because the Golden Bears have done a lot of losing to UCLA in Los Angeles and in this year's first month. California hasn't beaten UCLA in January since 2005 and has dropped seven straight to the Bruins in Pauley Pavilion. Six of those seven games were decided by double digits, and this one will go the same way if Cal can't get more help for Matt Bradley. Bradley averages 17.4 points per game, but beyond him, the Golden Bears really struggle to get the offense going.
In fact, California games are consistently low scoring affairs because the Golden Bears rank outside the top 200 in offense and are one of the 50 slowest-paced teams in the nation. That strategy hasn't worked all that well for Cal outside of the Washington schools' trip to Berkeley, as those are the only games Cal has won in its past seven contests.
Scouting the Bruins:
Can this get worse for UCLA? The Bruins have now lost six of their past seven, and they've capped it off by taking their first home loss to Stanford since 2005. Right now, the Bruins are such a mess. They managed to lose at home to Cal State Fullerton and served as one of only two North Carolina victories in the Tar Heels' past ten games. The only game UCLA has won of its past seven was a two-pointer at Washington, and that only occurred because Jake Kyman, who averages 4.1 points a game, managed to score 21 points to lead the Bruins to a victory. Otherwise, UCLA has been a royal mess on offense, as Chris Smith hasn't gotten much help from the likes of Prince Ali and Cody Riley, who combined for two points against Stanford.
X-Factor:
Pride. Which team has it, if either of them does? California and UCLA are looking like the worst the Pac-12 has to offer this year, as both sides appear to be well on their way to watching the postseason from home unless they can somehow win the Pac-12 tournament. The loser of this game will be the first Pac-12 team with double-digit losses, and from there, it's pretty easy for things to spiral out of control, especially with no apparent solutions on the horizon. The team that shows some pride and actually finds something to play for is going to be in much better shape to win this game and move toward salvaging something from this year.
California will Cover if:
The Golden Bears can get Bradley going. When Bradley is scoring, California is in much better shape. When he isn't, the Bears are one of the weakest power conference teams in the nation. It's not a coincidence that California is 8-2 when Bradley scores at least 16 points and 0-7 when he gets held to 15 or less. As Bradley goes, so go the Bears, and if he's not getting his points, the rest of the California offense is highly unlikely to pick up the slack and bail him out.
UCLA will Cover if:
The Bruins can spread the ball around and get multiple scorers involved. UCLA got its one recent win against Washington, and the way the Bruins did it was by notching 15 assists and setting up their shooters for good looks at the basket. UCLA doesn't have one scorer that gets the bulk of its points the way Cal does, so the Bruins have to be themselves and spread out their scoring.
Dan's Pick to Cover the Spread:
California has played four games on the road and seven games overall outside of Haas Pavilion. For the season, the Golden Bears are 0-7 away from Berkeley, and only a game against Boston College in San Francisco — hardly a neutral site — was within double digits. Included in that stretch has been a 35-point loss to Duke, the 32-point loss to USC, a 16-point loss to Stanford, a 19-point loss to Santa Clara, and a 12-point loss to San Francisco. Losing to Duke is understandable, but getting clocked by two West Coast Conference teams and losing by 32 to a middling USC squad is another matter entirely.
Meanwhile, UCLA looks like a major mess itself and has proven perfectly capable of losing in Pauley Pavilion to bad teams. Case in point, Fullerton. The Titans are not going to be much of a worry in the Big West, given that they're 6-13, but one of those six is UCLA. This is Cal's best chance to win in Pauley in years, but I think they're too weak to even take advantage of this opportunity.
For me, the under is crying out to be bet on, but as far as the spread, I have to go with UCLA here. Cal is just too much of a mess to get itself back on track. I'm taking the Bruins to cover. Where do you bet your college basketball wagers? Did you know that you could be betting at -105 discounted odds rather than the standard -110 that most bookies offer? If you had made all your bets at -105 over the past 5 years you'd have saved THOUSANDS of dollars. Make your next 5 years count and save thousands by betting at reduced odds at the web's best sportsbook –> 5Dimes! You will be SO glad you made the change!
STOP LOSING TODAY! START WINNING WITH DOC'S TEAM OF PROFESSIONALS! GET A FREE NO STRINGS ATTACHED $60 FOR THIS WEEKEND'S GAMES!