Duke Blue Devils vs. Louisville Cardinals Pick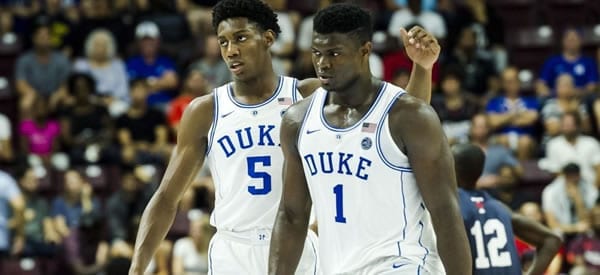 #2 Duke Blue Devils (21-2, 15-8 ATS) vs. #16 Louisville Cardinals (17-7, 13-9-2ATS)
When: Tuesday, February 12th, 2019 – 9:00 pm ET
Where: KFC Yum! Center – Louisville, KY
TV: ESPN
By: Kyle Cash, NCAA Basketball Handicapper, Predictem.com
Point Spread: DUKE -6.5/LOU +6.5
Total: 151.5
It's scary how accurate I am these days. I swear – I have a real job. Basketball is just my hobby and my passion. The harsh reality is that if I actually had the excess funds to follow my own gambling advice, these articles would serve as nothing more than a warning to potential readers to go against me at all costs. I'm a degenerate gambler with no money to gamble and a reservoir of basketball information at my disposal that could solve my money problems in an instant. What a paradox.
College basketball is really getting into the swing of things just as the NBA heads into its mid-season vacation, and I have to admit: I really love watching college basketball. Every once in a while, there's a major clunker (looking at you NC State and Virginia Tech), but the college atmosphere tends to make up for the gap in talent between the NCAA and the NBA.
But tonight, I get the best of both worlds as the Content Machine Duke Blue Devils themselves will be gracing my television screen to take on the Louisville Cardinals. Duke served Virginia its second loss of the season on Saturday night while the Cardinals fluttered to an overtime loss down in Florida versus the Seminoles. With the bluest of blue bloods looking in rare form, they come into the game as 6.5-point road favorites with the total set to 151.5 points.
On the Road Again
Duke's road battles have been few and far between this season, but they're 5-0 in games when they leave the comfort of Cameron Indoor. Zion Williamson is doing things on the basketball court that are being flagged on Twitter and Facebook as "Disturbing Content: May Not Be Suitable for Viewers Under 18 Years Old." R.J. Barrett and Cam Reddish are living in a 6'5" 285-pound shadow, so it's easy to forget that they are two of the five best prospects in this year's college basketball class. You don't need me to do this but let me just spell it out for you: it's very, very hard to beat the Duke Blue Devils this year.
That doesn't mean, however, that they are incapable of beating themselves. You like that one? That's some serious Galaxy Brain right there. Nonetheless, it holds true. R.J. Barrett is attempting the most field goal attempts per game of any Duke player in history. Yes – more shots per game than Duke legends like J.J. Redick, Jay Williams, Jabari Parker, Jayson Tatum, Kyle Singler, Christian Laettner or…Zion Williamson. There's the everlasting possibility that Zion eventually wakes up and says, "Why is this guy getting more touches than me again?" If that happens, a Civil War is inevitable.
Even if Duke isn't engaging in friendly fire, there are still ways for Louisville to disrupt what they do. Chris Mack's new squad is exceptionally well-coached, and they have the ability to put the clamps on opposing offenses. And while Duke's defense is much-improved from last year's sloppy zone fest (mostly due to Zion's Draymond impersonation), Louisville is one of the best offensive units in the country in terms of efficiency. Any team that can make their free throws, knock down the long ball and put up points at home is a threat – even to the Duke juggernaut.
The Cardinal's Sin
Oh, Louisville. It's been what feels like forever since Slick Rick Pitino graced their campus with his magnetic personality, and the mystique of the Louisville Cardinals is going to be hard to regain under head coach Chris Mack. The Louisville of old wouldn't have succumbed on the road to a so-so Florida State team, and they certainly would've put up more of a fight against an incoming UNC team on their home floor. Even still, Chris Mack took Xavier from perennial 8-seed to a Big East dynamo, and with the amount of money funneling into Louisville and back out to its athletes' Venmo accounts (allegedly), it's only a matter of time before the Cardinals rise from the ashes to take the ACC by storm.
They may have the opportunity for a truly signature win on Tuesday night. Louisville has impressed against a difficult schedule without a legitimate go-to guy, but they'll need to milk every ounce out of their collective talent to be victorious tonight. Sophomore forward Jordan Nwora has been the Cardinals' most consistent offensive threat, and he will be the guy that needs to pace Louisville versus Duke's offensive attack. Meanwhile, Dwayne Sutton and Christen Cunningham will do their best to slow down the likes of R.J. Barrett and Zion Williamson. But what is more important than the match-up is the poise that Louisville has showed versus top-tier talent. With games already versus Tennessee, Kentucky, UNC and Michigan State, Louisville won't be afraid of the Big Blue Wolf, and if their home crowd can give them a boost, this one might be the college game of the week.
Best Bet
There comes a time in every Duke season when I text my best friend, a devout Duke lover and Christian Laettner-defender, and I ask him, "Is tonight the night? Is Duke going down?" Usually, our preferred targets are versus NC State or Boston College, but it's always a road game and it's always sometime during conference play. Well, my friends, tonight was that night, and here was my friend's response: "This might be the slip up game. Chris Mack is a really good coach. Also, R.J. had his best 3-point shooting game of his life. Expect a fresh 1-7 or 2-9 tomorrow." I'm not saying that you should throw a little taste on Louisville's ML tomorrow when it posts – but I'm also not NOT saying that. Either way, 6.5-points on the road versus a ranked conference opponent is a fool's errand, and I refuse to participate. Make me look silly and win by 30, Duke. See if I care.
Final Score Prediction: Duke Blue Devils 78 – Louisville Cardinals 77
Who else wants $60 of FREE member picks & predictions?
(NO commitments. NO Credit Card. NO Salesman.)