Duke Blue Devils vs. Michigan State Spartans Pick 12/3/19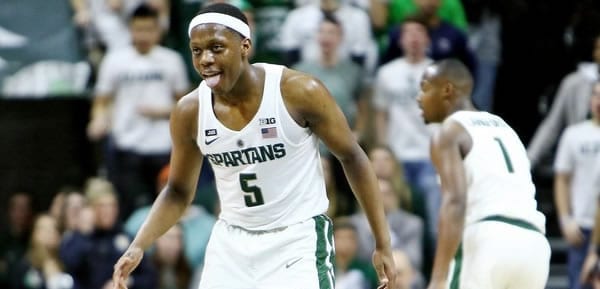 Duke Blue Devils (7-1 SU, 4-4 ATS) vs. Michigan State Spartans (5-2 SU, 2-5 ATS)
When: Tuesday, December 3, 9:30 p.m.
Where: Breslin Center, East Lansing, Mich.
TV: ESPN
Point Spread: DUKE +6/MIST -6 (SportBet)
Total: O/U 146.5
Last Time Out:
Duke defeated Winthrop 83-70; Michigan State handled UCLA 75-62.
Scouting the Blue Devils:
Last week showed once again the danger of relying on "freshman" for the bulk of your production: eventually, their youth is going to show up. It came for Duke in shocking fashion against Stephen F. Austin, and it underscored just how wide the range of outcomes is for the Blue Devils. When everything is going well for Duke, as it did against California, the results can be pretty scary. But when Duke doesn't play its game, it's a vulnerable squad, and that's exactly what the case was when the Blue Devils lost to the Lumberjacks.
With Cassius Stanley now injured, Duke is in danger of becoming a two-man show again, and that wasn't good enough to beat Michigan State a year ago. Vernon Carey has been as good as advertised, while Tre Jones has made a solid jump to a No. 2 scoring option who can also set up his teammates, but Duke doesn't have a lot of depth behind them. If the Blue Devils can't get someone else established, it's difficult to see them matching up with a quality opponent.
More Picks: Get all of our team's CBB: MICH/LOU Pick Against the Spread >>>
Scouting the Spartans:
With a Tom Izzo-coached team, one of two things is going to be true. Either the Spartans are locked in from the word go and are ready to dominate the rest of the country, or they're going to be a team that needs time to find itself. This appears to be of the latter variety. The Spartans managed to "right the ship" in Maui with wins over UCLA and Georgia, but they started the tournament by losing to a Virginia Tech team that they really had no business losing to. Like Duke, Michigan State has had trouble establishing itself and getting contributions from more than a couple of players. Xavier Tillman has been fantastic down low, and Cassius Winston remains an All-American caliber player, but the rest of the supporting cast has yet to show up. Michigan State has to find that third consistent option, which could be Aaron Henry, if he can keep up the offense he's shown so far.
X-Factor:
Tillman vs. Carey. Tillman's experience goes up against Carey's sheer talent in an intriguing battle. Michigan State's experience trumped Duke's talent when it mattered most a year ago, and it's likely that these two end up in their own private battle over the course of this contest. Whichever one can establish ownership of the paint will make a big difference.
Duke will Cover if:​
The Blue Devils can push the tempo without overwhelming themselves. Duke pushed things a bit too far against Stephen F. Austin, and it ended up costing them in a big way. The Blue Devils will be able to frustrate Michigan State if they can play fast but under control, but if they can't, they're in for another rough outing.
​
Michigan State will Cover if:
The Spartans can make Duke turn to someone besides Vernon Carey on offense. The Blue Devils have struggled to find a Plan B and C in recent years, and if Duke continues to struggle with coming up with a creative solution to the kinds of defenses they're likely to see in ACC play, they're going to remain a vulnerable squad. The Blue Devils haven't faced a true road game, so this will be an early challenge.
Dan's Pick to Cover the Spread:
Both of these teams seem to have something missing in the early part of the schedule, and I'm honestly not sure as to which way to lean. I think I'm going to have to go with Michigan State here because I believe the Spartans are closer to getting things figured out than the Blue Devils are. Michigan State has a pair of losses on its resume. But, both of those games were against someone who is likely to be in the mix for an NCAA at-large bid or better.
Duke, meanwhile, got sped up by Stephen F. Austin and has looked somewhat vulnerable to start this early season. I haven't seen enough evidence to suggest that Duke has put the past behind it, and there's also the fact that the Blue Devils are going away from home for a true road game the first time. I don't love this bet, but I think there is just enough reason to take the Spartans here.