Duke Blue Devils vs. North Dakota State Bison Pick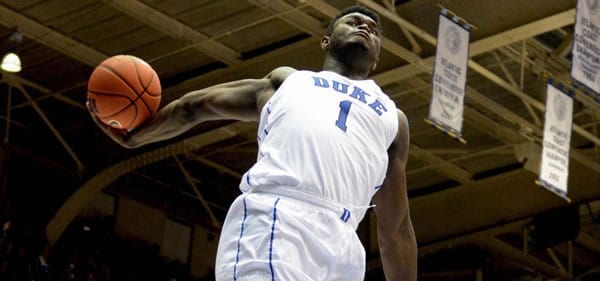 North Dakota State Bison (19-15 SU, 14-16-2 ATS) vs. Duke Blue Devils (30-3 SU, 21-12 ATS)
When: Friday, March 22, 2019 – 7:10 PM ET
Where: Colonial Life Arena, Columbia, S.C.
TV: CBS
Point Spread: NDSU +27.5/DUKE -27.5
Total: O/U 149.5
Last Time Out: North Dakota State beat North Carolina Central 78-74; Duke beat Florida State 73-63.
Scouting the Bison:
Youth and inexperience didn't hurt the Bison against the experience of North Carolina Central, as North Dakota State controlled most of the game and earned a four-point win over the Eagles. Now they face the opposite situation, going up against a very inexperienced Duke squad. The problem, of course, is that Duke has talent like North Dakota State hasn't seen all season, and the young Bison will have to avoid trying to run with the Blue Devils. To stay within shouting distance, North Dakota State needs to take its time and get the ball in the hands of Vinnie Shahid. Finding Tyson Ward, who scored 23 points, wouldn't be a bad idea either.
Top 7 March Madness Bonus Offers
Scouting the Blue Devils:
You'd be forgiven if you thought that Duke was just Zion Williamson and little else. For one, the freshman has dominated the court. For another, the headlines ever since his shoe snapped against North Carolina had been about his show breaking in the loss to the Tar Heels. But the Blue Devils have more than just Williamson at their disposal, which is why they landed the No. 1 seed in the tournament. R.J. Barrett and Cam Reddish have been as dangerous as anyone in the country, and Barrett, not Williamson, leads Duke in scoring. However, when Williamson has gone out, Duke becomes very mortal, as it showed in its near-disaster game against Wake Forest, when it survived by a point.
X-Factor:
The backdoor Cover. Against an opponent like this that can shoot it and shoot it well, you run the risk of allowing them to hang around and keep the game within a reasonable deficit. That's doubly true against a North Dakota State. The Bison are excellent from the charity stripe and would easily be able to keep the game's margin under 25 points if they get enough opportunities. In a game where a team like Duke is up 25, there's a tendency for reserves to get lazy on defense and give up open looks in the dying seconds, reasoning that the game is over and it doesn't matter if someone scores. That's the perfect recipe for a backdoor cover.
North Dakota State will Cover if:
The Bison can get themselves to the free throw line. As great as Williamson is, he can't do a thing when the clock is stopped and North Dakota State is attempting foul shots. NDSU is deadly from the stripe, and their one real chance is if they can drive the lane, get Duke players to commit cheap fouls and pick up points that way. If they can force Williamson to the bench, that's even better. Above all, the Bison have to keep attacking the rim regardless of what awaits them there. Blocked shots might happen, but NDSU needs to keep going after the rim to try to get the Blue Devils to give them cheap points.
Duke will Cover if:
The Blue Devils choose to keep their foot on the gas. Even if Duke plays about a C-minus level game, it should overwhelm North Dakota State. But covering 28 points? That requires long-term commitment to running the standard Duke expects and not a situation where Mike Krzyzewski empties his bench with the game well out of reach. If Duke hits the gas, they'll hit the spread. But Duke has a longer race to run than just this game, so it's anyone's guess as to how long the Blue Devils' best will play.
Dan's Pick to Cover the Spread:
North Dakota State is not your typical mid-major conference champion. It's young and talented, as opposed to some of the squads that feature mostly seniors. The problem is, so is Duke. However, the Blue Devils seem likely to approach this game as a warmup for the rest of the tournament, so there's little reason to expect that they're going to keep pushing once they have this game comfortably in hand.
If Duke was facing North Dakota State in a one-off situation, I'd take the Blue Devils and lay the high price to do so. But Duke has a longer race to run than the Bison do. The Blue Devils expect to be playing in the Final Four, and to make that happen, they need Williamson at full strength. They'll likely ease him into playing a full 40 minutes, which means he probably will only play as much as he needs to in order to ensure that he's where he needs to be for what lies ahead.
Given that and the Bison prowess at the charity stripe, this feels like the type of game that winds up a backdoor cover. North Dakota State will likely fall by 20 to 25 points, but that's enough to stay within the huge spread. I'll take the Bison to stay within shouting distance of the Blue Devils before succumbing.
Who else wants $60 of FREE member picks & predictions?
(NO commitments. NO Credit Card. NO Salesman.)