Bovada: Duke Blue Devils -31 vs. Princeton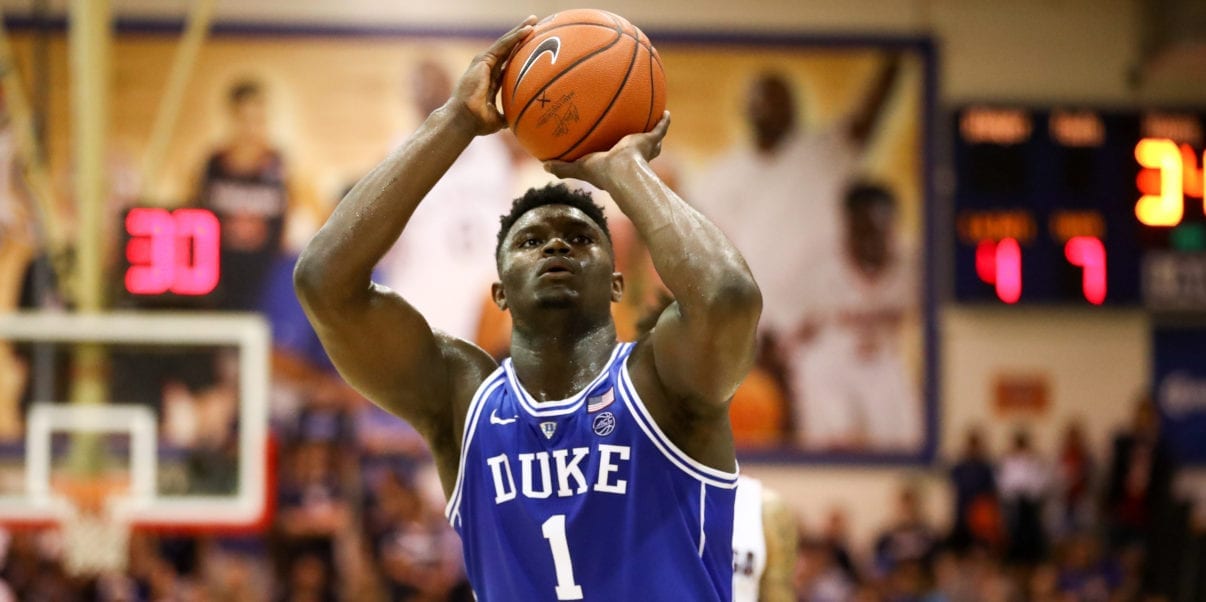 Princeton Tigers (5-4 SU, 4-4 ATS) vs. Duke Blue Devils (9-1 SU, 6-4 ATS)
When: Tuesday, December 18, 2018 – 6 PM ET
Where: Cameron Indoor Stadium, Durham, N.C.
TV: ESPN2
By: Dan Jamison, College Basketball Handicapper, Predictem.com
Point Spread: PRIN +31/DUKE –31 (Bovada Sportsbook)
Total: O/U 155
Last Time Out: Duke routed Yale 91-58; Princeton beat Iona 85-81.
Analyzing the Tigers:
Defense and low-scoring games have long been a tradition at Princeton, but that's not the case this season. The Tigers started the year decently on defense, but Princeton has since been shredded by St. John's, Saint Joseph's and Iona for upwards of 80 points in each contest. The Tigers don't stop the ball anywhere near as well as past Princeton teams have, so this game won't be anywhere near as irritating for Duke as the Pete Carril-led teams of the 1980s and 1990s were. What Princeton does do well comes in the form of its two senior guards, Devin Cannady and Myles Stephens. Between the two of them, they average 34.6 points a game and rarely take a seat, so if either one has an off day, it's usually disastrous for Princeton.
TIRED OF YOUR CREDIT CARD NOT WORKING AT SPORTSBOOKS? IT WILL AT BOVADA + GET A 50% BONUS!
Analyzing the Blue Devils:
Duke's freshman trio continues to destroy its competition, and the Blue Devils haven't really been tested since their loss to Gonzaga, winning each game by at least 20 points. However, it's anyone's guess as to how fresh Duke will be for this game, given that the Blue Devils haven't played anyone since beating Yale on Dec. 8. What is pretty certain is that Duke's offense will continue to run through freshmen R.J. Barrett and Zion Williamson, who each average over 20 points per game and have proven unstoppable so far.
X-Factor:
Texas Tech. Wait, isn't this game between Duke and Princeton? Yes, but there's another factor at play here: the fact that Duke's got a showdown with the undefeated Red Raiders coming up Thursday in New York. With the Blue Devils having to turn around and play a strong team in the Garden less than 48 hours after this game with Princeton, there's a good chance that Mike Krzyzewski will start clearing his bench as soon as victory is apparent in order to preserve his players for their real challenge this week, which could open the door for a Princeton backdoor cover.
Princeton Will Cover if:
The Tigers can keep the game competitive in the first half. Duke is the better team by a fairly large margin, but Princeton isn't exactly among the dregs of college basketball. The Tigers have shown they can play with some schools from better leagues than the Ivy, such as when they beat George Washington by 19 points. Duke is by far the best team that the Tigers have played, but if Princeton can keep the game within shouting distance through the first 15 to 20 minutes, they'll be able to leave Durham with a respectable loss for an Ivy League school.
Duke Will Cover if:
Bovada shows Duke offered at -31. That is a lot of points but Duke is a lot of talent. The Blue Devils are locked in from the word go. Duke is a difficult team to bet when it plays against lesser competition because it isn't a guarantee that the Blue Devils will be interested in doing more than necessary against a lower-level school. Duke has had no trouble showing up for games such as Gonzaga and Auburn, but Army and Yale have given it problems for a half before Duke was able to pull away. After a 10-day layoff, Duke will have to be sure that it's rested and not rusty in order to cover.
Dan's Pick to Cover the Spread:
If this was the only game Duke was playing this week, this would be an easy pick for me. But since the Blue Devils have more work to do, I've got to grab the Tigers and the points.
It's not because I think Duke is slipping or Princeton is a favorite in the Ivy League. It's because Duke knows that beating Princeton is not the main concern for it this week, and there's little reason for the Blue Devils to exert themselves too heavily when it has a much more meaningful opponent coming up next and it has to travel to New York for the game.
Betting Bovada that the Blue Devils cover here means that you think Duke is going to try to bury Princeton in the second half and manage to hit the 31-point spread, and that simply isn't likely to happen. Mike Krzyzewski knows that beating Princeton isn't going to mean much of anything in the long run, and he's likely going to try to focus on getting his team a comfortable victory and then getting out to prepare for Texas Tech.
Throw in that Duke's been focused on exams over basketball and the conditions are ripe for the Blue Devils to play a sluggish game that's below their standards. Duke's C game is still about 20 points better than Princeton's best, so it's not like the Blue Devils will likely be in any danger in this contest, but they're also probably not going to be as dominant as they usually are. This is the time to take the Tigers and the points.
The Brooklyn Nets should be the perfect team for Lebron James to abuse and get back on track. The matchups are ideal for LA. DeMarre Carroll was once a fabled LeBron-stopper, but those days are long gone. In fact, LeBron has triple-doubled in three out of their last four meetings and scored at least 29 points in all four. Those are some juicy trends yet online sportsbooks have the LA Lakers at around only -2. Kyle Cash has your NBA pick.
Bovada Sportsbook launched in 2001. From the beginning, priority was given to user experience. Most online sportsbooks used one of three out of the box software platforms for their user interface. Bovada spent millions creating its own from the ground up. Its support team was also a focus. It was so good and friendly, that customers would routinely call to chat about the games when they didn't really need any assistance. Bovada eventually had to incorporate limiting casual conversation into their employee training because players enjoyed using customer service for the social element. To this day, Bovada remains focused on a fun experience for their bettors. That includes simple bonus plans like the current offer of 50% CASH Bonus to start the football season.