Gonzaga Bulldogs Pick vs Fairleigh Dickinson Knights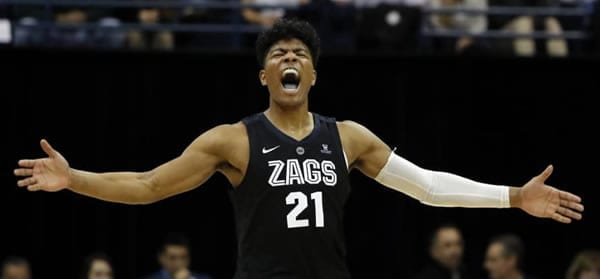 Fairleigh Dickinson Knights (21-13 SU, 19-13 ATS) vs. Gonzaga Bulldogs (30-3 SU, 21-12 ATS)
When: Thursday, March 21, 2019 – 7:30 PM ET
Where: Vivint Smart Home Arena, Salt Lake City
TV: truTV
By: Dan Jamison, College Basketball Handicapper, Predictem.com
Point Spread: FDU +27.5/GONZ -27.5 (Bovada)
Total: O/U 152.5
Last Time Out: Fairleigh Dickinson beat Prairie View 82-76; Gonzaga lost 60-47 to Saint Mary's.
Scouting the Knights:
Tuesday was a very uncharacteristic performance for Fairleigh Dickinson, as the Knights got outshot from behind the arc by Prairie View. That doesn't happen often because the Knights are one of the most accurate shooting teams from 3-point range in the nation, but it occurred because the Panthers took advantage of the Knights' poor defense and lit it up from deep. Now Fairleigh Dickinson faces a much bigger challenge in the country's most elite offense. The Knights will counter with their two great guards, Jahlil Jenkins and Darnell Edge. Both played all 40 minutes against the Panthers, and both will have to be as good as they were on Tuesday for Fairleigh Dickinson to have a prayer.
Scouting the Bulldogs:
Was it an off night, or did Saint Mary's actually find the blueprint for beating Gonzaga? The Bulldogs weren't able to play at their pace, and it cost them dearly as Saint Mary's took control early and forced Gonzaga out of their comfort zone. Now the Bulldogs get their first taste of game action after a long layoff, and it's against one of the weakest defenses in the nation. The Knights rank 294th in Division I and just allowed Prairie View, not a strong 3-point shooting team, to shoot 52 percent from behind the arc. Against Gonzaga, that's basically an open invitation to put up a lot of points. Given that the Bulldogs are angry after a loss and are likely anxious to get out and run after Saint Mary's caged them, this seems to be a terrible time to be Fairleigh Dickinson.
X-Factor:
Exhaustion. The selection committee did Fairleigh Dickinson no favors. Not only did the Knights have to play Tuesday in Dayton, but they followed that up by having to cross two time zones to go to Utah and face Gonzaga, less than 48 hours after a come-from-behind win. If that wasn't enough, three Fairleigh Dickinson starters — including Edge and Jenkins played all 40 minutes against the Panthers. In fact, FDU used just 14 minutes out of 200 on its bench, underscoring just how vital the starters are.
Kentucky vs. Abilene Free NCAA Pick
There's another factor to worry about in terms of exhaustion: Salt Lake City. Many people from the east don't realize it, but Salt Lake City is 4,226 feet above sea level, and the air can get thin for athletes pretty quickly. Fairleigh Dickinson, blessed with an abundance of nearby opponents, has not played at altitude like this, and that could cause a big factor as exhausted players require a greater amount of substitutions. The Knights don't have any depth, and that's a major problem as they get deep into the contest.
Fairleigh Dickinson will Cover if:
The Knights can keep the 3-point shooting the showed against Prairie View going. Fairleigh Dickinson's game is built around hitting the deep shot, and if the Knight can get hot and stay hot, they'll have a chance to stay in the game for longer than people expect.
Gonzaga will Cover if:
The Bulldogs can establish their superiority early. The one thing that Fairleigh Dickinson has to its name is that the Knights have nothing to lose. No Northeast Conference school has ever won a game in the main bracket, so Fairleigh Dickinson is playing with house money here. If Gonzaga can't put the game away quickly, this could turn into a game that's somewhat close.
Dan's Pick to Cover the Spread:
There's virtually no chance of the Knights joining UMBC in the club of 16 seeds that beat a 1 seed. The better question is, is that spread too much, or can Gonzaga really cover 27.5 points? It's a worry because of the possibility of a backdoor cover, but I think Gonzaga can cover the massive spread. The Bulldogs are coming in ticked off and ready to run, and that's a bad combination for a tired Fairleigh Dickinson squad.
The only likely way I can see Gonzaga failing to cover here is if Mark Few decides that his team has done enough and needs to get ready for round 2. Even then, I think the lead could be around 30 by this time, and that's enough for me to think the Bulldogs will protect the margin. Even though you're giving nearly 28 points, the fact that the Knights' defense is facing the top-ranked offense says it's worth the risk. Give me the Bulldogs here.
Who else wants $60 of FREE member picks & predictions?