LSU Tigers vs. Mississippi State Bulldogs Pick 2/6/19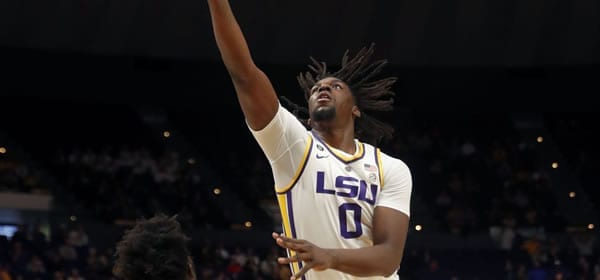 LSU Tigers (17-4 SU, 11-9-1 ATS) vs. Mississippi State Bulldogs (16-5 SU, 10-11 ATS)
When: Wednesday, February 6, 2019 – 9 PM ET
Where: Humphrey Coliseum, Starkville, Miss.
TV: ESPN
Point Spread: LSU +2.5/MSST -2.5 (GTBets)
Total: O/U 156.5
Last Time Out: LSU lost 90-89 to Arkansas; Mississippi State beat Mississippi 81-75.
Scouting the Tigers:
Will Wade's team had won 10 in a row before losing at home to Arkansas, and now the Tigers have to get themselves back on track with the meat of their schedule coming up. Tremont Waters and Skylar Mays have proven to be a solid combination in the backcourt, and they're a big reason why the Tigers average just under 10 steals per game. Unlike his VCU predecessor Shaka Smart, Wade took the fast-paced philosophy that the Rams won with to his power-conference job, and LSU has used its speed to great effectiveness this season.
Scouting the Bulldogs:
It's been all about the Weatherspoons for most of the season for Mississippi State. Quinndary Weatherspoon has been the Bulldogs' senior leader, and he does a little bit of everything for Mississippi State, leading in points and steals per game and ranking second on the team in assists, rebounds, and free throw percentage. But lately, he and Nick Weatherspoon have been getting some help in the form of freshman Reggie Perry, who has scored in double figures in each of Mississippi State's past three contests, which included wins over Auburn and Mississippi. The Bulldogs can score with anybody and can defend most teams pretty well, a 76-55 loss to Kentucky being a notable exception.
X-Factor:
Emotion. This is the biggest week Mississippi State basketball has seen in some time, as the Bulldogs have both LSU and Kentucky coming to Starkville with a chance to get that signature win that their profile currently lacks. Mississippi State is closer to being in than out, but the Bulldogs haven't yet done enough to say that they're safely in the field. They're going to come in hungry to get that win over a ranked opponent, and they'll be especially fired up to beat LSU, given that this is a rivalry game and a win over the Bayou Bengals would ensure no worse than a split, which would make for a successful week for Ben Howland's crew.
LSU is going to have to match that emotion, which could be difficult after losing to a mediocre Arkansas team. A loss like that can sometimes lead a team to let that result beat it twice, and LSU isn't going to be able to ease into a game like this as it gets its emotions in check. The Tigers have to have Arkansas firmly in the rearview mirror before they step on the court.
LSU will Cover if:
The Tigers can hit their 3-point baskets. Mississippi State can stroke it from beyond the arc, with Reggie Perry stepping up as of late to hit some big 3-point baskets. LSU, conversely, has not shot it well from behind the arc as of late, and it cost the Tigers against Arkansas. Waters has been the only consistent outside threat for the Bayou Bengals, and that can't happen against an opponent that will shoot it from deep and will likely make enough shots to put the game out of reach if the Tigers can't respond on offense.
Mississippi State will Cover if:
The Bulldogs can force LSU into mistakes. One of the problems for LSU is that it often tries to play a little too fast. The Tigers paid the price against Arkansas, which handled the speed well and turned it around on LSU, forcing 21 turnovers that proved critical in the Hogs' victory. Mississippi State doesn't play as fast as LSU or Arkansas like to play, but all five Bulldog starters average at least one steal per game. The Bulldogs have the defensive skill and athleticism to replicate Arkansas' winning formula in their own way, which can create nightmares for the Tigers.
Dan's Pick to Cover the Spread:
LSU has an excellent record, but a look into the Tigers' mark reveals that it's come against the dregs of the SEC. Yes, LSU is 7-1 against the league, but that includes Arkansas, South Carolina, Georgia, Missouri, and Texas A&M, none of whom are going to be anywhere near the NCAA tournament without winning the SEC tournament.
Conversely, Mississippi State has beaten the likes of Auburn, Clemson, and Cincinnati while earning a split with Mississippi and actually having played Kentucky. LSU has yet to see any of Tennessee, Kentucky or Auburn, which leads me to suspect that its record isn't what it seems to be. I've only got to lay 2.5 with this Mississippi State team at home, and I'm happy to do exactly that. Give me Ben Howland's Bulldogs in this one.
Take Mississippi State -2.5