Big Ten Pick: Michigan vs. Iowa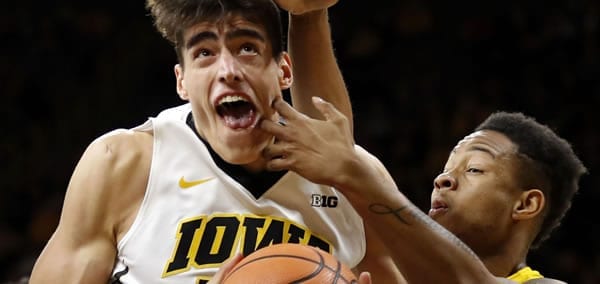 No. 5 Michigan Wolverines (20-1, 11-10 ATS) vs. Iowa Hawkeyes (16-5, 10-11 ATS)
When: Friday, February 1st, 2019 – 7:00 pm ET
Where: Carver-Hawkeye Arena – Iowa City, IA
TV: FS1
Point Spread: MICH -3.5/IOWA +3.5 (WagerWeb)
Total: 144
Damn you, Mormons. Damn you all to hell. All good things must come to an end, and my dream of a perfect week of basketball picks has come to a fitting end. If my editors could just go back and let me edit in the alternative Best Bet section that I wrote last where I literally picked Gonzaga to win by 30, that would be great. I got sucked in by T.J. Haws, okay? You're talking to a guy who, at this very moment, has a BYU Jimmer Fredette jersey hanging in his closet. My BYU love runs deep. But I've now forsaken them forever. Good-bye, Cougars.
To ease our pain, let's head to a real conference as the Michigan Wolverines are set to square off against their Big Ten rival* Iowa Hawkeyes (*Michigan has many, many rivals). The Wolverines have bounced back nicely since their loss at the hands of Ethan Happ, dispatching both Indiana and Ohio State by 15+ points. Iowa, on the other hand, has backslid into a 0.500 conference record by dropping consecutive games to Michigan State and Minnesota. On their home court, the Hawkeyes are currently receiving 3.5 points from the Big 10's best with the total set to a breezy 144 points. Let's what some athlete-students play, shall we?
Red Dawn
In the interest of brevity, I'll spare you all the run-up that I usually perform when launching into an analysis about a team. Rest assured that the Spike Albrecht-Mitch McGary puns would've been flying fast and loose, but I'm exhausted after that thrilling Sixers victory, and my bedtime is looming. Next time, I'll be sure to poke some fun at the most famous teams in Michigan's history. I promise.
The game plan for Michigan is simple: share the basketball. Brazdeikis is Michigan's leading scorer and maybe their 4th best player; Charles Matthews vacillates between "MVP of the team" and "why does this guy start again?"; Zavier Simpson is, according to most college basketball people, the actual best player on this team (and his triple-double showed it); Teske is a loose cannon, and Swaggy Poole is even looser. That is five of the most non-Duke college basketball players that we can assemble right now, and they all gel as one cohesive unit. Surprisingly, despite all of their talent, Ken Pom only thinks of them as the 29th best offense in the country, something that Michigan is usually known for. But the script has flipped, as the Wolverines boast the number one defense in all of college basketball, and that is where their bread is buttered. As conference attrition starts to wear in, I'm sure that we will have more crazy Zavier games or Matthews games or Brazdeikis games. But to take down Iowa, all they need to do is get to the bucket and play solid defense – the rest will take care of itself.
Hawkeye is the Best Avenger: Change My Mind
Iowa isn't, by any metric, a bad basketball team, but Michigan is elite, and they'll need to assemble the Infinity Gauntlet in order to keep pace. Offensively, the Hawkeyes can give a lot of teams a run for their money. When it comes to the four factors of winning, making shots and knocking down free throws are two of the most important ones, and Iowa has no trouble there. The Hawkeyes score the 35th most points per game in the entire nation with the 30th best free throw percentage and Cook and Garza are legit offensive weapons. Even with Jordan Bohannon having a bit of a let-down year, Iowa can still be a dangerous team when they put their mind to it.
Unfortunately, the defense is going to be a big concern in this one. Zavier Simpson is one of the most unique guys to cover in the country he shoots hook shots as a 6-foot guard, for God's sake. Without a legitimate center, Iowa is going to be leaking points in the paint, and the Wolverines are going to be able to punish them all night. Even if the Wolverines' offense sputters, the onus will still be on Iowa's stars to play as such and produce points against the best defense in the country. Easier said than done, I assume.
Best Bet
If Michigan's next game was at home, I swear to God I would pick Iowa to upset them in this game. John Beilein is one win away from passing Johnny Orr for the most Big Ten victories in history, and I think it's a benchmark he would've liked to achieve on his home court. Unfortunately, Michigan has to travel to Rutgers after this game to wipe the floor with them, so it's now or never. Despite my gut feeling that Iowa can make this game more interesting than expected, I think that Beilein has enough coaching equity with his players that they wouldn't dare let him down on an important night. In more relevant news, Michigan is going to have 4 of the 5 best players on the court, and as long as Garza or Cook don't go absolutely nuts, I like Michigan to close this one out late with a couple of tough buckets and a handful of stops. Besides – the 5-time Super Bowl winning quarterback from the University of Michigan has an important game this weekend. Do you really think that Michigan will have any bad mojo during a time like this? I think not.
Final Score Prediction: Michigan 79 – Iowa 71