Michigan Wolverines vs. Ohio State Buckeyes Pick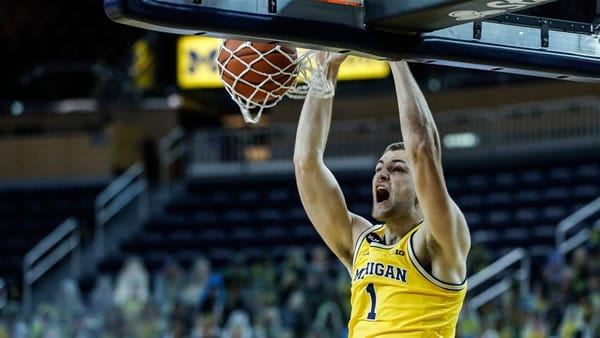 Michigan Wolverines (15-1 SU, 12-4 ATS) vs. Ohio State Buckeyes (18-4 SU, 14-7-1 ATS)
When: Sunday, February 21, 1 p.m.
Where: Value City Arena, Columbus, Ohio
TV: CBS
Point Spread: MICH +2.5/OHST -2.5 (BAS)
Total: 136.5
Last Time Out:
Michigan beat Rutgers 71-64; Ohio State handled Penn State 92-82.
About the Matchup:
Could both of these teams find their way to the 1 line of the NCAA tournament? With geogra-phy not a factor in this year's tournament, there's no concern about putting one team at a trav-el disadvantage, so there's an incredibly high chance that both of these teams might find them-selves as a top seed in a month.
They've certainly proven themselves as of late, as both teams own impressive winning streaks while competing in the nation's most challenging conference. Michigan still has only one set-back on the season, and it came at Minnesota, where the Golden Gophers somehow turn into an NBA-quality squad on a nightly basis. Ohio State's got its own Twin Cities horror story, but since making its trip to Minnesota, the Buckeyes have ripped off ten wins in their past 11 con-tests, with the only defeat being a tight one at home to a rapidly improving Purdue. Both teams have shown themselves to be right on that second tier behind Gonzaga and Baylor, and the win-ner will all but lock up a No. 1 seed for themselves.
Scouting the Wolverines:
Michigan's still looking like it's a step behind where it was pre-COVID, as the Wolverines have been good but not great in wins over Wisconsin and Rutgers. Once again, they started reasonably slow against the Scarlet Knights, but they ended up rebounding much faster than they did against Wisconsin, taking control of the game in the first half before holding serve for the re-mainder of the contest.
To get back on track, the Wolverines have to get more out of Isaiah Livers. When the Wolver-ines did lose to Minnesota, a large part of it was because Livers didn't shoot it well, hitting just 36 percent from the floor. A big part of why Michigan fell behind against Rutgers was because Livers again had a poor shooting night, shooting only three of ten from the field. Michigan isn't deep enough and doesn't play fast enough to withstand a bad shooting night by one of its key players in most games, and a second straight slow performance from Livers would likely mean a Michigan loss.
More Picks: Get Crew's expert college basketball picks >>>
Scouting the Buckeyes:
This needs to be Duane Washington's game. The junior went south from Grand Rapids to go to college, and he made the Wolverines pay for letting him leave the state last year by scoring a combined 37 points in a pair of wins over Michigan.
When everything is working the way it should for the Buckeyes, Washington is one half of the equation, with the other half coming in the form of E.J. Liddell. Against Penn State, both players got plenty of good looks at the basket, hitting on 14 of 21 from the field and combining for 44 of the Buckeyes' 92 points. That might be a lot harder to do against defensive-minded Michigan, which plays a much more deliberate style than the Nittany Lions do. Ohio State has to be ready to play a lower-scoring game than it did against Penn State.
X-Factor:
Top 5 hype. Perhaps you might have heard, but these schools don't like each other much. Usually, it's football that sucks up all the oxygen concerning these two teams, but this year is different. For one thing, thanks to COVID, the football teams didn't play each other for the first time since 1917. For another, this is the first time in the history of the rivalry that both Michigan and Ohio State are ranked in the top 5. It's not the biggest meeting in the rivalry's history (that would be the 1992 meeting, when the teams met in the Elite Eight), but it's pretty darn close.
The question is, how will these teams react to playing a game of this magnitude behind closed doors? These teams are used to the pressure of facing quality teams night in and night out in the Big Ten, but they haven't seen a situation like this, where there's no crowd to feed off of in one of the most intense rivalries in the nation. Whoever handles the outside noise better will be in top shape.
Michigan will Cover If:
The Wolverines can play a strong opening 10 minutes. Michigan has fallen behind early in each of its past two games, having to come from behind against both Wisconsin and Rutgers. That probably won't work against Ohio State, which is the best team the Wolverines have seen this year by a rather wide margin. The Wolverines have to be ready to play from the opening minute.
Ohio State will Cover If:
The Buckeyes can find the third option when necessary. Ohio State will likely get strong performances out of Liddell and Washington, but Michigan is very likely to fo-cus on trying to take away at least one of them at times. There's one way to battle back against that, and it's by finding Justice Sueing or Kyle Young when they get open shots.
Dan's Pick to Cover the Spread
Columbus has been a nasty trip for Michigan in recent years, as the Wolverines have dropped five in a row when traveling south to face Ohio State. I think there's a good chance that it be-comes six, as I'm not sure that Michigan is back to where it was before the pandemic, and I'm not sold that it's better than Ohio State.
I'm not going against a hot team at home. Give me the Buckeyes.
Get $60 of FREE member picks & predictions
(NO commitments. NO Credit Card. NO Salesman.)