North Carolina Tar Heels vs. Michigan Wolverines Pick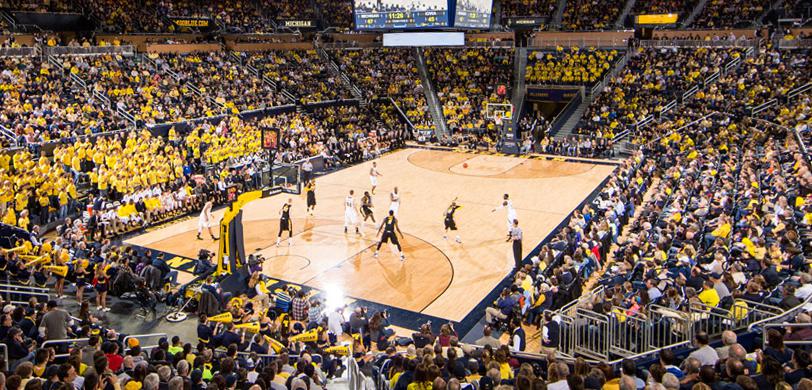 North Carolina Tar Heels (6-1 SU, 4-2-1 ATS) vs. Michigan Wolverines (6-0 SU, 3-3 ATS)
When: Wednesday, November 28, 2018 – 9:30 p.m. ET
Where: Crisler Center, Ann Arbor, Mich.
TV: ESPN
By: Dan Jamison, College Basketball Handicapper, Predictem.com
Point Spread: UNC +3/MICH -3 (Bovada Sportsbook)
Total: O/U 146
Last Time Out: North Carolina defeated UCLA 94-78; Michigan hammered Chattanooga 83-55.
Analyzing the Tar Heels:
Speed, speed and more speed is the name of the game for North Carolina. Few teams push the tempo like the Tar Heels, who are the only Power 6 squad to rank in the top 20 in possessions per game, averaging 75. But unlike the Savannah States and Eastern Kentuckys of the world, North Carolina also makes the most of its many possessions. The Tar Heels' offense ranks fourth in the nation according to Ken Pomeroy, which is why Carolina is averaging a remarkable 96.6 points per game and has cracked the century mark on three occasions. Cameron Johnson's 16.4 points a game lead the way for the Heels, who also don't beat themselves with poor shot selection or bad decisions with the basketball. In short, this is a dangerous team that can score from anywhere.
NBA Pick: Knicks Take on Surging Sixers
Analyzing the Wolverines:
Were Michigan's early struggles a mirage, or did the Wolverines get something figured out after two lackluster games to start the season? Whatever it was, the struggling start to the year seems like it was months ago instead of just over two weeks, and the Wolverines are now rolling at both ends of the floor. Michigan has been spectacular on defense in all six of its wins, but now that freshman Ignas Brazdeikis has gotten rolling, the Wolverines appear just as solid when they have the basketball. In its past four games, Michigan has cracked 70 points in three out of four contests while only allowing George Washington to break into the 60's. There's a sense that this might be the best defensive squad John Beilein has had at Michigan, and that's saying something considering how much his teams are known for their defensive efforts.
X-Factor:
Rebounding. This game is a battle of tempos, and given that North Carolina ranks 12th in the nation in possessions per game and Michigan ranks 325th, one team is going to be forced out of its comfort zone. Which team it is will likely be determined by how well Michigan can keep North Carolina off the glass. The Heels rank 10th in the country in rebounding, which is how they get so many possessions: they keep their own possessions going and limit their opponents to one look at the basket. Michigan can't keep its slow pace going if Carolina kills the Wolverines on the glass. For Michigan to play its game, it's going to have to keep the Tar Heels' rebounding edge down and limit them to one shot as often as possible. The Wolverines likely can't beat the Tar Heels on the glass, but as long as they keep the margin close, they'll be able to stay in their defensive format.
North Carolina Will Cover if:
The Tar Heels can push the tempo to their pace and asphyxiate the Wolverines into mistakes. Michigan's game plan is built around patience and hard-nosed defense, but it's hard to be patient when your opponent is creating holes in your defense. If North Carolina gets going in transition, Michigan is in big trouble.
Michigan Will Cover if:
The Wolverines can keep their composure. Michigan didn't do that last year in Chapel Hill, and it got blitzed by Carolina in a 15-point loss. This time, the Wolverines are a year older, a year better and have the Crisler Center crowd on their side. They've made a pair of NCAA tournament teams look silly in wins over Providence and Villanova, and while the jury is still out on how good the Friars are, the Wildcats have since bounced back to win the Advocare Invitational over a solid Florida State squad, suggesting that Michigan's defense is for real. If they play the kind of defense they have to date, they'll throw off North Carolina's rhythm and earn a victory.
Dan's Pick to Cover the Spread:
Most betting sites have this spread set at 3. North Carolina's offense averages over 96 points per game. Michigan's defense gives up roughly 48 points per game. Obviously, something has to give in this game, but it's not going to be easy picking which team will get thrown off its game plan. In a game like this, picking the over/under is a fool's errand, and you'd be wise to stay away from a number that's not really too high or too low to provide much of an opportunity.
So that makes this a question of which team will be able to enforce its will on its opponent, and at this point in the season, the two teams' schedules provides a bit of a clue as to what might happen here. Michigan has its identity figured out, while North Carolina struggled to contain Texas in a loss during its trip to Las Vegas. Although the Tar Heels have looked strong on defense against lesser competition, Michigan is an entirely different matter.
The Wolverines will be hungry to avenge last season's defeat and will have the home crowd fired up for North Carolina's first-ever visit to Ann Arbor. It's not often that you get the chance to take points and take the Tar Heels, but I can't justify it here. In a battle of offense vs. defense, a strong defense usually wins the battle, and that leads me to laying the three points with the Wolverines.
<h4 class="widgettitle">NFL Picks</h4><!-- [et_pb_line_break_holder] -->