NY Knicks vs. Philadelphia 76ers Pick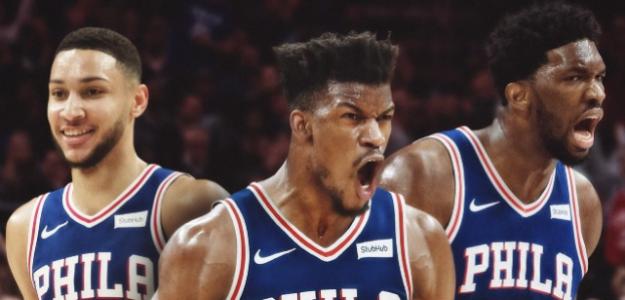 NY Knicks (7-15, 12-8-2 ATS) vs. Philadelphia 76ers (14-8, 8-14 ATS)
When: Wednesday, November 28th, 2018 – 7:00 pm ET
Where: Wells Fargo Center – Philadelphia, PA
TV: NBATV
By: Kyle Cash, NBA Basketball Handicapper, Predictem.com
Point Spread: NYK +12.5/PHI -12.5  (GTbets Sportsbook)
Total: 227
Basketball handicapper Kevin West has also analyzed this game and make his NY vs Philly Pick!
Last Night in the NBA
Goodnight moon. Goodnight stars. Goodnight Ingram. Goodnight Hart. Goodnight McGee. Goodnight Lonzo. Goodnight Kuzma. Goodnight LeBron. Thank you for my money – I'll see you all next time.
Elsewhere in the NBA, Miami continued to struggle through injuries, Toronto used a 3-point barrage to storm back against the Grizzlies, and Darren Collison crossed Deandre Ayton back to AAU. It was bound to happen eventually, Deandre. Remember this, kids: you can't get crossed-up if you don't play defense,
It's been far too long since we took a stroll through the City of Brotherly Love, and I think it's time we changed that. The Philadelphia 76ers have ridden the coattails of Jimmy Butler to 3rd place in the Eastern Conference, and they'll host a tired New York Knicks team on Wednesday night. Sportsbooks released the game with Sixers as a 12.5-point favorite with the total set at 227 points. Let's do this.
Dyin' for Zion
The Knicks are bad. Not breaking news – they've been bad for 20 years. But they're finally bad in a way that will lead them to be good. Everybody likes to make fun of The Process that their opponent for tonight went through, but you know what cured five years of bad basketball? Joel Embiid and Ben Simmons. Right now, the Knicks have an almost entirely clean slate of players. Kevin Knox, Kristaps Porzingis. That's about it. There's some cases to be made for others, but moving forward, those two are the Knicks. Suffering through another 22-win season won't hurt as much next summer after they draft Zion Williamson and sign Kevin Durant. Hang in there, Knicks fans – help is on the way.
College Basketball Pick: Michigan Hosts UNC
Unfortunately for them, they'll be forced to stick to their current crop of talent on Wednesday night. The Knicks offense currently runs through Emmanuel Mudiay, Tim Hardaway Jr. and Enes Kanter. Not exactly the 2018 version of Mark Jackson, John Starks and Patrick Ewing. And yet their offense is STILL more potent than the Boston Celtics.
Against Philadelphia, it's less a question of whether or not they can win than whether they keep it a respectable game. The Sixers suffered their first home loss of the year to the Cavaliers on Friday, and they should be looking for revenge on their home court. However, only 2 of their 10 home wins have been by more than 12 points, and scoring guards have given them fits over the last two weeks (Collin Sexton, Jrue Holiday, Devin Booker, Kemba Walker). If Tim Hardaway Jr. can join that list, and Enes Kanter continues his strong play in his bout versus Embiid, there's no reason that the Knicks can't make the Philly faithful sweat this one out.
You Want Philly Philly?
Stop me if you've heard this story before: the Sixers limp out of the gate and look disjointed on the defensive end, but thanks to MVP-level play from Embiid and Simmons, they manage to stay afloat. Meanwhile, the consensus 1st overall pick looks lost on the court while shooting like Phillip Seymour Hoffman in Along Came Polly, then gets shut down to see a shoulder specialist for a mysterious injury. No, this isn't Groundhog Day – it's the 2017-18 season all over again. For that reason, I'm nowhere near panic mode yet. Jimmy Butler has softened the blow tremendously, and my large adult son Joel is making The Leap. That's all that I'm currently focused on. Honestly, the Fultz thing is too fresh of a wound for me to even acknowledge at this point, so let's just move on to the game.
The Sixers have the talent to beat any team in the league; I'm not breaking any news by saying that. Unfortunately, for whatever reason, they've found themselves either digging huge first quarter holes or coughing up big second half leads, and the result has been some entertaining (yet frustrating) basketball games. Philadelphia is about as league-average as they come right now, but they're on the rise, and the Butler-Simmons-Embiid chemistry is growing stronger every day. They're going to win this game; the Knicks are on the second half of a back-to-back, and they don't have anyone to really stop the Sixers three-headed monster. Eventually, Philly is going to play a complete game start to finish and win by 45 points. There's no reason that tonight can't be that night.
Four Factors of Winning
Since we're all about finding the edge here at Predictem.com, let's take the time each day to dive into the stats that lead to winning basketball games. According to a theory posited by Dean Oliver, a win in basketball can be narrowed down to four factors: shooting, turnovers, rebounding and free throws. Each day, I will take a look at the areas that each team excels at or is susceptible to, and we will see if we can find a specific reason why Team A will beat Team B.
Statistically, there's really only two skills that the Knicks possess on an elite level: offensive rebounding and taking care of the basketball. When it comes to playing defense, they're bad – and when it comes to making shots, they're the worst in the NBA. Limiting their turnovers, however, is a real exploitable stat for the Knicks. Philly is still figuring out their rotation and they play fast, so they turn the ball over at a solid rate. If the Knicks can outshoot the Sixers by 10-15 field goals, the math gets trickier for Philadelphia to cover the number.
The fly in the ointment for the Knicks is Philadelphia's ability to draw fouls. Embiid has basically turned drawing fouls into a carnival game, and it's his favorite thing to do. Jimmy Butler and Ben Simmons drive to the hoop on every occasion they get, and they both live at the line as well. Free throws are the great equalizer for the Sixers' turnover problems. Despite their rankings, since acquiring Jimmy Butler, the Sixers have a 113.3 Offensive Rating (which would rank 6th) and a 53.9% Effective Field Goal percentage (which would rank tied for 4th). We're about to turn a corner in Philly – you ain't seen nothing yet.
NBA Best Bet
If you follow the NBA like I do, you see that the Knicks are getting 12.5-points on the road against the Sixers and think, "Yea, that seems about right." But if you follow the Philadelphia 76ers like I do, you think, "Why the hell are we favored by 12.5 over anyone?" Seriously. In the Butler-era, here are the winning margins of the Sixers five victories: 6, 3, 5, 1, 2. On the season, the Sixers have a 0.0 point differential. So why are they 12.5-point favorites again?
Because Vegas knows. Vegas always knows, and never forget it. It's a fishy line if you do 30 seconds of googling about the Sixers, and it's a complete sucker bet. It's so easy to talk yourself into a close game. Enes Kanter dominance down low, Tim Hardaway Jr. hitting fade-away 3s, Mudiay/Burke/Trier combining for 75 points. I see the case. But it's time. It's time for the a) the Sixers to win by 50 and b) the Knicks to lose by 50. Might as well kill two birds with one stone. Sixers in an absolute rout. Suck on that, New York.
Final Score Prediction: Philadelphia 76ers 118 – NY Knicks 80