Oklahoma Sooners vs. Virginia Cavaliers Pick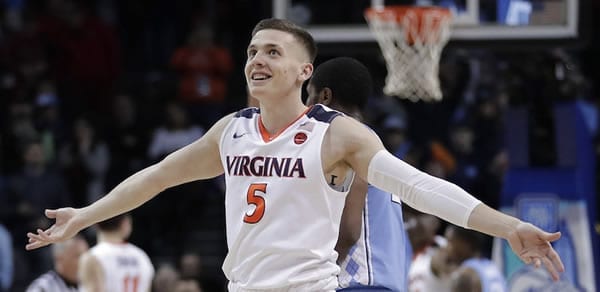 Oklahoma Sooners (20-13 SU, 20-10-3 ATS) vs. Virginia Cavaliers (30-3 SU, 23-10 ATS)
When: Sunday, March 24, 2019 – 7:45 PM ET
Where: Colonial Life Arena, Columbia, S.C.
TV: truTV
Point Spread: OKLA +11/UVA -11
Total: O/U 127
Last Time Out: Oklahoma beat Mississippi 95-72; Virginia beat Gardner-Webb 71-56.
Scouting the Sooners:
Boy, was that easy. Oklahoma had a remarkably easy time with Mississippi in its first game, getting virtually any shot it wanted and posting its best ball-handling expo of the season with only four turnovers. When a team shoots 58 percent from the floor, there aren't many teams that can hang with them, and Mississippi wasn't even close to doing so.
Not only did the Sooners win the game, but they got contributions from across the board. Four Sooner starters scored 18 points or more, and the starters ended up with 79 of Oklahoma's 95 points, underscoring that when the going gets tough, Lon Kruger has plenty of options. But on the other side of the coin, Mississippi's defense isn't Virginia's. The Sooners have yet to beat a top-10 defense this year, losing twice to No. 1 Texas Tech, once to No. 4 Wisconsin and twice to No. 6 Kansas State. That's a bad sign against a Virginia squad that's known for defense and checks in at No. 3.
Scouting the Cavaliers:
Don't be fooled by Virginia's first half against Gardner-Webb. The Cavaliers were never in any danger of losing the game, but because of last year's loss to UMBC, the entire basketball world melted down on Friday as Virginia struggled throughout the first half. Clearly, the Cavaliers were expected to follow suit, but that didn't happen. Instead, Virginia put on a clinic on how to dismantle a lower seed in the final 25 minutes, outscoring Gardner-Webb by 29 points to bury the Bulldogs.
Virginia's main problem in the first half was turnovers, as the Cavaliers were uncharacteristically sloppy with the ball as they tried to kick the memory of a year ago. Once they settled down, they were firmly in control and showed the form they've displayed all year. With a patient offense and a tenacious, shot-denying defense, Virginia is a nightmare matchup for most big-name teams — and fortunately for the Cavaliers, other than UC Irvine, that's all they have left in their bracket.
X-Factor:
Mental blocks. Where is Virginia's mindset after slaying the ghost of UMBC? Following a game like that, it's common for a team to come out mentally freed and unload on their next opponent. Virginia has been hearing about UMBC for over a year now, and they'll finally get to play a game and won't have to hear about how they're going to overcome that loss now that they've done it. If the Cavaliers are a psychologically freed team, that's a terrifying prospect for an Oklahoma squad that doesn't match up.
Oklahoma will Cover if:
The Sooners can find the shots they did against Mississippi and knock them down. That's going to be a challenge against Virginia, given how well the Cavaliers make it look like you have an opening and then quickly take it away from you. What worked well against Mississippi is not likely to repeat itself against Virginia, but good shot selection can help neutralize the Virginia defense. Oklahoma has to be patient and attack at the right times.
Virginia will Cover if:
The Cavaliers can find their offense. Even though Virginia was never at risk of losing to Gardner-Webb, the offense still has seemed to be on hiatus for the past few weeks. Virginia has to get Kyle Guy some good looks at the basket and get him hitting. He cannot go 2-for-8 again, and DeAndre Hunter and Ty Jerome can't shoot 2-for-6 from 3-point range if Virginia is going to keep moving forward.
Dan's Pick to Cover the Spread:
Oklahoma looked very good on Friday, but how much of that was because of the Sooners and how much was because of Mississippi? The Rebels just weren't a good team by the time that game was played, and the Sooners took full advantage. There is no such advantage against Virginia, and I think that being freed from the shackles of UMBC will allow Virginia to present the best of itself against Oklahoma.
Throw in that the Sooners aren't built to take down good defense, and I think there's a lot of value with Virginia in this game. I think the Cavaliers slay another ghost and get back to the Sweet 16, and I think they do it in style.
Take the Virginia Cavaliers -11