Southern Jaguars vs. Marquette Golden Eagles Pick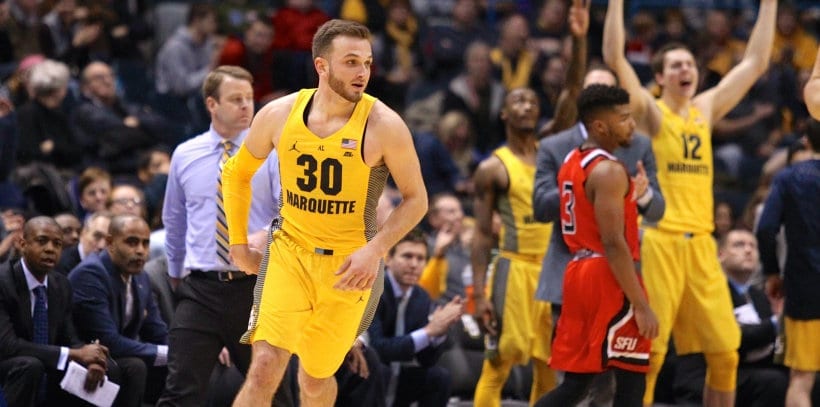 Southern Jaguars (1-11 SU, 5-6 ATS) vs. Marquette Golden Eagles (10-2 SU, 7-5 ATS)
When: December 28, 2018 – 8 PM ET
Where: Fiserv Forum, Milwaukee
TV: FS1
By: Dan Jamison, College Basketball Handicapper, Predictem.com
Point Spread: SOU – +31 /MARQ -31 (Intertops)
Total: 153.5
Last Time Out: Southern lost to California Baptist 79-76; Marquette beat Buffalo 103-85
Analyzing the Jaguars:
Teams from the Southwestern Athletic Conference traditionally play among the most brutal non-conference schedules in the nation, and Southern is no exception. The Jaguars have played (and lost to) Alabama, Baylor, Louisville, George Mason and Iowa State, all of which have been on the road and only one of which was even within 15 points. A team like Southern is scheduled for one reason: to give the home team a breather. Southern doesn't shoot the ball well, doesn't rebound well, isn't anything special from behind the 3-point arc and turns the ball over far too often. In short, this is the kind of game that shouldn't be close.
Sunday Night Football Pick: Colts vs Titans
Analyzing the Golden Eagles:
Marquette is playing very well as it closes out its non-conference schedule. The Golden Eagles have made the new Fiserv Forum a fortress so far, going 9-0 in the first-year building and collecting wins over the likes of Kansas State, Buffalo and in-state rival Wisconsin. Marquette put everything together in its most recent contest, a surprisingly comfortable win over Buffalo, which saw leading scorer Markus Howard go off for 45 points as the Golden Eagles shot 62.1 percent from behind the arc. When Marquette can shoot the ball that well, it's talented enough to beat any team in the nation.
X-Factor:
Marquette's focus. How prepared are the Golden Eagles to play this game? Southern is the type of team that is easy to take lightly, and this is the perfect time for the Golden Eagles to do so with a showdown with undefeated St. John's looming in the Big East opener on New Year's Day. It's a genuine concern as to how motivated Marquette will be against an opponent it should bury, because although Southern isn't anywhere near good enough to win this game, the Jaguars have been a coin flip as far as covering the point spread and could do so again if Marquette's minds are already in Madison Square Garden preparing for the Red Storm.
Southern Will Cover if:
Marquette goes into one of its shooting nosedives. When the Golden Eagles are shooting the ball well, they can beat any team in the nation. When they're not, they're vulnerable to disaster. Disaster happened at Indiana, when Marquette shot 42.4 percent for the contest and got drilled by the Hoosiers. Marquette is a good team, but is not a good enough team to overcome a poor shooting night when its opponent is hitting shots. If their shots aren't dropping, Southern will keep the game within the spread.
Marquette Will Cover if:
The Golden Eagles again dominate on the glass. Marquette cruised against Buffalo for two reasons: it shot the ball well and it limited the Bulls to just one shot per trip. Southern isn't the type of team that can punish the Golden Eagles when shots aren't dropping, but controlling the glass will still be important for setting up easy baskets at the other end. A few early dunks will get the crowd into the game early and help the Golden Eagles roll.
Dan's Pick to Cover the Spread:
I hate laying a lot of points with a big favorite because of the possibility of a backdoor cover. But I don't really have a choice in this matchup, because this appears so lopsided that there's no way this can be anything but a Marquette cover.
Southern simply doesn't have the depth or the ability to stay with Marquette for longer than a half, and especially can't do so in the Fiserv Forum, where Marquette has been unbeatable so far. Based on the numbers, there's nothing that suggests Marquette won't be able to name the score when all is said and done.
In order to take Southern here, you're gambling on one of two things. Either you think that Steve Wojciechowski will pull back on his team early in the second half and allow Southern to avoid a huge defeat, or you think that Southern will do just enough to sneak out a backdoor cover in the final minutes.
Yes, Southern has six wins against the spread. Yes, Marquette has a much more important road game coming up. But this Southern team is simply not good enough to really threaten Marquette in any way. The point totals will likely be fairly large, but that shouldn't scare you off. Any team that can lose by 50 to Louisville is perfectly capable of losing by a big margin to Marquette. Take the Golden Eagles and expect a rout.