Basketball Pick: Temple vs. Belmont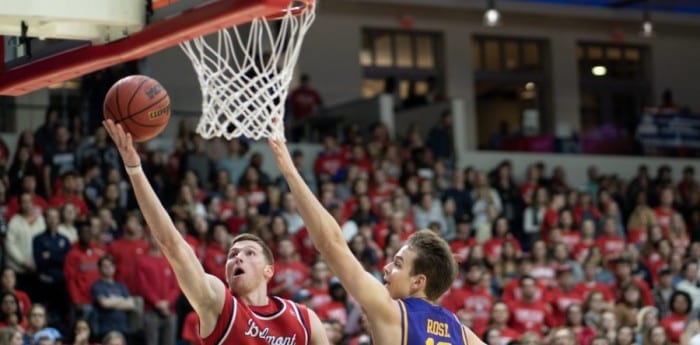 Temple Owls (23-9 SU, 15-15-2 ATS) vs. Belmont Bruins (26-5 SU, 19-10-1 ATS)
When: Tuesday, March 19, 2019 – 9:10 PM ET
Where: UD Arena, Dayton, Ohio
TV: truTV
By: Dan Jamison, College Basketball Handicapper, Predictem.com
Point Spread: TEM +3.5/BEL -3.5 (-105 at Reduce Juice books)
Total: O/U 155.5
Last Time Out: Temple lost 80-74 to Wichita State; Belmont lost 77-65 to Murray State.
Scouting the Owls:
Fran Dunphy's final team as the Temple coach is a three-headed scoring monster, led by Shizz Alston Jr. and his 19.7 points per game. Quinton Rose and Nate Pierre-Louis add another 30 points per game between the two of them, and besides them, no Owl averages more than six points a game. Much like city rival Villanova, Temple has been able to get by while relying on three players to carry their offense throughout the season, and the way the Owls have done it is by forcing turnovers and creating easy chances. But when those chances don't come, the Owls become very beatable, as Temple is only average in terms of offensive efficiency.
Scouting the Bruins:
America wanted the Bruins in, and America got what it wanted. Belmont's fate was very much uncertain after it was upset by Murray State in the Ohio Valley Conference, but the Bruins were rewarded for scheduling tough games and winning the games on their schedule. Belmont had a 14-game winning streak snapped against Murray State, and one reason was because the Bruins had to play without center Nick Muszynski, an all-OVC center who gives the Bruins a strong presence in the paint. But the man to worry about when you come up against Belmont is Dylan Windler, who leads the Bruins in scoring and rebounds and is an excellent foul shooter and 3-point marksman.
Prairie View A&M vs. Fairleigh Dickinson Pick
X-Factor:
The coaches. For all of their trips to the NCAA tournament between them, Rick Byrd and Fran Dunphy haven't exactly found their way to success in March. Byrd is 0-7 at Belmont and Dunphy sports a mark of 3-16 at Pennsylvania and Temple. Granted, that's in large part because neither has ever had a very high seed. Belmont has usually been seeded 13 or worse, and Dunphy's Temple teams have been seeded seventh or worse on five occasions. This time, they're not trying to take down a high seed on the first day and have a real chance to let their knowledge and experience shine through.
There's also the fact that Dunphy is retiring at the end of the season, and the next loss will be his last. Temple's players don't want to see the end come for their beloved coach any sooner than necessary, and that will inspire them to play hard for their leader. However, that could also backfire on the Owls, as the added pressure could change the game for them.
Temple will Cover if:
The Owls can force the Bruins into mistakes. Temple is excellent at turning teams over, but Belmont isn't the kind of squad that makes bad decisions with the basketball. The Bruins have an excellent assist-to-turnover ratio and love to play fast, so this isn't a great situation for Temple to face. The Owls have to get Belmont out of its comfort zone and force errors, or this will be Dunphy's final game.
Belmont will Cover if:
The Bruins can get Windler some space to hit shots and give him some help from the 3-point arc. Belmont is excellent at hitting shots from the perimeter, which keeps teams honest and prevents them from focusing too much of their attention on Windler. The Bruins need to have Kevin McClain and Grayson Murphy getting open and hitting shots to keep the Owls honest.
Dan's Pick to Cover the Spread:
In all actuality, this is more of a 35-minute game than a 40-minute game because both teams have an excellent free throw shooter who doubles as their best player. So in all likelihood, whichever team is in control at the five-minute mark is probably going to win the game.
Given that information, I like Belmont here. The Bruins are the hotter team and should be back to full strength in this game, and they have the size and ball-handling abilities that Temple does not have, which should lead to good things for Belmont. I expect Belmont to have the edge on the glass and remain poised in the face of Temple's pressure, and that's going to allow them to cover the 3.5 points and get ready for Maryland. Belmont has to be the pick for me here.
Who else wants $60 of FREE member picks & predictions?
(NO commitments. NO Credit Card. NO Salesman.)