[et_pb_dcsbcm_divi_breadcrumbs_module hide_homebreadcrumb="off" homebreadcrumbtext="Home" separator="sep-raquo" hide_currentbreadcrumb="off" homebreadcrumborientation="left" _builder_version="3.8″ fontsbreadcrumbs_font="Lato||||||||" fontsbreadcrumbs_text_color="#000000″ fontsbreadcrumbs_font_size="15px" fontsbreadcrumbs_line_height="16px" fontsseperator_font="||||||||" fontsbreadcrumblinks_font="||||||||" fontsbreadcrumblinks_text_color="#2567cf" custom_margin="25px|||" custom_margin_phone="30px|||" custom_margin_last_edited="off|desktop" custom_css_main_element="font-family: Helvetica Regular;" disabled="on" global_module="3641″ saved_tabs="all"][/et_pb_dcsbcm_divi_breadcrumbs_module]
Texas A&M Aggies vs. Gonzaga Bulldogs Pick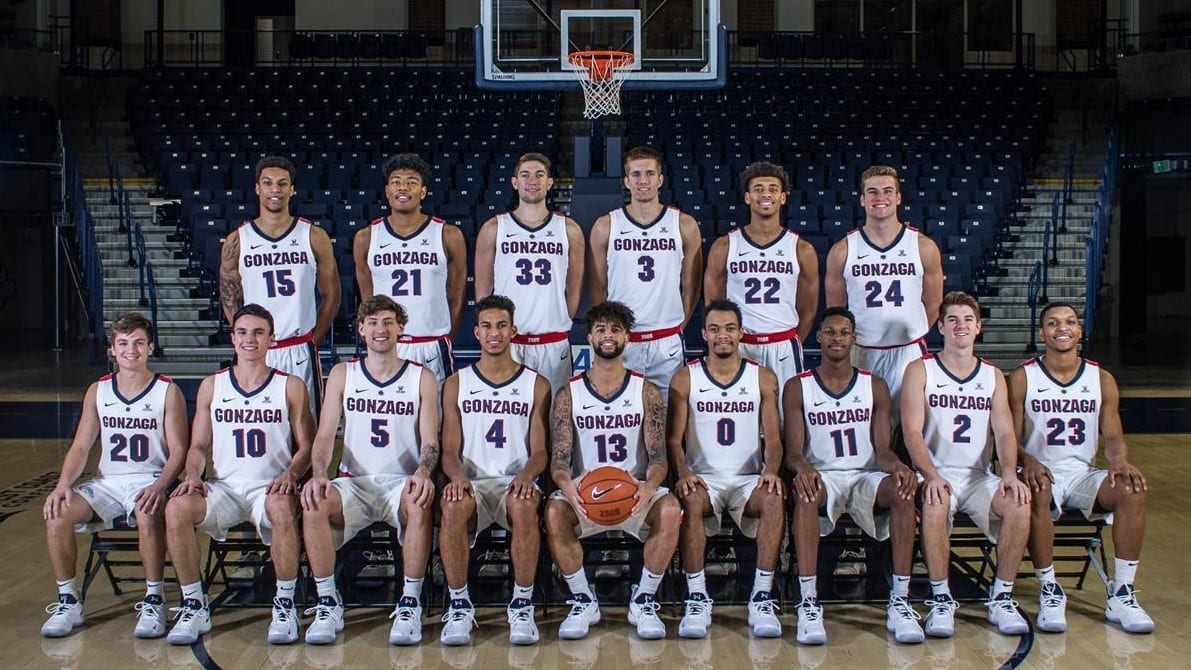 Texas A&M Aggies (2-0 SU, 0-2 ATS) vs. Gonzaga Bulldogs (2-0 SU, 1-1 ATS)
When: Thursday, November 15, 2018 – 11:30 PM ET
Where: McCarthey Athletic Center, Spokane, Wash.
TV: ESPN2
By: Dan Jamison, College Basketball Handicapper, Predictem.com
Point Spread: TAMU +16/GONZ –16
Total: O/U 139.5
Last Time Out: Gonzaga defeated Texas Southern 104-67 on Saturday, Texas A&M lost to UC-Irvine 74-73 on Friday.
Analyzing the Aggies:
Given what these two teams did in their most recent game, you'd expect this line to be even higher than it is. But there is a mitigating factor here: the Aggies were without Admon Gilder (knee) and Wendell Mitchell (tendinitis). Those were critical losses, because Texas A&M isn't a deep team to begin with. The Aggies lost five of their top seven players from last year's squad, leaving them with Gilder and a host of freshmen and transfers, including Mitchell. So far, a young squad has given coach Billy Kennedy far more questions than answers.
Gilder is expected to provide the majority of the answers, but he's still not going to be at 100 percent if he plays, which he's expected to do. The same is true for Mitchell, who is also expected to play after missing the loss to the Anteaters. Texas A&M is a different team with both players in uniform, and Gonzaga might not get a walk in the part if they're both able to play and be effective.
Analyzing the Bulldogs:
Gonzaga has built itself into one of the most respected names in the nation over the past 15 years, and the way the Bulldogs do it is simple: They win with a combination of experience, talent and coaching. Mark Few will never be John Calipari or Mike Krzyzewski in terms of mastering the one-and-done player, so he opts for an old-school approach of building around a few experienced players and sprinkling in a couple talented freshmen who are good enough to compete at a high level from the beginning yet not quite good enough to be thinking NBA before they've even set foot on campus.
This year, guard Josh Perkins and forwards Rui Hachimura and Brandon Clarke provide the experience that forms Gonzaga's foundation. All are experienced players who can score in bunches, with Perkins an outside shooter compared to Clarke and Hachimura's ability to go inside. What makes Gonzaga so effective is that teams can't take away one weapon to beat them because of their depth and can't rattle them because of their experience. In short, they present a lot of problems for opponents.
X-Factor:
The Gonzaga fanbase. Texas A&M is the first SEC team to ever make the trek to Spokane, and the Gonzaga fans will be more hyped than they otherwise might be because of that. That could be critical, because Gonzaga will likely be less than 100 percent focused on this contest with the Maui Invitational coming up next week. A fired-up home crowd will go a long way toward keeping the Bulldogs focused on Texas A&M rather than on a potential showdown with Duke in Hawaii.
Texas A&M Will Cover if:
Gilder and Mitchell are back to full strength. Play like themselves against the Bulldogs and get some help from a third source. Gonzaga is too good to get beat by a couple stars; it takes a true team effort to land a win or stay within shouting distance of the No. 3 team in the nation. Josh Nebo's 15 points were a welcome sight against UC-Irvine, and getting help off the bench from Nebo and other sources will be vital for the Aggies.
Gonzaga Will Cover if:
The Bulldogs can hit their open looks. Texas A&M is simply not a great defensive team at this point after allowing UC-Irvine to shoot 52.7 percent from the floor. Even with two starters out, a team should not be shooting the ball that well against you, especially a team of lesser quality like the Anteaters. If Gonzaga is shooting at or close to that clip, this game will not be close.
Dan's Pick to Cover the Spread:
Picking these kinds of games before a major tournament is never easy. Gonzaga has a large talent advantage, but how focused are the Bulldogs going to be on a team that was picked 12th in the SEC, when they have a potential showdown with No. 1 Duke coming soon? With a big line and an easy excuse for not playing their best, Gonzaga is a risky play in this game.
But the Bulldogs aren't as risky as the Aggies here. Sure, you're getting 16 points if you take Texas A&M, but consider the fact that two of A&M's better players are injured and the rest of the team failed to pick up the slack in their most recent showing on the court. If Gilder or Mitchell can't go again, that's a recipe for disaster. Even though Dean Smith famously said that you can play one great game without a great player, Texas A&M just doesn't look like a smart way to play this game. There's too much that has to go right for the Aggies to keep themselves in the game, which means you're essentially betting that Mark Few won't have his squad ready for this game if you're taking Texas A&M.
A&M is a shadow of its former self right now, which is why the Aggies were picked to finish so low in the SEC. Plus, they're not exactly going to be brimming with confidence after losing at home to a team from the Big West. Don't let the line scare you in this game. Gonzaga is the better team, is playing at home and has every reason to be amped to win this contest and claim an SEC victim. Swallow hard if you have to, but lay the points with the Bulldogs.
TIRED OF YOUR CREDIT CARD NOT WORKING AT SPORTSBOOKS? IT WILL AT BOVADA + GET A 50% CASH BONUS!
<h4 class="widgettitle">NFL Picks</h4><!-- [et_pb_line_break_holder] -->
<!-- [et_pb_line_break_holder] --><div class="widget-footer"><a href="https://www.predictem.com/nfl/">See all the NFL picks.</a></div><!-- [et_pb_line_break_holder] --><hr><!-- [et_pb_line_break_holder] --><style><!-- [et_pb_line_break_holder] -->ul.postsbycategory {list-style-type: none; margin:0; padding: 0; margin-left: -3px}<!-- [et_pb_line_break_holder] -->.postsbycategory li {padding: 5px 0px; display:block; clear: both; border-bottom: 1px solid #ccc;line-height:16px!important; min-height: 50px;}<!-- [et_pb_line_break_holder] -->.postsbycategory li a{color: #000; font-size: 14px!important;}<!-- [et_pb_line_break_holder] -->.postsbycategory img {width: 85px!important; height: 40px;<!-- [et_pb_line_break_holder] -->float:left; <!-- [et_pb_line_break_holder] -->padding:0px;<!-- [et_pb_line_break_holder] -->margin: 0px; margin-right: 8px;<!-- [et_pb_line_break_holder] -->border: 1px solid #EEE;<!-- [et_pb_line_break_holder] -->}<!-- [et_pb_line_break_holder] --> .widget-footer a {color: #666;}<!-- [et_pb_line_break_holder] --> .widget-footer a:hover {padding-top: 2px;}<!-- [et_pb_line_break_holder] --></style>
<div style="width:340px; margin: 0 auto;"><!-- [et_pb_line_break_holder] --> <a class="twitter-timeline" data-width="340" data-height="500" data-link-color="#008156" href="https://twitter.com/PredictemPicks?ref_src=twsrc%5Etfw">Tweets by PredictemPicks</a> <script async src="https://platform.twitter.com/widgets.js" charset="utf-8"></script><!-- [et_pb_line_break_holder] --></div>