Today's CBB Picks: Duke vs. Boston College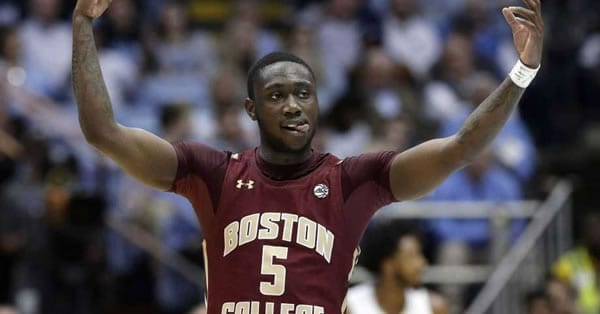 Duke Blue Devils (18-3 SU, 12-9 ATS) vs. Boston College Eagles (11-11 SU, 10-12 ATS)
When: Tuesday, February 4, 7 p.m.
Where: Conte Forum, Chestnut Hill, Mass.
TV: ESPN
Point Spread: DUKE -15/BC +15
Total: O/U 145
Last Time Out:
Duke beat Syracuse 97-88; Boston College edged North Carolina 71-70.
Scouting the Blue Devils:
Other than in 2017 — a game most of the current Blue Devils weren't around for, this series has been one-way traffic in Duke's favor. Duke has won 13 of 14 against BC, including an 88-49 rout in Durham earlier this season. In that game, it was the defense that won the day for Duke, as the Blue Devils took BC entirely out of its game by holding the Eagles to 34 percent from the floor and forcing 19 turnovers to come up with a laugher of a win.
Now Duke comes in facing a trap of a situation, as it's facing BC on the second game of a three-game road swing with two big ones coming up after the trip to Massachusetts. Once Duke gets through with the Eagles, it returns to the Triangle to face rival North Carolina and then gets to face Florida State 48 hours later. That makes it critical for Vernon Carey and Matthew Hurt to get hot early and put the Eagles to bed before halftime. If BC is able to hang around for long stretches, Duke will be hard-pressed to cover. If the Blue Devils come out hot, they can shift focus to Carolina early.
More Picks: Get Dan's MSU at UK Against the Spread Prediction >>>
Scouting the Eagles:
If it's not better than what BC showed in Durham, the Eagles don't have a hope at winning this game. Truthfully, the fact that BC is still in a five-way tie for sixth in the ACC speaks to just how weak the league is as a whole this season. Out of 15 teams, only three — Louisville, Florida State, and Duke appear to be assured of playing meaningful basketball after the ACC tournament. That BC is still in the top half of the league after losing five of its past seven league games (and only the Pitt loss was even close) says that the Eagles are probably even weaker than their 11-11 record suggests. Outside of league play, their best win might be South Florida, and inside the league, the only team above they've beaten above them is Virginia.
What the Eagles have to do is get a good game from Nik Popovic, who missed the first meeting between these teams. It wouldn't have made a bit of difference, but having Popovic on the floor could help in this game, as it could give the Eagles a lift to have their full lineup ready to play in this challenge. Given how much needs to go right for the Eagles, anything that helps will be welcomed.
X-Factor:
Derryck Thornton. Boston College's best player was once a Blue Devil, but he didn't do much of anything to help matters for his team in the teams' first meeting, scoring just six points in the contest. Thornton is a critical piece of any success Boston College has, and he's got to play well to give his team anything resembling a chance. If he's past the mental block he seemed to show in a return to Cameron Indoor Stadium (which could be the case without the Cameron Crazies around to rattle him), BC might have a shot. If he produces another six-point game, this won't end well.
Duke will Cover if:
The Blue Devils can use Carey to pound the glass. Boston College does not rebound well, and Carey didn't do much in the first meeting because the game was so one-sided. He finished with nine points and nine rebounds because Duke didn't need him to do any more than play 20 minutes in a game that was never really in doubt (Duke led by 26 at halftime). If Duke does have any issues with BC, Carey should be able to attack the glass regularly and get plenty of second-chance points.
Boston College will Cover if:
The Eagles can catch Duke on an off day and get the Blue Devils' worst game. Realistically, BC doesn't have much of a hope of staying with Duke if the Blue Devils are locked in, but if the Eagles can catch Duke looking ahead to Carolina (even when the Tar Heels are bad, as they are this season, it's still a massive game for Duke) and Florida State, they have a chance to stay in the game and make this closer than it has any right to be.
Dan's Pick to Cover the Spread:
I'm wary of taking Duke in a return game, but I think the Blue Devils have far too much for the Eagles to deal with here. BC is just not a good team from top to bottom, and its biggest weakness is that it cannot deal with Carey on the interior. Plus, this BC team managed to lose by 39 to Duke the first time out, suggesting that it's very capable of losing by 16 or more on its home floor. After all, it's not like BC is a home-court hero or anything; the Eagles own losses at Conte Forum to Belmont, Saint Louis, Northwestern and Georgia Tech — and not one of those games was decided by fewer than 10 points.
If Belmont can beat Boston College by 15 in Chestnut Hill, Duke can undoubtedly do the same. Give me the Blue Devils.
STOP LOSING TODAY! START WINNING WITH DOC'S TEAM OF PROFESSIONALS! GET A FREE NO STRINGS ATTACHED $60 FOR THIS WEEKEND'S GAMES!