Villanova vs. Pennsylvania Basketball Pick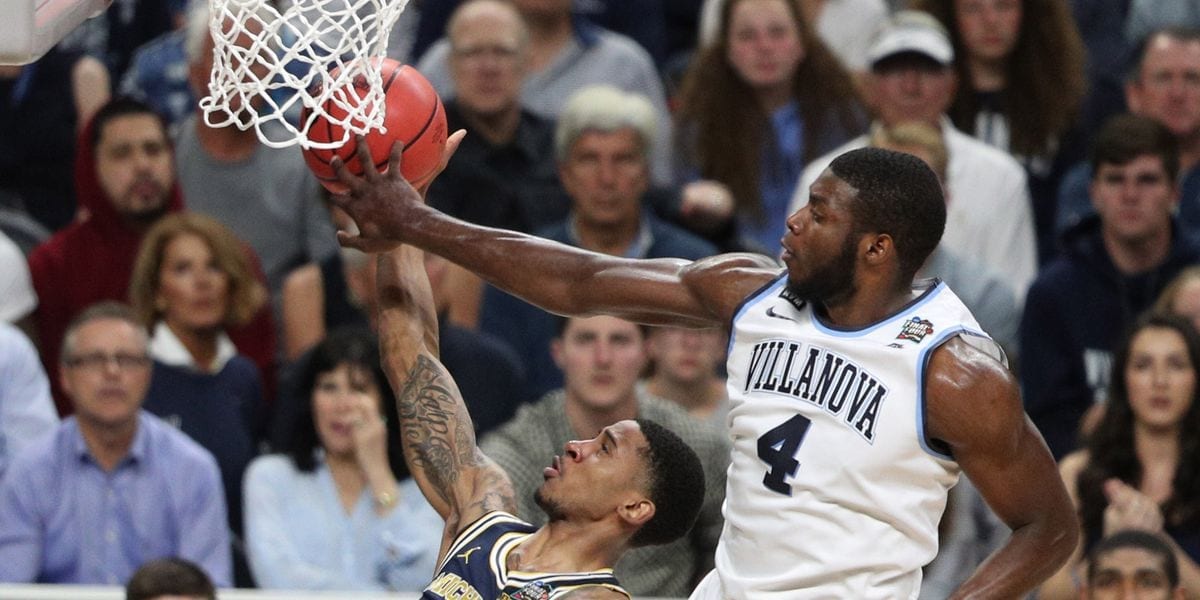 Villanova Wildcats (8-2 SU, 6-4 ATS) vs. Pennsylvania Quakers (8-2 SU, 7-2 ATS)
When: Tuesday, December 11, 2018 – 7 PM ET
Where: The Palestra, Philadelphia
TV: ESPN2
By: Dan Jamison, College Basketball Handicapper, Predictem.com
Point Spread: VILL -7/PENN +7 (Intertops)
Total: O/U 138.5
Last Time Out: Villanova defeated St. Joseph's 70-58; Pennsylvania routed LaSalle 83-65.
Analyzing the Wildcats:
Villanova has a solid record, but hasn't always been the most consistent team. The Wildcats looked like they were in for a rough year after losing home games to Michigan and Furman, but Michigan looks like one of the five best teams in the nation and Furman still hasn't lost and has now reached No. 23 in the country. Those losses look a lot better than they did a month ago, and so do the Wildcats. Jermaine Samuels has stepped up for Villanova in its past two wins over St. Joseph's and Temple, which has given the Wildcats a solid third option alongside Eric Paschall and Phil Booth. Villanova has also learned that it has to be more methodical this year, and the Wildcats' slower strategy has paid off. Since the overtime loss to Furman, Villanova has held every opponent except La Salle to 60 points or less by controlling the tempo.
Analyzing the Quakers:
After reaching the NCAA tournament last season, Pennsylvania wasn't supposed to be as good this year. In fact, the Quakers might actually be better than they were a season ago. Penn is off to its best start since 1995, and it's gotten here because of the emergence of junior guard Devon Goodman and freshman forward Michael Wang. Goodman was a marginal player in his first two years at Penn, but as a junior, he's stepped into his new role as the Quakers' top offensive threat. By the end of this game, he'll almost certainly have taken more shots as a junior than he did in either his freshman or sophomore seasons, and he's hitting over half of his shots to lead his team.
Meanwhile, Wang's breakout came in the Quakers' surprising win over Miami, when he hit 9-of-12 shots and finished with 23 points in 27 minutes to spark the stunner. In short, this is not your typical Ivy League team and this is not a team that's going to find itself overmatched against Villanova. If the Wildcats aren't ready to play, the Quakers can definitely win this game.
X-Factor:
Michael Wang. Can he keep up the scoring? Wang as a threat is a relatively new phenomenon for Penn, as 41 of his 98 points against D-1 competition have come in the past two games against Miami and La Salle. If Villanova can neutralize Wang, Pennsylvania might have trouble finding another solution on offense after relying on Wang for the past two contests. Has their offense become too dependent on him, or can they adjust if he has a bad game? This game could provide an answer.
Villanova Will Cover if:
The Wildcats can take the fight to the Quakers from the beginning and not allow Penn to hang around too long. Pennsylvania isn't going to be afraid of Villanova after beating Miami at home by double digits, and the Quakers certainly won't lack for confidence after blowing out Big Five rival La Salle. But Villanova has played in the Palestra once already this year, and the Wildcats won't be overwhelmed by the Cathedral of College Basketball this time. If they're on, they can take Penn out of the game and make their task a much easier one.
Pennsylvania Will Cover if:
The Quakers can play at Villanova's pace and find the holes in the Wildcats' defense. Villanova isn't the typical Power 6 team that likes to run it from the word "go" and overwhelm its opponents from smaller conferences. The Wildcats make their opponents work for their shots, and work isn't something that a lot of teams enjoy doing on the court. Pennsylvania has to resist the temptation to force things too early and instead take what the Wildcats are willing to give them.
Dan's Pick to Cover the Spread:
On paper, this has all the makings of a classic trap game for Villanova. The Wildcats are on the road against a good mid-major and they've got a huge test coming Saturday at Kansas. Normally, when a team of Villanova's caliber is in this situation, its minds will be anywhere except where they need to be on Tuesday.
But I'm still going to gamble on the Wildcats, because a game with Pennsylvania is no ordinary matchup with a mid-major for Villanova. It's a chance for the Wildcats to win the Big Five for the sixth straight time and their 27th overall, which would tie Temple for the most Big Five championships in the Philadelphia series.
If you're not from Philadelphia, that probably doesn't mean much to you. But Villanova coach Jay Wright is from just outside Philadelphia, and the Big Five means the world to him. Even with Kansas looming on Saturday, beating Pennsylvania probably means more to Wright than beating the Jayhawks would because of the history of the Philadelphia city series.
Put simply, there's no way that Wright is going to let his players get caught looking ahead to Kansas when they have city pride on the line. Pennsylvania is going to have to go out and earn this one, and although the Quakers are a good squad that's probably going to win the Ivy League, I don't think they're good enough to beat a focused Villanova team. Throw in that this won't be the Wildcats' first game in the Palestra this year, and Penn's home court advantage isn't going to be that big. I'm going Villanova to claim its 26th straight victory over a Big Five school and cover the seven points.