[et_pb_dcsbcm_divi_breadcrumbs_module hide_homebreadcrumb="off" homebreadcrumbtext="Home" separator="sep-raquo" hide_currentbreadcrumb="off" homebreadcrumborientation="left" _builder_version="3.8″ fontsbreadcrumbs_font="Lato||||||||" fontsbreadcrumbs_text_color="#000000″ fontsbreadcrumbs_font_size="15px" fontsbreadcrumbs_line_height="16px" fontsseperator_font="||||||||" fontsbreadcrumblinks_font="||||||||" fontsbreadcrumblinks_text_color="#2567cf" custom_margin="25px|||" custom_margin_phone="30px|||" custom_margin_last_edited="off|desktop" custom_css_main_element="font-family: Helvetica Regular;" disabled="on" global_module="3641″ saved_tabs="all"][/et_pb_dcsbcm_divi_breadcrumbs_module]
Free Pick: Virginia Cavaliers vs. Louisville Cardinals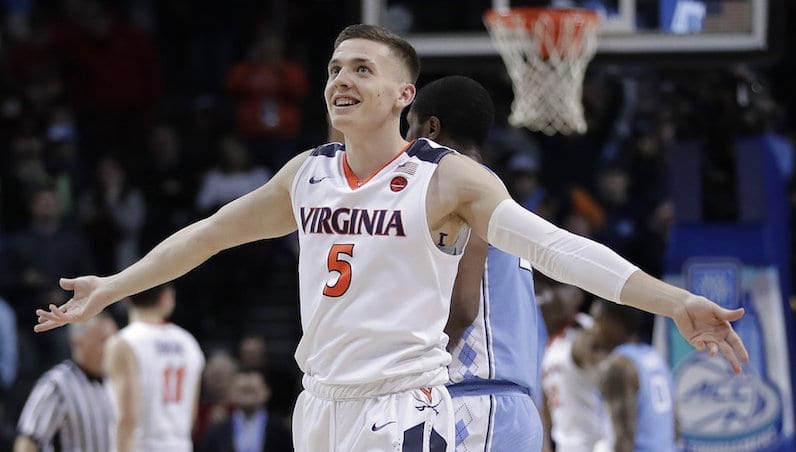 #3 Virginia Cavaliers (23-2, 18-7 ATS) vs. #18 Louisville Cardinals (18-9, 14-11-2 ATS)
When: Saturday, February 23rd, 2019 – 12:00 pm ET
Where: KFC Yum! Center – Louisville, KY
TV: ACC Network
By: Kyle Cash, NCAA Basketball Handicapper, Predictem.com
Point Spread: UVA -5/LOU +5 (Bovada)
Total: 124.5
It's a grey area to decide whether or not we can consider our Gonzaga pick an article. At the time of writing it and for much of the day, the Zags were favored by 27.5 points, but it had moved to 28.5 by the time of tip-off. A 28-point victory would be profitable for some and devastating for others, and the fact that I predicted a victory by 40+ isn't necessarily a good look for me. If you won on Thursday night – congratulations. If you got screwed – stay tuned: I have a winner forthcoming.
College basketball Saturdays are officially a thing for the rest of the spring season, so it's only fitting that I'll be spending my day with the wife running errands and preparing for our trip to the Bahamas. I know what you're thinking, and the answer is no – I did not pay for the trip with my winning predictions. But if you follow along close enough, all your dreams may come true. So let's kickstart our bankroll a nice midday appetizer as the Virginia Cavaliers march into Louisville to take on the flailing Cardinals. The #3 team in the nation is currently a 5-point favorite with the total set to a mediocre 124.5 points. If you want an offensive explosion, this game isn't for you. May I suggest Georgia Southern vs. Appalachian State at 2:00 pm ET?
Anyone but Duke
That is going to be UVA's motto over the last six weeks of the college basketball season. The only two teams that have beaten the Cavaliers since the end of last season are the Duke Blue Devils and UMBC, and I don't think they'll have to worry about the latter this season. But Duke is a clear and present danger, and UVA is going to need to do everything in their power to avoid seeing Coach K's squad come tournament time.
Advantage Betting & Bonuses: Pad your betting account before winning your first wager with a sportsbook bonus! Sportsbooks offer a lot in free play and even cash in an effort to have a chance at your business. That marketing expense for the betting site is free money in your bank account. Players tens to avoid them only if they want to avoid an obligation to bet with the book long term. However players don't realize there are sportsbooks offering a bonus with only a small rollover of 3-6 times. That cold mean betting only $500 dollars on a deposit+bonus of $250 with a 2x rollover. 
In order to make that dream a reality, the Cavaliers would be wise to continue their winnings ways. The four 1-seeds appear to be Gonzaga, Duke, UVA and either the winner of the SEC or the Big 10, and the last thing the Cavaliers need is to fall down to a 2-seed and end up in someone else's region. Beating down the Louisville Cardinals, a conference opponent, should lessen the chances of that. Luckily, the Cavaliers are in rare form of late. De'Andre Hunter is arguably the best two-way player in the country, Kyle Guy is murdering anything and everything in sight, and Ty Jerome isn't the hero Virginia needs, but he's the one that they deserve when March rolls around. Despite lacking in their points outputs, UVA remains one of the most efficient offenses in the country, and when they play their "A" game, there's nothing Louisville or anyone else can do to stop them. But on a lazy Saturday in Kentucky, there's no guarantee that we'll get their best. Can the Cavaliers dispatch a conference foe without playing their best? I can't wait to find out.
The Cardinal Rules
Louisville joined the elite Atlantic Coast Conference back in 2014, and they've attempted to stay afloat in the country's most consistent conference ever since. They've taken down Duke and UNC and Notre Dame and the like, but the Virginia Cavaliers have their number. With only one lone victory against UVA since 2014, Saturday's game is not the get-right game that Louisville so desperately needs. A team struggling to find their offensive flow versus the country's number one defense sounds like a recipe for disaster. Consider me worried about you, Louisville fans.
Related: Free Pick On Tennessee vs LSU!
If the Cardinals can figure out a way to topple the pack-line defense, they may be able to keep this game close. Louisville has struggled against the zone in their past two games, and Virginia's defensive scheme is a whole new beast. On paper, the Cardinals have all of the tools necessary to make some noise in the ACC and the tournament beyond it. I've already disclosed by affection for Chris Mack's coaching, and they check a lot of boxes: perimeter shooting, solid guard play, and solid rebounding/defensive numbers. But the only proven way to dispatch UVA this season is with a plethora of elite, NBA-level talent, and I don't really see any of it on Louisville's roster. Duke has three superstars, and they only barely survived the Cavaliers' gauntlet. I have a hard time believing that Jordan Nwora and Dwayne Sutton will strike fear in their hearts.
Who else wants $60 of FREE member picks & predictions?
Best Bet
I appreciate everything that Tony Bennett and his program are trying to accomplish, and I do not argue against the madness to his methodology. According to Ken Pom, the Cavaliers are ranked 353rd out of 353 Division 1 teams in Adjusted Pace. The reason for the NBA's boom in popularity has been the integration of pace-and-space into a previously cramped court. It's aesthetically pleasing and doubles as the most effective way to play the game of basketball. Virginia doesn't ascribe to any of the aforementioned theories, and they are the prosecution's key witness in the legal battle regarding the merits of college basketball. The NCAA is enjoyable for the pageantry, for the flashes of greatness and for the rivalries. You know what's not enjoyable? Watching Virginia repeatedly hold its opponents to less than 20 pointsper half. But it's goddamn profitable, and UVA has the best ATS record in the NCAA for a reason. Chicks dig the long ball, but defense wins championships, and UVA is well on their way. Get your day started with a W and we'll go from there.
Final Score Prediction: UVA Cavaliers 61 – Louisville Cardinals 53