Virginia Cavaliers vs. Virginia Tech Hokies Pick 2/18/19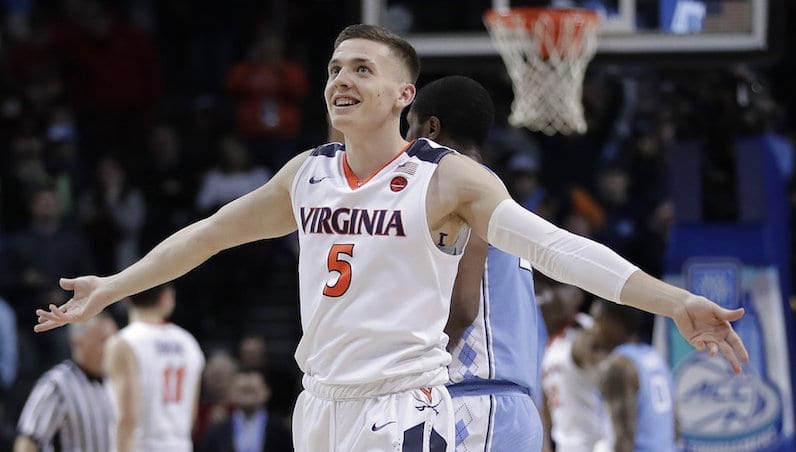 No. 4 Virginia Cavaliers (22-2, 17-7 ATS) vs. No. 22 Virginia Tech Hokies (20-5, 12-11-1 ATS)
When: Monday, February 18th, 2019 – 7 pm ET
Where: Cassell Coliseum – Blacksburg, VA
TV: ESPN
Point Spread: UVA -5.5/VT +5.5 (5Dimes)
Total: 122
With the NBA on its lone break of the spring season, now is as good of a time as any to immerse myself within the world of college basketball. I'm here for all of the buzzer beaters, zone defenses, and FBI investigations that this sport can throw at me. It's going to be a fantastic week.
Unfortunately, Monday night's premiere match-up may be serving as my Nyquil as I nod off to sleep for the evening. The Virginia duel is slated to begin in Blacksburg at 7 pm with both teams clinging onto their standing in the ACC line of succession (I'm currently rewatching Game of Thrones – expect a lot of King/succession talk for the next month). The visiting Cavaliers currently sit as a 5.5-point favorite over the Hokies with the total set to a JV-esque 122 points. This one is for all of you dopes that complain that they should play more defense in the NBA All-Star game. Eat your heart out, morons.
Virginia Cavaliers > Cleveland Cavaliers
I'm not one for the "Can X college team beat Y NBA team that is tanking?" talk, and I'm pretty sure that Jordan Clarkson is a better basketball player than everyone on UVA, with the possible exception of DeAndre Hunter. I'm just pointing out that UVA is a vastly superior team in terms of coaching, scheme, reputation, likability and championship prospects. If I'm rolling with one of the Cavaliers this spring, I'm going with Kyle Cash's guy Kyle Guy over Cleveland's guy Ante Zizic. Do better, Cleveland.
In order to upend the Hokies in their home arena, UVA is going to need to do what they do: control the pace and play elite defense. Tony Bennett's squad continues to lay siege (more Thrones talk) to the rest of their conference, and their statistics are out of control. 1st in turnovers, 4th in Assist-Turnover ratio, 6th in 3-point percentage and 298th in points scored. VA Tech is a decent offensive team, but they're nothing to write home about, and the Cavaliers have made fools out of better teams. If UVA can establish their presence on the defensive end early and keep Kerry Blackshear Jr. at arm's length, they should be able to stay alive in the ACC title race.
The Hokie Pokie
Virginia Tech may share their mascot name with that of a silly song, but don't doubt their dedication to getting to this year's Big Dance. With their strong ACC resume and nearly perpetual standing in the AP Top 25, it seems like a lock for Buzz Williams' team. The real question becomes where they fall in the hierarchy of the 68 teams. A couple more notches on their belt and a strong ACC tournament showing should give them a safe first-round opponent. If not, they'll likely wind up in a match-up versus Ja Morant's Murray State. Trust me – nobody wants that.
Since their loss to UVA, the Hokies have found their niche on the defensive end. A match-up zone has kept opposing offenses at bay, and with UVA's recent struggles versus Notre Dame's zone pressure, it could be a recipe for success. However, you still have to score points to win games, and Virginia Tech is going to need multiple options. Blackshear has done an outstanding job of late, but they'll need their leading scorer Alexander-Walker to improve upon his performance versus Pittsburgh. In a game projected to be low-scoring, don't underestimate the sneaky shoot-out potential of a Jerome/Guy v. Blackshear/Alexander-Walker showdown.
Best Bet
Evaluating UVA's points of weakness is hard. The only games they've lost have been to the 1-seeded Duke Blue Devils, and both losses due to Duke's talents being vastly superior to Virginia's. Virginia Tech does not have the same luxury. Luckily for the human race, Zion Williamson is one of a kind. But UVA hasn't been playing well lately even against lesser teams, and they struggled way too much for comfort against Notre Dame on Saturday night. If not for a barrage of 3-pointers made by Louisville two weeks ago, Virginia Tech would be undefeated at home, and I think the crowd will have the juice for this one. A win versus a top-5 ranked team would do wonders to improve VA Tech's resume and get them out of the dreaded 5-12 match-up in the tourney, and I think they'll at least keep this one respectable. How scary can a team that lost to a 16-seed last year possibly be?
Final Score Prediction: UVA 69 – VA Tech 66