[et_pb_dcsbcm_divi_breadcrumbs_module hide_homebreadcrumb="off" homebreadcrumbtext="Home" separator="sep-raquo" hide_currentbreadcrumb="off" homebreadcrumborientation="left" _builder_version="3.8″ fontsbreadcrumbs_font="Lato||||||||" fontsbreadcrumbs_text_color="#000000″ fontsbreadcrumbs_font_size="15px" fontsbreadcrumbs_line_height="16px" fontsseperator_font="||||||||" fontsbreadcrumblinks_font="||||||||" fontsbreadcrumblinks_text_color="#2567cf" custom_margin="25px|||" custom_margin_phone="30px|||" custom_margin_last_edited="off|desktop" custom_css_main_element="font-family: Helvetica Regular;" disabled="on" global_module="3641″ saved_tabs="all"][/et_pb_dcsbcm_divi_breadcrumbs_module]
Virginia Tech vs. Duke Pick & Prediction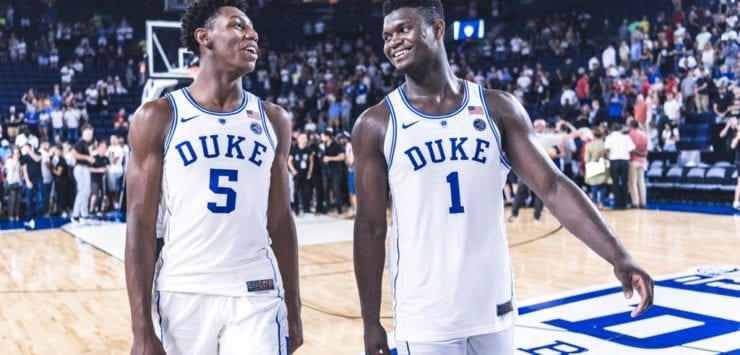 Virginia Tech Hokies (26-8 SU, 17-15-1 ATS) vs. Duke Blue Devils (31-5 SU, 18-18 ATS)
When: Friday, March 29, 2019 – 9:40 PM ET
Where: Capital One Arena, Washington
TV: CBS
By: Dan Jamison, College Basketball Handicapper, Predictem.com
Point Spread: VT +7.5/DUKE -7.5 (-7 at some reduced juice books)
Total: O/U 144.5
Last Time Out: Virginia Tech beat Liberty 67-58; Duke beat Central Florida 77-76.
Scouting the Hokies:
With Justin Robinson returning and a little bit of bracket fortune, this tournament has gone about as well as the Hokies could have hoped for. Now they get an opponent they know how to beat in a city where they're going to have the crowd on their side, which has been a major plus for the Hokies in this matchup. In four meetings against Duke in front of the Virginia Tech faithful in Blacksburg, Buzz Williams is 3-1, and the one loss came in overtime. Washington isn't Blacksburg, of course, but with a large number of Virginia Tech graduates in the building, it's likely to feel like it. Even better for the Hokies is the fact that they've already beaten Duke once this season. That game will barely resemble this one, as neither Robinson nor Zion Williamson suited up for that contest, but it's still something Williams and his team can point to to show that they've got no reason to fear their ACC rival in this matchup.
50% Cash up to $250

Scouting the Blue Devils:
They're still here. They probably shouldn't be, given that Central Florida's final shot covered almost all of the rim before dropping off, but the Blue Devils survived and advanced to another East Regional. But was this game the test that steels Duke for a run for the rest of the tournament, or the game that provided the blueprint on how to beat the Blue Devils? The Knights played the Blue Devils like nobody else has, focusing entirely on defending the freshmen trio of Williamson, R.J. Barrett and Cam Reddish and daring the rest of the team to try to beat them.
Duke couldn't adjust. Tre Jones shot a mere 1-for-8 from the field and the rest of the Blue Devils combined for five points. The freshmen have combined for 124 of 162 points in Duke's first two tournament games, underscoring the reality that much like Villanova, which is now home for the season, this offense is a three-legged stool. If any one of the freshmen scorers gets taken out with foul trouble or an off night, Duke has virtually no way back.
X-Factor:
Crowd presence. When the NCAA puts together the tournament sites, they give no thought to the regionals for anyone besides the No. 1 seed. That's how Virginia Tech found its way to Washington, where it's one of the most popular teams in the city. The Hokies have a huge presence in the city, and with Virginia Tech in the Sweet 16 for the first time since 1967, there's likely to be a large contingent of maroon and orange that makes its way to the District.
If it plays a role, it wouldn't be the first time that a local school has used Capital One Arena to its advantage. In 2006, George Mason, located 20 miles away in Fairfax, Va., brought a large contingent of fans and knocked off Wichita State and No. 1 overall seed Connecticut on its way to the Final Four.
It also wouldn't be the first time that Duke has seen things go wrong in Washington. In 2008, with Georgetown a No. 2 seed and unable to play on its home court, the Hoyas bumped the Blue Devils out of Raleigh and into Washington, where Duke barely escaped Belmont — on a winning basket with 11 seconds left, just like it did against Central Florida— and then fell to West Virginia a round later.
Virginia Tech will Cover if:
The Hokies can neutralize Barrett or Reddish. Whether Virginia Tech opts to follow the UCF blueprint or repeat the strategy that worked in Blacksburg, its strategy is likely going to be based around taking away at least one of the Duke freshmen. You're not going to stop Williamson, and Williams knows it, so he's likely to have Virginia Tech repeat what worked in the first meeting: getting Barrett and Reddish into foul trouble. Both ended up carrying four fouls by the end of the game, and if either gets forced to the bench, there is little to suggest Duke can recover.
Duke will Cover if:
The Blue Devils can take control of the game early. Virginia Tech has the crowd on its side and nothing to lose, and the Hokies are confident that they can beat the Blue Devils because they've already done it. Duke has to take the game to Virginia Tech and convince them that they're not on the level of this version of the Blue Devils. The way to do that is to establish Williamson early and remind the Hokies that part of why Duke lost the game in Blacksburg is because it didn't have Williamson in the lineup.
More NCAA Hoops Picks: This is our second game that we have looked at that sportsbooks have opened with 7.5 point spread. Check out my pick on FSU vs. Gonzaga.
Dan's Pick to Cover the Spread:
 Don't read into the first matchup much. About the only thing that's useful is the fact that Virginia Tech was able to get both Barrett and Reddish into foul trouble. Otherwise, these are two completely different teams that now have their stars back. But Virginia Tech seems to be a more complete team at this point, while Duke seems to be an offense that's centered around Williamson more than a true team.
That's not what you expect from a Mike Krzyzewski team, especially this late in the season, and the more I look at this Duke squad, the more I get a vibe of the 2009-10 Kentucky team of freshmen that dominated most of the season but ran into a veteran team in West Virginia and didn't know how to handle the moment.
Duke is the more talented team, but Virginia Tech has been building toward this season and isn't going to buy into the Blue Devils' aura. They're also playing better basketball at the moment, and they've got the crowd on their side. It's a dangerous pick because Duke is talented enough to blow out anyone when they play to their potential, but right now, that isn't happening. I'll take Virginia Tech and the points.