Florida State vs. Gonzaga Pick & Prediction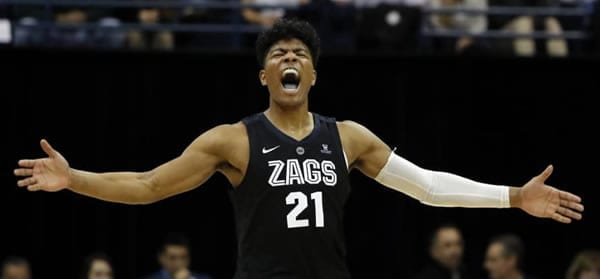 Florida State Seminoles (29-7 SU, 17-18-1 ATS) vs. Gonzaga Bulldogs (32-3 SU, 22-13 ATS)
When: Thursday, March 28, 2019 – 7:10 PM ET
Where: Honda Center, Anaheim, Calif.
TV: CBS
By: Dan Jamison, College Basketball Handicapper, Predictem.com
Point Spread: FSU +7.5/GONZ -7.5 (Bovada)
Total: O/U 147
Last Time Out: Florida State routed Murray State 90-62; Gonzaga beat Baylor 83-71.
Scouting the Seminoles:
When I think of Florida State basketball, I'm reminded of a quote that a high school basketball coach named Bob Lake once gave about his team, which rarely had any star performers but usually won. "We don't have two guys who can score 25 points each. But we have five guys who can each score 10."
Florida State is an improved version of that. The Seminoles have five guys who can score 20, and the leader is never certain on any given night. Eight different Seminoles have led the team in scoring in a game this season, and Florida State's depth simply overwhelmed Murray State, as Ja Morant was fantastic but unable to lift his team by himself. The Seminoles know how to score and they know how to play defense, which makes them a dangerous contender.
Scouting the Bulldogs:
As the only non-ACC school to earn a No. 1 seed and a mid-major to boot, the pressure was on for Gonzaga to justify its position. Mission accomplished. The Bulldogs were the only one of the four No. 1 seeds to eviscerate their 16th-seeded opponent in the first round, and they were in control the entire way against Baylor. Now they get the matchup they've both wanted for a year and dreaded when the brackets came out: Florida State.
One March Madness ago, Gonzaga seemed to have an excellent shot at making a run to the Final Four before running into the Seminoles' combination of depth and defense. Gonzaga stars Rui Hachimura and Zach Norvell got their points, combining to score 30, but they had to take 28 shots to do it, nowhere near efficient enough to beat Florida State.
But the Bulldogs have one factor that they didn't have last time: Brandon Clarke. Last year, Clarke had to watch as a transfer from San Jose State as the Seminoles throttled the Bulldogs' potent offense. This time, he's coming off a monster 36-point game against Baylor and projects to be a major cog in Gonzaga's attack.
More NCAA Basketball: Virginia Tech vs Duke Blue Devils Prediction
X-Factor:
Timing. One of the most overlooked things about the NCAA tournament is the time of the game and the time zones of each game. With games being played in accordance with television schedules — even more so than usual — and travel messing with players' body clocks, you want your game to be played as close to your normal time as possible to minimize disruptions.
So that's an edge to Gonzaga, a western school that's playing in California, over Florida State, an eastern school, right? Wrong. The game's being played at 7:10 p.m. Eastern time, which is right in line with when the Seminoles normally play games. The Bulldogs, on the other hand, normally play at around 7 or 8 p.m. Pacific, and they're playing at what's essentially 4 p.m. their time. Having the second game would have fit much more in line with Gonzaga's schedule, and the Bulldogs won't have that edge. Even with the increased travel, Florida State will be the team that's playing on its schedule, which could help neutralize the Bulldogs' home region advantage.
Florida State will Cover if:
The Seminoles can wear down the Bulldogs like they did last season. Saint Mary's provided the blueprint of how you can frustrate the Gonzaga offense by playing ferocious defense and forcing the Bulldogs to grind out a victory. The Seminoles do that on a regular basis and have the kind of offense that the Gaels do not, creating a challenge for Gonzaga that it has not seen since last season.
Gonzaga will Cover if:
The Bulldogs can get a big game out of Rui Hachimura. Hachimura has struggled in two of the Bulldogs' past three games, scoring just six points against Baylor and nine points in the West Coast Conference tournament final loss to Saint Mary's. The Bulldogs don't have the depth that the Seminoles do, and they cannot afford to have Hachimura have another off-night if they're going to even the score from last year.
Dan's Pick to Cover the Spread:
Gonzaga has looked very good for the past two games. But by the same token, so has Florida State, and the Seminoles did it against stronger competition than the Bulldogs did. Florida State seems to be peaking at exactly the right time, and the Seminoles have both a better offense and defense than they did a year ago.
Gonzaga is a great team, no question, but it seems like this is just a terrible matchup for the Bulldogs. As the one offense-first team in the West Regional, the Bulldogs just feel out of place here, and I think the matchup will be their undoing. I think Florida State wears Gonzaga down again, and I'm taking the Seminoles and the points here.