Washington State Cougars vs. Oregon Ducks Pick 1/27/19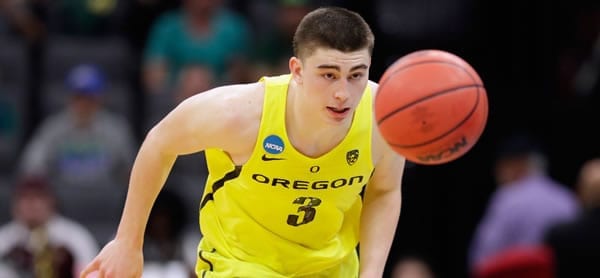 Washington State Cougars (8-11 SU, 9-10 ATS) vs. Oregon Ducks (11-8 SU, 7-11 ATS)
When: Sunday, January 27, 2019 – 8 PM ET
Where: Matthew Knight Arena, Eugene, Ore.
TV: ESPNU
Point Spread: WSU +14/ORE -14
Total: O/U 144
Last Time Out: Washington State lost to Oregon State 90-77; Oregon lost to Washington 61-56.
Scouting the Cougars:
Another year, another mess of a season for Washington State. The Cougars were once an up-and-coming program in the Pac-12 under Tony Bennett, but since Bennett fled for Virginia, Washington State drifted the wrong way under Ken Bone and had fallen to the scrap heap under Ernie Kent. In 4½ seasons, Kent has yet to win more than 13 games in a campaign and doesn't look likely to do it this year either. Washington State does have a pair of genuine scoring stars in Robert Franks and C.J. Elleby, but the Cougars have been a disaster away from Friel Court, losing all nine games they've played on the road or a neutral floor this year.
Scouting the Ducks:
Oregon really should have been better than this, but the Ducks' season never got going when Bol Bol broke his foot nine games into the season. However, lost in that is the fact that the Ducks really weren't anything special with him. Even in those nine games, Oregon was just 6-3 with a home loss to Texas Southern on its resume. Since then, the Ducks have often struggled to find their way at both ends of the court. Occasionally, they've put together a sterling performance, such as their 81-60 rout of USC, but the reality is that Payton Pritchard and Paul White just aren't good enough to carry the Ducks without a true presence inside.
X-Factor:
Ernie Kent. The Washington State coach and former Oregon coach is widely presumed to be a dead coach walking, and a game against the school he once coached can either be a springboard that saves his job or the final nail in his coffin. The question is, how hard do the Cougars want to fight for their coach? Kent has a 0-3 record in Eugene since coming to Washington State, and the defeats haven't been particularly close, losing by double digits each time and losing by 20 or more in two out of three. Washington State has to be inspired, or this is going to be another wasted trip south for the Cougars.
Washington State will Cover if:
The Cougars can speed the Ducks up and make them play at a quick tempo. Realistically, Washington State has one shot at getting a result here: the Cougars have to limit their mistakes and force Oregon into errors of its own. The good news for Washington State is that for all its faults, it knows how to play at a quick tempo and can do so on a regular basis. The Cougars have to create possessions by scoring quickly and forcing Oregon into errors by pressuring the Ducks and getting them out of their comfort zone. Oregon is a patient team that does not like to push the tempo, so Washington State has to force the issue and turn the Ducks' strength against them.
Editor's Note: Conference tournaments and March Madness is just around the corner making shopping for lines a priority. Check out
our sportsbook list before you sign up for additional sports betting accounts.
Oregon will Cover if:
The Ducks can get to the foul line. Specifically, Payton Pritchard or Victor Bailey are the ones who need to get to the foul line. The rest of the Ducks shoot in the mid-70s or mid-60s from the stripe, but Pritchard is a 91 percent free throw shooter, and Bailey is even better at 93 percent. If Oregon can get to the line without sending Washington State there as well, the Ducks will have a significant edge. However, with four players who shoot 87 percent or better from the stripe in maroon, the one thing the Ducks cannot do is turn the game into a free throw contest, because there's no guarantee they'll win it if they do.
Dan's Pick to Cover the Spread:
I don't love this Oregon team, and the spread is a little high for my liking, but I've got to go with the Ducks here. The fact is that Washington State needs a fresh start, and its players likely agree. I can't see them being all that motivated to fight hard to save Kent's job given the performances they've put out so far.
Besides that, the Cougars never seem comfortable at Matthew Knight Arena — a building Kent never coached in as the Oregon coach (the Ducks opened it in 2011, the year after they fired Kent) and a building that Washington State has never won in, as the Cougars are 0-7 at the new arena and haven't won in Eugene since 2009 — over Ernie Kent. Throw in that Washington State is winless on the road and just lost by 13 to Oregon State, and you've got a pretty good idea about how this game is likely to go. Give me the Ducks, despite the 14 point spread.
Play: Oregon Ducks -14