NBA Pick: Milwaukee Bucks vs. Oklahoma City Thunder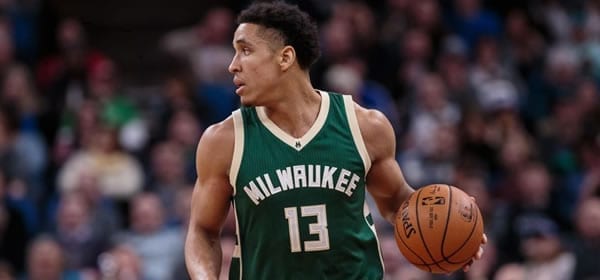 Milwaukee Bucks (35-12, 26-28-3 ATS) vs. Oklahoma City Thunder (30-18, 26-22-0 ATS)
When: Sunday, January 27th, 2018 – 6:00 pm ET
Where: Chesapeake Energy Arena – Oklahoma City, OK
TV: ESPN
Point Spread: MIL +1.5/OKC -1.5
Total: 233
Last Night in the NBA
Wow. What a nail biter! I prayed to the Basketball Gods all night last night that they grant me a victory, and it actually paid off. With no team ever really taking the reins in the game, it's a minor miracle that we came up on the right side of history on that one. I even impressed myself.
Elsewhere in the NBA, the new look Pacers mourned their fallen leader, the Spurs dispatched an increasingly injured Pelicans squad, and Nikola Jokic gave an apathetic Sixers team the business. Enjoy your hollow victory, Jokic. My son Joel will deal with you in a few weeks.
Without the NFL to get us through the day, let's turn our attention instead to an excellent Sunday afternoon match-up. Giannis is visiting the Westbrook dome in a battle of freak athletes, and I'm surprisingly amped for it. The Thunder are currently laying 1-point to the East's best team with the total set to a blistering 233 points. That's one spicy meatball!
Will the Real MVP Please Stand Up?
That hairy guy down in Houston may be averaging 36 points per game and playing with a worse supporting cast, but if you ask me (and Basketball-Reference's MVP tracker), the MVP still plays in Milwaukee. Everybody knows I'm as big of a Russell Westbrook fan as there is outside of OKC, but even I didn't feel tremendous about him winning the MVP as a 6-seed. Historically, the best player on the best team gets the honors – unless a statistical anomaly falls out of the sky like Harden. But Giannis isn't far off of his production, and he does so on both ends of the floor while still operating at about 80% of his max. Time will tell.
Until that time comes, Milwaukee will have to deal with the task at hand. As the owners of the league's top-ranked defense, stymieing OKC's attack shouldn't be too tall of a task. Milwaukee's guards can double team Westbrook (maybe literally) and force guys like Terrance Ferguson and Jerami Grant to beat them. And with Giannis putting the clamps on Paul George, Milwaukee's defense may be all that is necessary.
But the Thunder's strength lies on the defensive end, and they may have enough athletes to game plan around Giannis. Bledsoe, Middleton, Brogdon, and Lopez are all serviceable players, but the Greek Freak drives the ship. PG13 is no Giannis, but he's a half-step below him as a two-way player and has demonstrated as such all season. Milwaukee's X-factor is, in fact, Lopez himself. If Brook can knock down a couple of open shots, the gargantuan Steven Adams will be forced to vacate the paint, and Giannis will be cleared for "take off". In that case: look out below.
Thunder Buddies 4 Life
A lot of people doubted Paul George's intentions when he became a member of Russ' team last season, but his sophomore campaign after deciding to stick around has been everything a boy could dream of. Westbrook's ability to co-exist and capitulate to a fellow superstar has been a topic of conversation since the time he entered the league, but with Russ' continued shooting woes, he's had no choice but to do what he does best: generate open looks. Instead of Westbrook, a historically awful 3-point shooter (mostly because of shot selection – his form is impressive) has allowed PG13 to thrive as his ride-along pal, and George's ability to knock down shots and operate as a go-to scorer has really opened up the possibilities for a franchise desperately in need of continued success. Look out, Golden State (kinda sorta maybe).
While the Warriors are the best that the West has to offer, Milwaukee is currently the king of the East. A team that plays defense better than everybody while shooting almost as many 3s as the Rockets sounds like a tough out, but OKC has the means. As detailed above, the key lies in Adams' ability to stand firm and potentially be in two places at once – out on the perimeter to guard Brook and down in the paint to defend the rim.
The defense should carry them far, but OKC's offense is going to need to push them over the finish line. Luckily, the Thunder are in the middle of a scoring boom, and their 120.4 points per game in January is the most in a month by a Sonics/Thunder team since 1970. With Russell driving and kicking like a maniac, OKC's fringe players are gaining shot attempts and confidence by the day, and it's a well-oiled machine heading into the stretch run. As long as Milwaukee doesn't take away Westbrook's ability to penetrate, the shots should be there for the Thunder. They'll just have to make 'em.
Best Bet
At this point in the season, we should have all of these teams figured out by now. Any and all losses from here on out can strictly be explained to bad luck or a freak accident. We know that the Milwaukee Bucks are an excellent team that is exceptionally coached, has a generational MVP talent approaching his prime, and a cast of characters that execute their roles to tireless perfection. On the other side, we have a Thunder team that can cover infinite ground with long, athletic defenders and two super-duper stars in the midst of career years (for all of the hullabaloo about Westbrook, he is still averaging a triple-double). It's a coin flip game, and the line reflects as such. But I like the pedigree of the Thunder squad just a tiny bit more, and I think they squeak out a close one. Prove me wrong, Giannis.
Final Score Prediction: Oklahoma City 116 – Milwaukee 108