West Virginia Mountaineers vs. Texas Longhorns Pick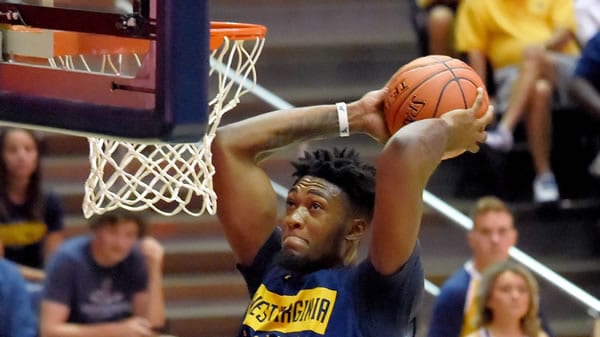 West Virginia Mountaineers (14-6 SU, 10-10 ATS) vs. Texas Longhorns (13-5 SU, 7-11 ATS)
When: Saturday, February 20, 3 p.m.
Where: Frank Erwin Center, Austin, Texas
TV: ABC
Point Spread: WVU +4.5/TEX -4.5 (GTBets - Deposit $100 get $100 FREE! Deposit $250 and receive $250 FREE! Deposit $500 and get $500 FREE! These are real cash bonuses! Fatten up your bankroll today from a book that we've advertised with ZERO complaints for over 10 years!)
Total: 146.5
Last Time Out:
West Virginia lost 91-90 in double overtime to Oklahoma; Texas beat TCU 70-55.
About the Matchup:
These two teams are already thinking about March and making sure they're ready for Indian-apolis, as both are safely in the field. As long as neither one does something crazy, like losing to Kansas State in the Big 12 tournament, both of these teams are likely looking at a top-four seed when the the NCAA tournament begins.
For this battle, one team enters in top form, while the other really wants to get back on track. Even though it's coming off a loss, West Virginia has won three of four and took Oklahoma to double overtime, and the Mountaineers looked very good in handling both Kansas and Texas Tech. Texas, on the other hand, isn't looking its best despite wins in its past two contests. Yes, the Longhorns managed to win, but the wins were over a middling TCU and a disastrous Kansas State, which came within a whisker of besting Texas in what would have been a humiliating de-feat.
A win here over a quality West Virginia squad would be a sure sign that Texas is back and ready for postseason play. But with West Virginia now apparently at the top of its game, this won't be an easy task by any stretch of the imagination.
Scouting the Mountaineers:
When you can shoot as well as West Virginia did against Kansas, it doesn't matter who you're playing because you're going to put up a lot of points. The Mountaineers went for 91 against the Jayhawks because they shot over 50 percent from behind the arc, which neutralized Kansas inside and allowed the West Virginia guards to completely take over the game.
But in this game, the key will actually be in the frontcourt and on the other end of the court be-cause West Virginia's problem with Texas in Morgantown occurred because the Mountaineers couldn't keep their forwards on the floor. West Virginia ended up having to go into its bench ex-tensively, as Emmitt Matthews Jr. and Jalen Bridges both found themselves on the bench with four fouls.
Neither are big scorers, but what they do is allow Derek Culver to dominate the game as the best player in the post. When they aren't on the floor, the job is a lot more difficult for Culver. Since that game, West Virginia has essentially gone to a six-player rotation with Taz Sherman moving to the starting lineup, so foul trouble in this game could be a bigger disaster than it was in the first meeting.
Scouting the Longhorns:
When Texas isn't playing good defense, it's going to have a lot of trouble. In seven wins in the Big 12, Texas has held its opponent to 74 points or less on six occasions, with the escape at Kan-sas State marking the only exception. In four defeats, the Longhorns have allowed at least 75 points every time. Villanova is the only team to play Texas' game and win, which means the Longhorns have to get back to the basics and focus on locking down their opponents.
Lately, other than holding TCU to 55, Texas simply hasn't been good enough on the defensive side of the ball. The Longhorns' swoon can be directly tied to a lack of defensive performances: eight of the last 10 Texas games have gone over the total, and the Longhorns have covered in just three of their past 10. For the year, Texas has covered as a favorite and gone over the total just once: the season opener against UT-Rio Grande Valley. Otherwise, the Longhorns are built around defense, not the shooting of Andrew Jones and Courtney Ramey. The points are a plus, of course, but the Longhorns are much more likely to win a game 65-60 than they are to win 85-80.
X-Factor:
Mentality and freedom. These are the type of games that often become classics be-tween two good teams because neither one has anything to lose. Both teams know that they're in and are playing for seeding, and both should be able to focus simply on their own execution. In practice, that usually leads to higher-scoring games, even between two defensive-minded teams such as West Virginia and Texas.
These teams did combine for 142 points in the first meeting, which was with neither team shooting particularly well. If these teams play loose, there's a real chance of a genuinely high-scoring contest.
West Virginia will Cover If:
The Mountaineers can step up their shooting. West Virginia can't get away with shooting 38 percent again if it hopes to reverse the score from Morgantown. The Mountaineers got away with it for most of the contest, but over time, the missed shots really came back to haunt them, with Culver having to do all of the work inside. A stronger perfor-mance against a vulnerable Texas defense would make a world of difference.
Texas will Cover If:
The Longhorns can get the Mountaineers in foul trouble again. Texas isn't great inside either, but if they can force Derek Culver to do all of the work inside again, it would go a long way toward throwing off the West Virginia offense and making Culver much less ef-fective.
Dan's Pick to Cover the Spread
West Virginia is surging right now, and Texas is struggling. The Longhorns are not really in the right frame of mind to play a team like West Virginia, and I think this could be the kind of track meet that Texas really doesn't want to get involved in. If the Longhorn defense can't slow West Virginia down, this will be tough for Texas.
I expect points, and that means I'm going to back the Mountaineers here. I won't say no to my free four points, but I don't really think I'll need them here. I see the Mountaineers winning out-right. Hey! before you go, we've got a question for ya! When you bet on games, there's a 99% chance that you're laying -110 odds. Did you know that you can bet on games at -105? This saves you $5 for every $100 that you're trying to win. The savings compound like crazy when you bet on games at reduced odds and ultimately ends up being hundreds (if not thousands) of dollars that end up in YOUR pocket, not the bookies! Find this awesome money saving offer at BetAnySports Sportsbook! Make the switch! You'll be so glad you did!
Get $60 of FREE member picks & predictions
(NO commitments. NO Credit Card. NO Salesman.)