[et_pb_dcsbcm_divi_breadcrumbs_module hide_homebreadcrumb="off" homebreadcrumbtext="Home" separator="sep-raquo" hide_currentbreadcrumb="off" homebreadcrumborientation="left" _builder_version="3.8″ fontsbreadcrumbs_font="Lato||||||||" fontsbreadcrumbs_text_color="#000000″ fontsbreadcrumbs_font_size="15px" fontsbreadcrumbs_line_height="16px" fontsseperator_font="||||||||" fontsbreadcrumblinks_font="||||||||" fontsbreadcrumblinks_text_color="#2567cf" custom_margin="25px|||" custom_margin_phone="30px|||" custom_margin_last_edited="off|desktop" custom_css_main_element="font-family: Helvetica Regular;" global_module="3641″ saved_tabs="all"][/et_pb_dcsbcm_divi_breadcrumbs_module]
2018 Heisman Trophy Picks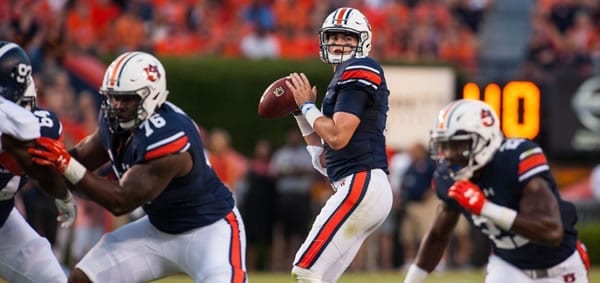 2018 Heisman Trophy Betting Odds and Predictions
By Jay, College Football Handicapper, Predictem.com
The 2018 College Football is several months away, but we got our first look at the upcoming talent level from teams throughout spring games just a few weeks ago. As we start to formulate our first early predictions, we know that many things will change to some degree in the months ahead before the first kickoff. However, the one thing I know about summer is that it always goes by too quickly and soon September will arrive with the dawn of another exciting year of college football. With my excitement and curiosity peaking this spring, I wanted to take this time to discuss the 2018 Heisman Trophy betting odds and provide some early predictions for the upcoming college football campaign. Take a look as we discuss the odds, value plays, and my overall top 15 picks for the 2018 Heisman Trophy.
No. 15 – Tua Tagovailoa +700 (QB, Sophomore, Alabama)
According to Bovada, Tagovailoa is among the biggest favorites on the board to win the 2018 Heisman Trophy. I find that unbelievable on the grounds we have barely seen the young quarterback play. Before becoming the savior of the National Championship where he came off the bench to throw three touchdowns in the 2nd half, Tagovailoa had only played a handful of garbage time minutes for the Crimson Tide. While he looked great in the comeback effort, it's hard to assume he will put together an entire season of eye-popping stats that are needed to garner a Heisman Trophy. In some ways, I understand the hype because Tagovailoa proved to have a great arm and he will be on the best team in the country that is certain to be in the hunt for another National Championship. However, the realistic side of me says there is "no way." Let's face it. Quarterbacks do not exactly thrive in Nick Saban's offenses. More importantly, Tagovailoa is still fighting for the starting job with Jalen Hurts in a battle that is expected to carry on into the fall. Therefore, I am far more skeptical than oddsmakers who currently have the sophomore listed at 7-1 odds.
No. 14 – Justin Herbert +1800 (QB, Junior, Oregon)
Justin Herbert enters his junior season behind center for the Oregon Ducks with a lot of hype surrounding his potential. In 2017, Herbert posted a stat line that included 1,750 passing yards with 13 touchdowns and three picks in 7 full games. We know that Oregon's offense has a history of posting big numbers and Herbert is a talented athlete. However, the concerns cannot be overlooked either. The numbers were not overly impressive last season, and the elephant in the room is that Oregon will be entering the 3rd season in a row with a new Head Coach now that Willie Taggart departed to Tallahassee. Can Mario Christobal get the best out of the offense and can Herbert stay healthy? Those are the big questions that need answers.
No. 13 – Justice Hill (RB, Junior, Oklahoma State)
Justice Hill may not even be the best running back in the Big 12. There is a legitimate argument for Oklahoma's Rodney Anderson. However, I like Hill's value at huge 75-1 odds and how the Cowboys feature him in their offense. During the 2nd half of 2017, Hill averaged nearly 25 touches per game and racked up season totals of 1,347 yards with 14 touchdowns. I think the potential is there for Hill to have another big season and he has become a focal point for a dynamic Oklahoma State offense. At huge odds, Hill is a must to consider based on value alone.
No. 12 – Jarrett Stidham +1600 (QB, Junior, Auburn)
From an odds perspective, Jarrett Stidham is a borderline top 5 favorite as he enters his junior season behind center for Auburn. The former Baylor transfer had a pretty solid sophomore campaign in his first season on The Plains with 2,827 passing yards, 17 touchdowns, and four picks. Moving forward, I am sure that Stidham will progress and he undoubtedly has a big arm. My biggest concern is that he is not in the ideal offense for quarterbacks. Gus Malzahn's offenses focus heavy on the running game, and that does not give the potential for big numbers from the quarterback position. There have been rumors that the offense will be more this year and Stidham will be unleashed as a passer. The problem with that notion is that contradicts Malzahn's offensive style.
No. 11 – Kelly Bryant +2000 (QB, Senior, Clemson)
I am a big fan of Kelly Bryant, and we can expect that Clemson will hang around the National Championship discussion in 2018 as the return a load of talent. Outside of Alabama, nobody has been better than Clemson over the last few years, and that starts with the big numbers generated from the offense each season. Bryant is a dual-threat quarterback that is arguably more dangerous with his feet. In 2017, Bryant passed for 2,678 yards with 13 touchdowns and six picks. On the ground, Bryant rushed for 646 yards with an additional 11 touchdowns. Make no mistake about it, Bryant can post much bigger numbers in 2018 as Clemson continues their ACC dominance. The downsides for Bryant is again he is not the best pure passer, and we cannot ignore the fact that he will face a battle for the starting position from the no. 1 recruit from the 2018 class in early enrollee Trevor Lawrence.
No. 10 – Jake Browning +2200 (QB, Senior, Washington)
Jake Browning's Heisman stock took a plummet in 2017 after throwing for just 2,544 yards with 18 touchdowns and five picks. Before the disappointing 2017 season, Browning was among the top Heisman favorites following a sophomore campaign where he threw for 3,430 yards with 43 touchdowns and nine picks during the Huskies breakout season that led to a playoff appearance. Despite the downtrend in 2017, Browning is still on pace to shatter school records at the quarterback position and will continue to be a popular name going into next year's NFL Draft. I am not sure if he can manufacture the numbers necessary for a legitimate run at the Heisman Trophy, but his talent should not be undermined.
No. 9 – D'Andre Swift +2800 (RB, Sophomore, Georgia)
Many people probably do not know D'Andre Swift's name outside of the SEC because his freshman campaign was played in the shadows of Nick Chubb and Sony Michel. However, Swift is a game changer with homerun speed and playmaking ability. As a freshman last year, he averaged over 8 yards per carry on 73 carries. As Swift moves into a primary role this year, I am expecting a big season and if he continues to make the big plays; he will quickly become a household name around the country.
No. 8 – Will Grier +2000 (QB, Senior, West Virginia)
Another quarterback with great upside is senior West Virginia quarterback Will Grier. Despite missing the final three games of the season, Grier posted a worthy 2017 campaign that was highlighted with 3,490 passing yards, 34 touchdowns, and 12 picks. He also threw for more than 300 yards in 9 of 10 games and showed the type of consistency that could constitute huge numbers in 2018. The offense has a few of their top targets returning that will help spur the offense. Another tangible that I like about Grier is that I feel like West Virginia is going to have a solid year. If the Mountaineers happen to have a breakout season, Grier is poised to reap the rewards.
No. 7 – Khalil Tate +1400 (QB, Junior, Arizona)
Over the next two picks, we have two quarterbacks that have all the Heisman Trophy potential in the world but unfortunately are not on the greatest football teams which ultimately hurts their stock. Taking home the 7th spot is Arizona's Khalil Tate who is likely the best dual-threat quarterback in the country. Despite not taking over the offense to nearly the mid-season point last year, Tate erupted by rushing for 550 yards with eight total touchdowns in his first two games. He would end the season with nine passing touchdowns, eight picks, and another 1,400 yards with 12 scores on the ground. Tate has the "Lamar Jackson" type of playmaking ability with his feet. If he can become a better passer, he will be truly unstoppable.
No. 6 – Drew Lock +2500 (QB, Senior, Missouri)
A lot of people may disagree with Drew Lock being ranked this high, but I am not backing down from my bold expectations for the senior Missouri quarterback. Lock has incredible upside and will have full reins of the Mizzou offense. In 2017, Lock threw for 3,695 yards with 43 touchdowns and just 12 interceptions. Needless to say, he has already proven to post enormous numbers that are capable of catching Heisman attention, and I expect that will be the case again this year. Of course, the unfortunate circumstances for Lock is the fact he will be playing for an average team that will struggle to protect him. Heisman winners do not typically come from .500 average football teams, and that will be a very tough obstacle to overcome.
No. 5 – J.K Dobbins +650 (QB, Sophomore, Ohio State)
I made the mistake of picking J.T. Barrett to win the Heisman Trophy in 2017 which did not come to fruition. However, rising sophomore J.K Dobbins will have a chance to redeem Buckeye nation this season. Dobbins was very impressive in his freshman season as he racked up 1,364 yards with seven touchdowns. If you consider those stats were accomplished with Dobbins averaging less than 13 touches per game, then you have to wonder what the young talent can do with a full load throughout an entire season. The workload remains to be seen, but the potential is alive.
No. 4 – Trace McSorely +1800 (QB, Senior, Penn State)
I believe Trace McSorely is a realistic value play at nearly 20-1 odds. The Nittany Lions have been in the National Championship discussion for the past two years, and they will have another good team in 2018. With Saquon Barkley now in the NFL, McSorely may need to play an even more prominent role, and his 2017 stats were nothing to be ashamed of with 3,228 passing yards, 28 touchdowns, and eight picks. The rising senior had a few big games last year that shows he has the potential to post massive numbers. If you consider the potential and how Penn State's offense will score points, I believe McSorely has excellent value.
No. 3 – Jake Fromm +1200 (QB, Sophomore, Georgia)
If it were not for Alabama's heroic comeback on the heels of Tua Tagovailoa's masterful 2nd half performance in the National Championship Game, it would be safe to say that a lot more talk would be surrounding Georgia quarterback Jake Fromm. Fromm emerged as a big-time quarterback in his first year in Athens and played terrific during the 2nd half of the season. Georgia has solidified their stranglehold on the SEC East, and another title run is not out of the question. If Fromm shows the progression that we witnessed in year 1, Bulldogs fans will have a lot to be excited about.
No. 2 – Jonathan Taylor +600 (RB, Sophomore, Wisconsin)
Jonathan Taylor is in a prime position to have a huge season. The Badgers offense puts a heavy focus on running the football and Taylor strived in that role a year ago in route to over 1,800 yards with 13 touchdowns on the ground as a freshman. With another year to progress, the hype is real around the sophomore running back who will also have the advantage of having his entire offensive line back this year. My biggest concern with Taylor is the touchdowns and if he can post big enough numbers to win the Heisman. Taylor scored just two touchdowns in the final seven games of the season last year, and we all know that you have to put up big numbers throughout the entire season to win the ultimate prize.
No. 1 – Bryce Love +700 (RB, Senior, Stanford)
Bryce Love leads the way for my "early" 2018 Heisman Trophy favorite. I love everything about Love, no pun intended. He is an explosive and powerful back that is in an offense that is designed for running the football against weaker defensive fronts. In 2017, Love rushed for 100 or more yards in 12 of 13 games. He was among the early-season Heisman Trophy front runners and ultimately finished as the runner-up. Love ended the season with 1,973 yards and 17 touchdowns while averaging over 8 yards per carry. Those are monstrous statistics, and he will have a chance to better them in his senior season. I would also point out that Stanford has delivered five different runner-up finishes in the Heisman Trophy voting since 2009. Therefore they have a pedigree to get players to the main stage and Bryce is the guy that can finally win it all!
Overall Top Pick: Bryce Love +700
Dark Horse Pick: Drew Lock +2500
Bet your 2018 Heisman pick for FREE by depositing $100 and getting $100 FREE at GTBets!
<div class="widget105"><!-- [et_pb_line_break_holder] --><h3>Biggest Sportsbook Bonuses</h3><!-- [et_pb_line_break_holder] --><!-- [et_pb_line_break_holder] --> <!-- [et_pb_line_break_holder] --><div class="widgetlist"><!-- [et_pb_line_break_holder] --> <div class="col1"><!-- [et_pb_line_break_holder] --> <img src="https://www.predictem.com/wp-content/uploads/2018/04/bovada.png" width="150" alt="" /><!-- [et_pb_line_break_holder] --> </div><!-- [et_pb_line_break_holder] --> <div class="col2"><!-- [et_pb_line_break_holder] --> <span class="list">50% Cash</span><br><!-- [et_pb_line_break_holder] --> <span class="list">5x Rollover</span><!-- [et_pb_line_break_holder] -->  </div><!-- [et_pb_line_break_holder] -->  <div class="col3"><!-- [et_pb_line_break_holder] --> <button class="btn-widget" href="#">Review</button><!-- [et_pb_line_break_holder] --> </div><!-- [et_pb_line_break_holder] --></div> <!-- [et_pb_line_break_holder] --><!-- [et_pb_line_break_holder] --><div class="widgetlist"><!-- [et_pb_line_break_holder] --> <div class="col1"><!-- [et_pb_line_break_holder] --> <img src="https://www.predictem.com/wp-content/uploads/2018/04/intertops.png" width="150" alt="" /><!-- [et_pb_line_break_holder] --> </div><!-- [et_pb_line_break_holder] --> <div class="col2"><!-- [et_pb_line_break_holder] --> <span class="list">50% Cash</span><br><!-- [et_pb_line_break_holder] --> <span class="list">4x Rollover</span><!-- [et_pb_line_break_holder] -->  </div><!-- [et_pb_line_break_holder] -->  <div class="col3"><!-- [et_pb_line_break_holder] --> <button class="btn-widget" href="#">Review</button><!-- [et_pb_line_break_holder] --> </div><!-- [et_pb_line_break_holder] --></div><!-- [et_pb_line_break_holder] --><!-- [et_pb_line_break_holder] --><div class="widgetlist"><!-- [et_pb_line_break_holder] --> <div class="col1"><!-- [et_pb_line_break_holder] --> <img src="https://www.predictem.com/wp-content/uploads/2018/05/gt-bets.png" width="150" alt="" /><!-- [et_pb_line_break_holder] --> </div><!-- [et_pb_line_break_holder] --> <div class="col2"><!-- [et_pb_line_break_holder] --> <span class="list">150% Cash</span><br><!-- [et_pb_line_break_holder] --> <span class="list">4x Rollover</span><!-- [et_pb_line_break_holder] -->  </div><!-- [et_pb_line_break_holder] -->  <div class="col3"><!-- [et_pb_line_break_holder] --> <button class="btn-widget" href="#">Review</button><!-- [et_pb_line_break_holder] --> </div><!-- [et_pb_line_break_holder] --></div><!-- [et_pb_line_break_holder] --><!-- [et_pb_line_break_holder] --><div class="widget-footer"><a href="#">See all sportsbook bonuses</a></div><!-- [et_pb_line_break_holder] --> <!-- [et_pb_line_break_holder] --></div>