ACC Pick of the Week: Virginia vs. Clemson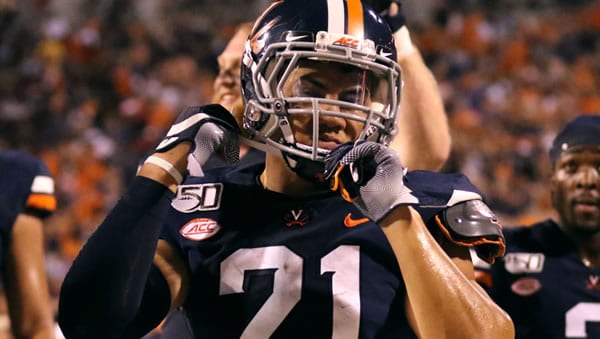 Virginia Cavaliers (1-0 SU, 1-0 ATS) vs. Clemson Tigers (2-0 SU, 0-2 ATS)
When: Saturday, October 3, at 8 p.m.
Where: Memorial Stadium, Clemson, S.C.
TV: ACCN
Point Spread: UVA +28/CLEM -28 (BetOnline – GREAT live in-game betting platform!)
Total: O/U 55
Outlook
We've got a rematch of the ACC championship from last season, and Virginia's hoping it'll be much more of a match than it was a year ago. Last year, the Cavaliers got completely overwhelmed rather quickly thanks to Clemson's quick-strike offense, and they'll be hoping to change things up so that they can stay in this game and actually put some pressure on the Tigers.
But whether they can might be entirely dependent on the Tigers. Clemson has shown an ability to bury teams early, but a tendency to take its foot off the gas as the game wears on. Dabo Swinney seems to be wary of overexerting his team in this weird season, which means he's trying to get the game over with early and let his backups get some experience in case one of his stars contracts COVID and he has to turn to his second string. With Clemson adopting a new mindset, are the Tigers now toxic to gamblers?
How the Public is Betting the Virginia/Clemson Game
There has been little to no movement here, as the line has held at -28, and the number has ticked up half a point from 54.5.
Injury Concerns
Virginia:
Wide receiver Nathaniel Beal III is probable after recovering from off-season surgery to repair a torn ACL. Defensive back Tenyeh Dixon, defensive tackle Aaron Faumui and running back Mike Hollins chose to opt-out of the season, while wide receivers Ugo Obasi and Dontayvion Wicks are out for the year with undisclosed injuries. Running back Ronnie Walker Jr. has been declared ineligible for the season.
Clemson:
Cornerback Mario Goodrich has missed two games after ankle surgery and is questionable. Linebacker Baylon Spector is questionable with a head injury, and cornerback LeAnthony Williams sat out the last game with an undisclosed issue. Wide receiver Joseph Ngata is questionable with an abdominal injury, while defensive tackle Tyler Davis is questionable with an undisclosed issue. Defensive end Justin Foster is out indefinitely with an undisclosed injury, while defensive end Xavier Thomas has contracted COVID and is out indefinitely. Defensive tackle Ruke Orhorhoro (knee), tight end Luke Price (knee), and wide receiver Justyn Ross (spine) are all out for the season.
When Virginia Has the Ball
Virginia has one chance to keep this a game: keep the ball. The Cavaliers tried this last year to some success, as their drives tended to take time off the clock. The problem was that Clemson scored so quickly that it didn't matter how long Virginia had the ball.
That means that Virginia has to go into this game with a David strategy of playing with nothing to lose. That does not mean that Brennan Armstrong has to air it out and try to dominate the Tigers with big plays, but it does mean that Virginia has to approach every drive with two things in mind: take time off the clock and finish with points. Any drive that Virginia doesn't end with points is a failure because the Cavaliers probably can't stop Clemson no matter where the Tigers start from.
That means that they've got to establish Wayne Taulapapa on the ground early and get good decisions from Armstrong. The two interceptions that he threw against Duke absolutely cannot happen against Clemson. Nor can Virginia fall behind early as it did against the Blue Devils. The Cavaliers found themselves in a 10-0 hole in the first quarter against the Blue Devils, then had to scramble back when Duke again shut them out in the third quarter. Going 30 minutes without points against Clemson is a sure way to lose.
More Picks: South Carolina at Florida Best Bet
When Clemson Has the Ball
The way that Clemson crushed Virginia last year was with the quick strike. The Tigers had a mind-boggling nine drives last season that both resulted in points and lasted less than three minutes. Both Trevor Lawrence and Travis Etienne have the ability to score from anywhere on the field, and there's probably little that Virginia can do even to slow them down, let alone stop them.
The big question here is how long Lawrence and Etienne will be in the game. Odds are that if this game goes the same way last year's did, Clemson will have them both on the bench by the end of the third quarter. Unlike last year's meeting with Virginia, Clemson doesn't have a month off after facing the Cavaliers unless things go horribly wrong with COVID. Whether the Tigers will win the game has been pretty much a foregone conclusion in ACC competition as of late. Clemson has won 22 straight games against ACC members (23 if you include a win over part-time member Notre Dame) and boasts a 43-2 record in ACC games over the past five years. Plus, Clemson hasn't allowed an ACC foe to stay within 30 points of them at Death Valley since Duke did it in 2018…and even then, the Blue Devils lost that game 35-6.
Betting Trends
Last year, Clemson blitzed Virginia and never let its foot off the gas, hanging 62 points on the Cavaliers. The fact that the total isn't even 62 points says that Vegas knows that the Tigers aren't going to be pushing the same way they did last year in Charlotte. So far, we've seen Clemson play in two games, and the Tigers have yet to score a point in the fourth quarter. Out of 86 points, Clemson has scored this year, 76 have come in the first half.
What that tells me is that Clemson believes that it has a longer race to run and has its eyes firmly on the College Football Playoff. The Tigers do not feel the need to overwhelm their opponent, but the public knows that Clemson is a powerhouse, so the numbers are going to keep pushing in the Tigers' favor.
That works in terms of the over as well. In the Tigers' past six games as a favorite, Clemson has hit the under on five occasions, including each of its two games this season. The number has been set in the high 50s twice this year, but Clemson's games haven't yet topped 50 points.
Meanwhile, Virginia has actually been a solid cover team lately, but that comes with a caveat. The Cavaliers have no problem covering when they play in Charlottesville, but struggles abound once they go on the road. Virginia has failed to cover in four of its past five road games, and they go to Clemson in a situation where the underdog has covered just once in five games.
Weather Report
It's going to be a chilly night by South Carolina's standards. It's expected to be a partly cloudy evening with temperatures falling to 49 degrees.
Dan's Pick to Cover the Spread
Clemson clearly has its eyes on another ACC championship and being selected for the playoff, and that means the Tigers are not taking this one game at a time. Clemson has no interest in keeping its starters in the game any longer than absolutely necessary, so if this gets out of hand early, look for the Tigers' stars to find their way to the bench rather quickly.
With the Tigers adopting a long-term mindset, 28 points are just way too many to give here. Give me the Cavaliers to get a late touchdown or two and earn the backdoor cover.
Take Virginia plus the points. Note: Bet your week 5 college football picks FREE by taking advantage of a 100% REAL CASH bonus on your first deposit of $100 to $300 at
MyBookie Sportsbook
!