Akron vs. Kent State Pick 11/17/20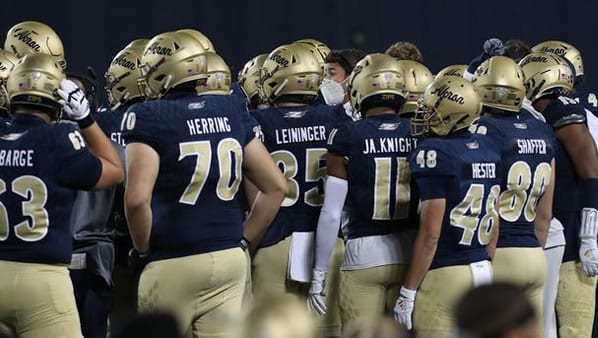 Akron Zips (0-2 SU, 1-1 ATS) vs. Kent State Golden Flashes (2-0 SU, 1-1 ATS)
When: Tuesday, November 17, at 8 p.m.
Where: Dix Stadium, Kent, Ohio
TV: ESPN
Point Spread: AKR +24/KSU -24 (MyBookie – Deposit $100 and get $100 FREE!)
Total: O/U 59.5
Outlook
It's Wagon Wheel Week in northeast Ohio, as Akron makes the 13-mile trek to Kent State to try to put an end to its FBS-worst 19-game losing streak. The Zips haven't come out the victors since October 27, 2018, when they beat Central Michigan at home. Most of those defeats haven't even been close, as only two of those 19 losses have come by single digits. However, Akron is in a place where it's had success, as its most recent road win came at Dix Stadium. In fact, the Zips have left Kent State with a victory in each of their past two trips east and seven of their past 11 visits overall.
But those were against a different Kent State team, and this one seems to be a much stronger opponent than what Akron has faced in years past. The Golden Flashes are riding a six-game winning streak that dates back to last year, and Kent State has picked up where it left off with two solid victories over Eastern Michigan and Bowling Green. The Flashes are leading the MAC in both passing and rushing yards, and their 62-point outburst against Bowling Green last week shows that they can put up points in a hurry.
That's a major worry for Akron, which has had a devil of a time putting points on the board. The Zips have historically gotten away with not scoring in this series, as four of the past seven meetings between the teams have seen less than 40 points scored. But that only worked as long as Kent State wasn't scoring either, and the Flashes' offense appears too powerful for Akron to slow down. Can the Zips hang with their rival and avoid an even 20 straight losses?
How the Public is Betting the Akron/Kent State Game
The public hasn't been scared off by seeing 24 points as the number, as 68 percent of the tickets have come in on the Flashes to cover. However, it hasn't been enough to move the line. Nor has the total budged from the opening number of 59.5.
Injury Concerns
Akron:
Running back Cole Gest and quarterback Kato Nelson are questionable with undisclosed issues.
Kent State:
Linebacker Juan Wallace is ineligible to play in 2020.
More Picks: Get Jay's Clemson at Florida State Prediction >>>
When Akron Has the Ball
Thank goodness for Bowling Green. If not for the pathetic Falcons' attack, Akron's passing game would rank as the weakest in the MAC. The Zips don't move the ball quickly, as their game plan is built on slowly gaining first downs and trying to keep the other team's offense off the field. That worked well against a methodical ground-and-pound team like Ohio, but against Western Michigan, the Zips were quickly overwhelmed and found themselves having to play catch-up by the middle of the second quarter.
With Teon Dollard in the backfield, Akron has a back that can move the ball a few yards at a time and keep the ball out of Kent State's hands, but the main thing the Zips can't do is turn the ball over or take sacks. Akron quarterback Zach Gibson threw an early interception against Western Michigan that put the Zips in a quick hole, and with three interceptions and six sacks on the year, Gibson isn't getting the ball where it needs to be. That's a major problem against a Kent State defense that has seven sacks in two games, tops in the MAC.
When Kent State Has the Ball
The easiest thing to say about Dustin Crum is that he's playing like a senior. With six touchdowns and just one interception to his name, he's been a big reason why the Flashes have the top passing offense in the conference. Crum makes good decisions with the football and has the ability to tuck it and run when needed, something Akron found out all too well last year, as he rushed for 82 yards in the Flashes' 26-3 win over the Zips. Crum's only gotten better since last season and has thrown just three interceptions in his past 15 games, making him one of the most reliable quarterbacks in the league.
Of course, having three quality receivers and a powerful ground game at your disposal makes it pretty easy to look good under center, and Crum's weapons seem to be getting better every week. Bryan Bradford and Marquez Cooper have started their collegiate careers in excellent fashion, with Bradford becoming more of a speed back to Cooper's power. Together, the pair have 312 rushing yards in just two games and have the look of a duo that can cause problems for anyone in the MAC. Throw in a receiving corps led by Isaiah McKoy, and it's easy to see why Kent State has had no problem scoring a lot of points in a hurry.
Betting Trends
This series has been very favorable to bettors who have been willing to ride with Kent State. The Flashes have covered in five of the last six matchups between the teams, including each of the past three meetings at Dix Stadium. Plus, Kent State's proven itself to be a reliable bet during this winning streak, having covered the number in six of their past seven contests.
Akron's on the other end of the spectrum, as the Zips have failed to cover in five of their past seven games. Playing on what's supposed to be their own level hasn't been helpful to Akron, as the Zips have only covered the number in two of their past ten games in the MAC, with one coming last week at Ohio. The Zips also tend to play a lot of unders because they don't do their share of the scoring. In 18 of their past 24 games, Akron has scored 17 points or less.
Weather Report
Snow showers are set for the morning, but things should clear up for the evening, creating a cold but clear night in Kent. Temperatures are set to fall into the low 30s with the wind blowing west-northwest at seven miles per hour.
Dan's Pick to Cover the Spread
I can't see Akron staying in this game. The Zips don't have an offense that can stand up to Kent State, and the Flashes are moving the ball like nobody's business. Granted, part of that was because the Flashes had the good fortune to face a truly awful Bowling Green defense last week, but Kent State also moved the ball well against Eastern Michigan, which is a big step up from the Falcons.
My best bets here are Kent State and taking the under on Akron's team total. A 24-point spread means that the Zips should be right around the critical number of 17, and I can't see the Zips getting there against a team that forces turnovers, scores quickly, and gets to the quarterback well. I can't see the Flashes having any problems in this one unless they're looking ahead to Buffalo, and I don't think they'll look past their eastern Ohio rivals. I think Kent State rolls here.