Arizona State Sun Devils vs. Oregon State Beavers Pick ATS 11/20/21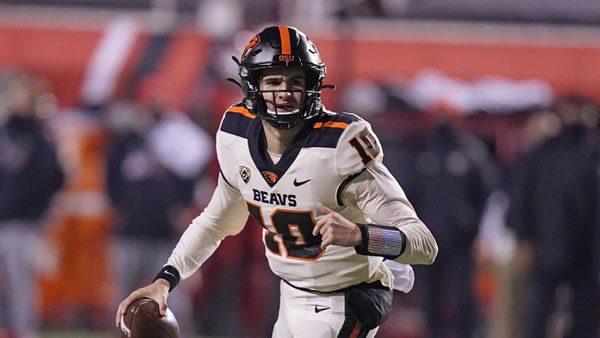 Arizona State Sun Devils ( 7-3 SU, 4-6 ATS) vs. Oregon State Beavers (6-4 SU, 6-4 ATS)
College Football Week 12
Date and Time: Saturday, November 20, 2021 at 10:30PM EST
Where: Reser Stadium, Corvallis, Oregon
TV: ESPN
Point Spread: ASU -3/ORST +3 (BetNow - Offers Predictem readers a special 100% bonus on your first deposit of $100 to $1000!)
Over/Under Total: 60
The Arizona State Sun Devils come to Corvallis on Saturday night for a Pac-12 showdown with the Oregon State Beavers. Last week, the Beavers took a step forward in becoming bowl eligible, as they moved to 6-4 with a big 35-14 home win over Stanford on Saturday. They look to add a little more to it with some more wins, including one against an Arizona State team that moved to 7-3 with a 35-30 win on the road against Washington. They could conceivably still win their division if they win out and get some cooperation from first-place Utah. But first thing is first, and that's a demanding spot against a pretty good Beavers' squad. Who can notch the cover in this one?
Beavers: All Over the Place
It has been an up and down season for the Beavers, to say the least. After a week one loss, they won four in a row before seeing wildly-inconsistent results in conference play. The first team to expose USC, they also beat Washington and Utah before inexplicably falling to Cal and Colorado. Perhaps road-weary, they returned home last week to beat Stanford and are now nice and dug in at home in Corvallis, ready to take on ASU before their big in-state rivalry game with Oregon the following week.
It's just that this is already a wacky conference where results often run contrary to common reason. Then you take an especially-erratic Oregon State team that plays with a wide range of outcomes, and it can really become anyone's guess what to expect. Are you going to see the team that buried USC and beat first-place Utah, or are you going to see a team that gets flattened by Cal?
Will the Beavers' M.O. Work?
The Beavers have a nice QB in Chance Nolan. They aren't, however, a very aerial team. Their rushing offense is top-ten in the nation and a big part of their 34 points per game output. Nolan adds some nice runs here and there, but it is B.J. Baylor who carries most of the load, averaging 6.3 yards a run with 11 TDs. Other backs chip in, as well. The problem in this game is that they're facing another team that can run well while also doing a better job of defending it. The Sun Devils offer a lot of balance on defense and should be one of the more-disruptive units the Beavers have faced this season.
Unfortunately for the Beavers, their defensive results aren't improving over time. Last week's showing against a struggling Cardinal team was nice. But leading up to that, they allowed 37 to Colorado, 39 to Cal, 34 to Utah, and 31 to Washington State. That's a lot of consecutive shaky showings from this defense. They now face an Arizona State team that has seen their offense performing well in recent weeks with 66 points combined their last two weeks.
Problematic Spot for the Sun Devils?
Just as we saw the Beavers swoon a bit when being run ragged on the road, the Sun Devils are coming off a game in Seattle where they battled hard for the win with three fourth-quarter touchdowns. Now this warm-region team has to voyage back to the northwest for the second time in consecutive weeks. You wonder if we'll see a little sag this weekend.
Still, it was good to see the Sun Devils right the ship over the last two weeks. They were doing really well with their eyes on some big things before consecutive two-touchdown losses to Utah and Washington State sent them crashing to earth. Therefore, getting these last two against USC and the Huskies were critical, as they are back on track with some big things on the table. With what seems like a winnable spot against one-win Arizona the week after this, this is the one they really need.
More Picks: Saturday 12:45 AM ET NCAA Hoops Action: Best Bet!
Run Game Too Much for Oregon State?
The Sun Devils look to do more of the same to Oregon State that they did to Washington last week. We've seen some explosive showings this season from RB Rashaad White. His 184 yards on Saturday with two TDs and five catches saw him the most-compelling offensive figure on the field. QB Jayden Daniels, even when he isn't successful aerially, can use his legs, and he had a TD run on Saturday, as well. It's a well-applied part of the ASU offensive recipe, and it could potentially surpass the opposing ground game they see this week.
Can ASU's Defense Get it Done?
This could be where we see things pay off for ASU. Sure, this is a problematic one-game window. All advantages and edges aren't necessarily going to manifest in this one spot. But being more rigid against both the pass and run has to count for something on behalf of the Sun Devils. While their pass-rush isn't the best in the conference, it's better than Oregon State's. They also have four players with multiple interceptions. They're just a little better, a little more clutch, and more capable of putting forth a big play to help out the team cause. It's the main thing that really separates them, and the Sun Devils look to see this manifest in this pairing.
Take the Sun Devils
Something tells me this could be a tough spot where I regret making this move. It's a sticky spot for the Sun Devils. The ASU late-season form and their greater overall solidness rates them a solid choice, however. I think a certain energy comes with the light at the end of the tunnel becoming more visible. Even though this is a rigorous test in a back-to-back road spot, the combination of the ASU run-game and their stouter and more playmaking defense should see them through on Saturday. I'm taking Arizona State.
Loot's Pick to Cover the Point Spread: I'm betting on the Arizona State Sun Devils minus 3 points. Bet your ASU/OSU pick and ALL your Week 12 NCAA football picks for FREE by taking advantage of a 100% REAL CASH bonus on your first deposit of $100 to $300 at MyBookie Sportsbook! (Must use bonus code PREDICT100).
Doc's Pac-12 Friday Championship Smash

Doc's Sports is starting this football weekend off on Friday with a strong selection from the PAC-12 Championship Game in Las Vegas. Get this play now as Doc has the key angles that will allow this selection to grab the money in a big way. It is backed by a full report and 50 years of handicapping experience.