Arizona State vs. Oregon State Odds & Picks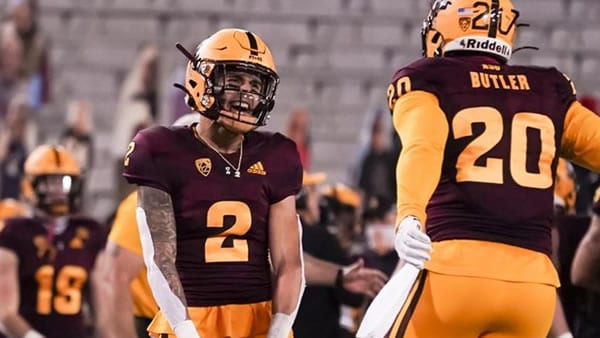 Arizona State Sun Devils (1-2 SU, 2-1 ATS) vs. Oregon State Beavers (2-4 SU, 4-2 ATS)
College Football Week 16
Date and Time: Saturday, December 19, 2020 at 10:30PM EST
Where: Reser Stadium, Corvallis, Oregon
TV: ESPN
Point Spread: Arizona St. -7/Oregon St. +7 (BetNow - The ONLY legit online sportsbook to offer a 100% real cash bonus up to $1000!)
Over/Under Total: 58.5
The Arizona State Sun Devils come to Corvallis for a Pac-12 showdown with the Oregon State Beavers on Saturday. In a difficult season for all, it has been harder for the Sun Devils, just playing in their third game on Saturday and scoring their first win—a rollicking 70-7 victory over Arizona. They hope that win got their season pointed in the right direction. They face a tricky road-spot on Saturday against Oregon State, who dropped their second in a row with a 27-24 loss to the Cardinal last week. Who can get it done this week in Corvallis?
The Lowdown on Oregon State
We've seen some wide range from the Beavers this season. Since their first game, all their losses were really close, and their 4-2 ATS record attests, they've been pretty solid from a betting standpoint. Two one-score losses have followed their high-water point of the season—an upset win over then-unbeaten Oregon several weeks back. Throw in a win over Cal and close losses to Washington and Utah, and you have an erratic Oregon State team that isn't altogether incompetent.
Offensively, they have some tools. The Beavers seem to be handcuffed at times by a line that doesn't do its share and some issues at the quarterback position. They have yet to cement a quarterback, and right now, they're going with Chance Nolan, who did have a good game against Stanford last week, albeit in losing fashion. His continued growth could be big for an offense that flashes one big weapon in Jermar Jefferson, a resurgent back who has shown fearsome form this season with 755 yards in five games. Seven ball-catchers are in triple-digits, as the Beavers work with a cabaret approach.
It's more difficult to quantify the Oregon State defense. They don't really do anything that well while not being terrible in any one area. They don't make a lot of plays, nor do they get a lot of turnovers. But they are usually pretty good about not allowing big plays and have managed to avoid being run over for the most part. And with an offense that can sometimes string them out, they've held up decently. But against the running power, we saw from the Sun Devils last week, that's definitely an area of concern heading into this game.
Did ASU Turn the Corner?
It was a difficult start to the season for the Sun Devils, with a spate of games scratched and a start-stop-start nature to their first handful of games. Losing by a single point in what was really a miracle comeback for USC in their first game, then having to wait nearly a month to play UCLA just had them off their normal rhythm, and it showed on the field, especially with how poorly ASU played late in those games. But against Arizona, a 70-7 win seemed to indicate a different direction for this team. And Arizona being so bad that they canned their head coach less than 24 hours late certainly helped, as did an absurd seven turnovers. But there's still a lot that this Herm Edwards-led bunch can do well, and a lot of it could spell trouble for the Beavers.
Jayden Daniels is really a blossoming young talent, and the Sun Devils' quarterback could really thrive in this context. He put up 334 yards and three TDs in this matchup last season, so we've already seen Daniels thrive in this stadium before, even if it was the Beavers who prevailed, 35-34. Opposing defenses sometimes don't know what's coming. Daniels can air it out and has a gaggle of talented receivers. But the run-game can really flummox opponents. Daniels himself can scoot well, and Rachaad White is becoming a real weapon at running back. With others like DeaMonte Trayanum and Daniyel Ngata, the backfield is loaded with difference-makers who could make like really hard on a Beavers front that is less than rigid.
More Picks: Stanford vs. UCLA Predictions >>>
Obstacles for ASU
First off, there always seems to be something faulty about buying into a team on the heels of a 70-point game. It makes sense to take them on some level, especially if they're playing a team that is like Oregon State. But teams that tack that many points on the board oftentimes find the sledding a little tough the following week. And for a team basking in the Arizona sun, going into the Oregon thicket where the weather will be cold and likely rainy isn't an easy task. And there is this almost under-the-radar competence in Oregon State that belies the figures. And with the Oregon State passing-attack showing its teeth last week with Nolan getting untracked, they could prey on a Sun Devils' defense that hasn't always thrived in that area.
Bigger Challenges for the Beavers
The Sun Devils have allowed a respectable total of 60 points in their three games, holding up well to the UCLA and USC offenses. They are markedly better against the run than the pass. That front could have them being able to at least slightly curtail the attack of Jefferson, which puts a major crimp into the Beavers' offensive plans. It's just when watching even an off-the-mark Sun Devils' team giving stiff resistance to the Trojans, Bruins, and Wildcats, what reasonable output can one expect of Oregon State this week?
Take the Road Favorite
This is a road-spot that could prove to be difficult for the Sun Devils. They were even better last season and couldn't get it done in Corvallis. I just think they're better than what some of their results have shown, though probably not as good as last week might suggest. I sense an offense that is getting into a groove, and that could be all kinds of trouble for the Beavers. I see Arizona State adding a couple of big scores in the second half that gets them the separation they need to get the win and cover on Saturday. I'll take the Sun Devils in this one.
Loot's Pick to Cover the Point Spread: I'm betting on the Arizona State Sun Devils minus 7 points. Bet your ASU/OSU pick at reduced odds -105 at BetAnySports! They offer reduced juice sports betting 365 days a year! HUGE savings vs. the -110 your book is charging you! Make the change! You'll be so glad you did!