[et_pb_dcsbcm_divi_breadcrumbs_module hide_homebreadcrumb="off" homebreadcrumbtext="Home" separator="sep-raquo" hide_currentbreadcrumb="off" homebreadcrumborientation="left" _builder_version="3.8″ fontsbreadcrumbs_font="Lato||||||||" fontsbreadcrumbs_text_color="#000000″ fontsbreadcrumbs_font_size="15px" fontsbreadcrumbs_line_height="16px" fontsseperator_font="||||||||" fontsbreadcrumblinks_font="||||||||" fontsbreadcrumblinks_text_color="#2567cf" custom_margin="25px|||" custom_margin_phone="30px|||" custom_margin_last_edited="off|desktop" custom_css_main_element="font-family: Helvetica Regular;" disabled="on" global_module="3641″ saved_tabs="all"][/et_pb_dcsbcm_divi_breadcrumbs_module]
PAC-12 Total: Arizona Wildcats at Washington State Cougars O/U Pick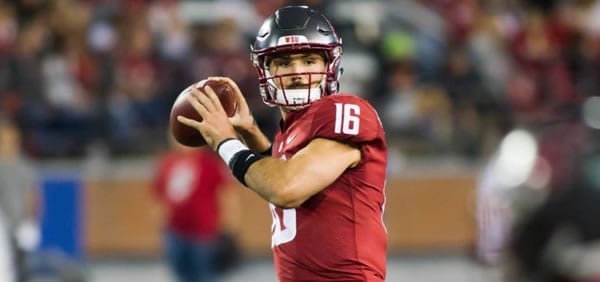 Arizona Wildcats (5-5, 6-4 ATS) at N0. 8 Washington State Cougars (9-1 SU, 9-1 ATS)
When: Saturday, November 17, 2018 10:30PM EST
Where: Martin Stadium, Pullman, WA.
TV: ESPN
Point Spread: ARZ +10/WSU -10
Total: 61
Power Ratings: WSU by 19.5
Takeaways from Week 11
The Washington State Cougar's takeaway from week 11 is about as good as they could have wanted—a convincing win on the road. WSU traveled to Colorado and went down by a TD early only to go on a 31-0 run to close out their final regular-season road trip in a 31-7 victory over the Buffaloes. The Cougars stuck with the game plan that has been working all season long— an air-raid offense with an improved running attack which has added balance to keep defenses guessing. In addition, the WSU QB, Gardner Minshew continued to get the plays when he needed them even after a tough first half where he struggled to hit receivers mainly because of high swirling winds that caused his ball to sail—he adjusted well in the second half and dialed in on his receivers.
Arizona is probably the best .500 team in the Pac 12. The Cats had a bye last week, but in week 10 they beat Colorado 42-34. Junior QB Khalil Tate is as healthy as he's been all season and that spells trouble for defenses—Tate is known for his mobility, but in his last game he burned Colorado with five touchdown passes and 350 yards passing. In week 9, the Wildcats destroyed the Oregon Ducks 44-15 at home. This team will be yet another challenge for the Cougars as Tate beat them last year with his legs in a 58-37 win at Arizona. Bettors might take a long look at this current +10 spread the Cats are getting—if Tate is on his game the Cats might keep closer than expected.
How the Public is Betting the Cougars/Buffaloes Game
The public is currently betting 76 percent in favor of WSU and 24 percent on the Wildcats. Depending on how the Cougs defense handles Arizona's mobile QB Tate, it might behoove bettors to consider the Cats covering the points especially since WSU has struggled against the run at times. However, if the Cougs come out and hit on all cylinders offensively and defensively, there's a good chance this might be a blowout win by the Cougars.
The Historical
WSU has won 2 of the last 3 contests but it was Arizona who got the most recent win last season 58-37 (2017), WSU won the previous two meetings 69-7 (2016), 45-42 (2015).
Injury Concerns
Washington State:
11/12 DB Sean Harper Jr. is questionable for Saturday's game vs. Arizona—lower-body injury. He's missed last 3 games.
Arizona:
11/12 T Bryson Cain—questionable for WSU game on Saturday, unspecified injury, sat out last game.
11/12 RB Gary Brightwell—questionable for WSU game on Saturday, ankle injury, sat out last game.
When Washington State has the Ball
The Cougars are more balanced offensively than they have been in years. When the Cougs have the pigskin, they will spread the defense out with their air-raid offense which often features as many as 8 or 9 targets. Adding to the passing attack are RBs Borghi and Williams who not only run well but are dynamic receivers out of the backfield—in fact, Williams was the leading receiver on the team heading into week 10! Then, there is Gardner Minshew who is arguably the hottest QB in the country because of his play and his celebrity status (mustache driven). Minshew makes excellent decisions, he is mature, has not panicked at all this year and is mobile which only adds to the Cougar's offensive options. WSU is averaging 40 points per contest—they can score quickly and in a variety of ways.
When Arizona has the Ball
When the Wildcats have the ball, they are quick and always seems to be in motion either as part of their pre-snap or with the rush-throw threat of their QB Tate. Tate really is the engine for this squad—if he is playing well, this team is as dangerous as the Cougars have faced all season.
Betting Trends
WSU is 9-1 ATS overall this season!
WSU is 9-1 ATS in their last 10 home games.
WSU is 5-0 ATS in last 5 home games
Arizona is 1-7 ATS in their last 8 games on field turf.
Arizona is 1-5 ATS in their last 6 games versus a team with a winning home record.
Head to Head—OVER is 4-1 in last 5 meetings between these teams.
Weather Report
Game time is predicted to be on the chilly side at around 38-40 degrees. There is no sign of rain or snow at this point and humidity will be 68 percent with light winds around 4 mph. The temps may drop to near freezing or below by the second half—this may have a factor especially for the Wildcats who are used to year-round summer-like conditions.
Dave Wilson's Pick to Cover the Spread
Washington State is in control of their own destiny (almost, some teams could lose and propel the Cougs closer to the BCS conversation, but that's another article). The Cougars are at home against a mediocre team although they have been hot lately—the Wildcats come into Pullman on a 2-game winning streak, but they face a Cougar team on a 6-game winning streak and 9 of their last 10. WSU's defense has been solid as of late, getting stops and holding their previous two opponents to just 13 (Cal) and 7 points (Colorado). I like WSU at home to keep their run going this week in grand fashion—Gardner Minshew and company hit their stride, and if the Coug D can contain and pressure Khalil Tate, it should be the Cougars tenth win Saturday night. I like the Cougars to score a lot of points and hammer the OVER this weekend.

Take the OVER. Luck to ya. Fellas, get a lower line on this game by playing at one of our top rated sportsbooks that offers the best teaser payout odds.
<div class="clickable CTA" style="margin: 0 auto; background: #fff; border-radius: 10px; text-align: center; padding: 10px 20px 20px 20px;"><!-- [et_pb_line_break_holder] --> <img src="https://www.predictem.com/wp-content/uploads/2018/05/mybookie-logo.png" alt="MyBookieer" class="cta-image" /><!-- [et_pb_line_break_holder] --> <p style="margin-top: 5px; font-size: 22px; line-height: 30px;"><!-- [et_pb_line_break_holder] --> $1,000 Free Play Offer<!-- [et_pb_line_break_holder] --> </p><!-- [et_pb_line_break_holder] --> <hr class="cta-divider"><!-- [et_pb_line_break_holder] --> <p style="padding-bottom: 20px; font-size: 15px; line-height: 20px"><!-- [et_pb_line_break_holder] --> $1,000 Football Sign Up Bonus<br>Free Play - 15X Rollover<!-- [et_pb_line_break_holder] --> </p><!-- [et_pb_line_break_holder] --> <a href="https://www.predictem.com/out/Mybookie" rel="nofollow" target="_blank"><button class="et_pb_button" style="color: #fff; cursor: pointer; width: 90%;"><!-- [et_pb_line_break_holder] --> Bet Here<!-- [et_pb_line_break_holder] --> </button></a><!-- [et_pb_line_break_holder] --></div>
<div class="widget105"><!-- [et_pb_line_break_holder] --><h4 class="parlays">Best Sportsbooks for Parlays</h4><!-- [et_pb_line_break_holder] --><!-- [et_pb_line_break_holder] --><table id="parlay"><!-- [et_pb_line_break_holder] --> <tr><!-- [et_pb_line_break_holder] --> <th><span class="team"></span></th><!-- [et_pb_line_break_holder] --> <th>2 Team Parlay</th><!-- [et_pb_line_break_holder] --> <th>3 Team Parlay</th><!-- [et_pb_line_break_holder] --> <th>4 Team Parlay</th><!-- [et_pb_line_break_holder] --> </tr><!-- [et_pb_line_break_holder] --> <tr><!-- [et_pb_line_break_holder] --> <td><a href="https://www.predictem.com/out/SportbetP"><img src="https://www.predictem.com/wp-content/uploads/2018/06/sportbet-sm.png"></a></td><!-- [et_pb_line_break_holder] --> <td>2.74 to 1</td><!-- [et_pb_line_break_holder] --> <td>6.24 to 1</td><!-- [et_pb_line_break_holder] --> <td>13 to 1</td><!-- [et_pb_line_break_holder] --> </tr><!-- [et_pb_line_break_holder] --> <tr><!-- [et_pb_line_break_holder] --> <td><a href="https://www.predictem.com/out/BovadaP"><img src="https://www.predictem.com/wp-content/uploads/2018/06/bovada_sm.png"></a></td><!-- [et_pb_line_break_holder] --> <td>2.64 to 1</td><!-- [et_pb_line_break_holder] --> <td>6 to 1</td><!-- [et_pb_line_break_holder] --> <td>12.3 to 1</td><!-- [et_pb_line_break_holder] --> </tr><!-- [et_pb_line_break_holder] --> <tr><!-- [et_pb_line_break_holder] --> <td><a href="https://www.predictem.com/out/MybookieP"><img src="https://www.predictem.com/wp-content/uploads/2018/06/mybookie-sm.png"></a></td><!-- [et_pb_line_break_holder] --> <td>2.64 to 1</td><!-- [et_pb_line_break_holder] --> <td>6 to 1</td><!-- [et_pb_line_break_holder] --> <td>12 to 1</td><!-- [et_pb_line_break_holder] --> </tr><!-- [et_pb_line_break_holder] --></table><!-- [et_pb_line_break_holder] --><div class="widget-footer"><a href="https://www.predictem.com/best-sportsbooks/parlays-odds/">See all Sportsbook Parlays</a></div><!-- [et_pb_line_break_holder] --></div><!-- [et_pb_line_break_holder] --><!-- [et_pb_line_break_holder] --><!-- [et_pb_line_break_holder] --><style><!-- [et_pb_line_break_holder] --> #parlay {border-collapse: collapse;<!-- [et_pb_line_break_holder] --> width: 100%; border: 0px;<!-- [et_pb_line_break_holder] --> font-size: 14px!important;}<!-- [et_pb_line_break_holder] --> #parlay td, #parlay th {<!-- [et_pb_line_break_holder] --> border: 0px;<!-- [et_pb_line_break_holder] --> padding: 8px;<!-- [et_pb_line_break_holder] --> text-align: left;}<!-- [et_pb_line_break_holder] --> #parlay th {<!-- [et_pb_line_break_holder] --> padding-top: 5px;<!-- [et_pb_line_break_holder] --> padding-bottom: 5px;<!-- [et_pb_line_break_holder] --> font-weight: bold;<!-- [et_pb_line_break_holder] --> line-height: 14px;<!-- [et_pb_line_break_holder] --> text-align: center;<!-- [et_pb_line_break_holder] --> color: #000;}<!-- [et_pb_line_break_holder] --> #parlay tr {border-bottom: 1px solid #edeef0;}<!-- [et_pb_line_break_holder] --> .team {font-size: 16px;}<!-- [et_pb_line_break_holder] --></style>
<div style="width:340px; margin: 0 auto;"><!-- [et_pb_line_break_holder] --> <a class="twitter-timeline" data-width="340" data-height="500" data-link-color="#008156" href="https://twitter.com/PredictemPicks?ref_src=twsrc%5Etfw">Tweets by PredictemPicks</a> <script async src="https://platform.twitter.com/widgets.js" charset="utf-8"></script><!-- [et_pb_line_break_holder] --></div>