Ball State Cardinals vs. San Jose State Spartans Pick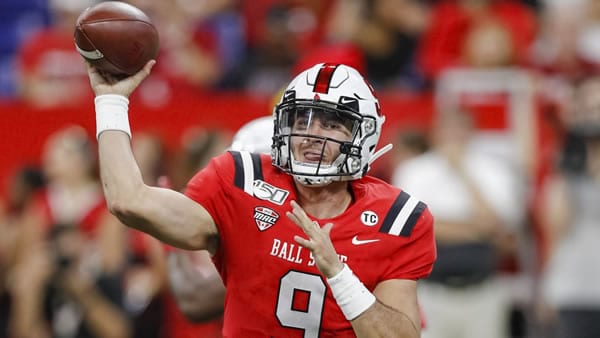 Ball State Cardinals (6-1 SU, 4-3 ATS) vs. San Jose State Spartans (7-0 SU, 6-0-1 ATS)
Arizona Bowl
Date and Time: Thursday, December 31, 2020 at 2PM EST
Where: Arizona Stadium, Tucson, Arizona
TV: CBS Sports Network
Point Spread: BALL +7.5/SJSU -7.5 (Bookmaker - GIANT limits! No hassles when you ask to get paid! Online since the 1990's! ROCK SOLID!)
Over/Under Total: 63
The Ball State Cardinals take on the San Jose State Spartans in the Arizona Bowl on December 31. While this season will be remembered for a lot of other things besides football, the Cardinals and Spartans have both had productive seasons where they can build on for the future. The Spartans are coming off their biggest win of the season, beating conference power Boise State, 34-20, to go to 7-0 and giving their season a real air of quality as Mountain West champions. Ball State looks to knock off their second unbeaten opponent in a row, coming off a huge 38-28 win over Buffalo to win the MAC. Who can get the job done here in Tucson on the 31st?
Can the Spartans Go Unbeaten?
It is impressive how they finished the season, losing the use of their home stadium and having to play in foreign locales against the class of the conference in their last two games—Nevada and Boise, winning both in two-score contests. They are a unique team in many ways. Not a lot jumps off the paper, but they're competent, balanced, and don't typically undermine themselves in a game.
It's not just how well they take care of the ball that sets San Jose apart this season. A defense that excels across all areas is also a significant reason why they're here. In this conference, having a super-stout run defense can go a long way, and San Jose State has been doing great on that front all season. To be giving up less than 18 points per game in this conference is quite a feat. They have a secondary that can do damage, led by Tre Jenkins and his four turnovers. But it's the front-seven that really brings the heat, making it hard to picture a terribly-productive running-attack from Ball State this week. With Cade Hall and Viliami Fehoko combining for 15 sacks, they can also make life really disruptive on opposing quarterbacks.
Spartans' QB Nick Starkel, a former starter for Texas A&M, has fit in very well into head coach Brent Brennan's system. He seemed to hit a new level in their last game, putting up 453 yards against Boise with three TDs. It was shocking to see an offense that has stressed good balance all season explode aerially like that. With Bailey Gaither, Tre Walker, and others, Starkel has some nice targets to work with. On the ground, they are led by Tyler Nevens, who averages over 8 yards a run. Making it all come together is a fine line that has excelled in keeping Starkel protected, as he has been sacked just five times all season.
More Picks: Get are expert picks >>>
Why Ball State is Dangerous in This Spot
One could argue that the MAC lags some behind the Mountain West, but Ball State has played the better teams in the conference, unbeaten since their season-opening loss to Miami-Ohio. Their last two wins makes their quality clearer, a win over Western Michigan, followed by a win over unbeaten Buffalo in their last game. QB Drew Plitt had a big game with three touchdown passes while running in another one. Running back Tye Evans was productive on the ground, while the defense held normally-dominant Buffalo back Jaret Patterson to just 47 yards.
The Ball State offense is analogous to San Jose's in some ways. They have a QB who is usually more efficient than he is explosive, despite some recent detonations from both. The offense doesn't turn the ball over very much. Plitt has a few capable receivers in Justin Hall and Yo'Heinz Taylor. With Caleb Huntley out, Tye Evans leads the running duties, but this might be a game where the Cardinals are forced to take to the air against the stiff San Jose defensive front.
The bulk of Ball State's season consists of one-score games where their slightly-better offense was enough to nip MAC opponents at the wire. It does speak to a certain steadfastness of the Cardinals, namely their ability to manufacture success so often in close games. But the defense that was barely good enough to hold off the teams they have beaten might be challenged to a greater degree in this matchup.
Trying to Break Down the Equation
San Jose is unbeaten and played the better teams. They have a QB in Starkel who has thrived at higher levels. They get a lot out of what they have, and there is nothing about the Ball State defense that would induce fear into the Spartans' offense. After Starkel just put up 453 against the Boise defense, the thought of Ball State being able to hang with San Jose on that front after allowing almost 300 a game this season is daunting. Meanwhile, the Cardinals might not be able to run the ball much and could be ill-equipped in a track meet setting if a full shootout ensues.
Take the Spartans
These games are never all that easy to break down, being that these teams operate in different realms that don't really overlap. In a season where these teams were in a vacuum in their own conference exclusively, it offers an extra challenge. And while it might sound simplistic, San Jose State has been more dominant in a better conference against better teams this season. That counts for something, and I don't think Ball State would be riding a 6-game winning streak if they had played the opponents the Spartans have played. I see the Cardinals' offense getting some good things done, with their defense not being able to hold up their end of the deal. I'll take San Jose State to win and cover the spread.
Loot's Pick to Cover the Point Spread: I'm betting on the San Jose Spartans minus 7.5 points. Make EVERY dollar count in 2021! Start wagering on games at -105 odds which will save you BIG money! Find this beautiful money saving offer at BetAnySports!