Barking Dog Alert: Stanford vs. Washington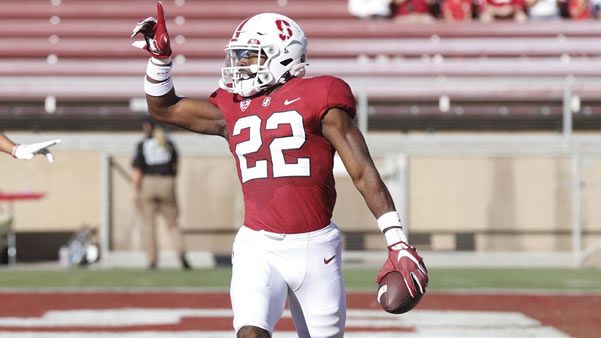 Stanford Cardinal (1-1 SU, 0-2 ATS) vs. Washington Huskies (3-0 SU, 3-0 ATS)
College Football Week 4
Date and Time: Saturday, September 24, 2022 at 10:30PM EDT
Where: Husky Stadium, Seattle, Washington
TV: Fox Sports One
Point Spread: STAN +13.5/WASH -13.5 (Bovada – 50% bonus up to $250!)
Over/Under Total: 60.5
The Stanford Cardinal come up to Husky Stadium on Saturday night for a Pac-12 showdown with the Washington Huskies. These can be close games when these two rivals face off. Stanford already started their conference schedule a few weeks ago in a stutter-start season where this is only their third game, a 41-28 loss to USC that followed an easy warm-up win against Colgate. The Huskies, meanwhile, arrive at this game with a promising 3-0 start, bolstered by a 39-28 win over Michigan State on Saturday. Who will win this big conference battle in Seattle?
Washington in a Good Spot?
For Stanford, it has been a bit of a weird start, a glorified scrimmage against Colgate, followed by a decent-looking showing against what should be a good Southern Cal team. But then they had a week off, arriving for this game with really one real game under their belt. You could say they're rested, but they face a Huskies team that could be feeling pretty good about how the season. With wins over Presbyterian State and Kent State, it's not like they flexed their muscles against good teams, either. But beating the Spartans at home as dogs last week goes a long way.
Granted, the season isn't very old, but the Huskies have been perched nice at home this whole time, feathering their nest. It's a fair amount of time into the season to have not left the confines of home. From training camp right into a quarter of the season spent at home really give a team a chance to dig in and work on some things. They've established some continuity with some new faces in key spots and are in a nice rhythm. The same can't be said for a Stanford team that hasn't really been afforded a chance to get up to speed yet.
Issues for Stanford
Longtime head coach David Shaw has seen the recipe sour during his time at Stanford, and it's not really his fault. They've caught some bad breaks. They hope EJ Smith can be their next big-time back, a feature of this offense that is usually the lynchpin, but we'll see. They have been forced into a more-aerial role at times lately with QB Tanner McKee, back for his second year as the Cardinal starter after a so-so 2021 campaign. One way to look at it is that they're striving for more balance. Another is that they just don't do anything particularly well. And aerially, they're going against a Washington team that attracts a lot of defensive back talent, featuring a stout and playmaking secondary that might force them to run behind a dicey offensive line.
While Stanford can be stalwart against some of the less-effective offenses they face, we'll see what they have for Washington quarterback Micheal Penix, Jr. and his growing cast of contributors. As undermanned as the Cardinal are along the offensive line-of-scrimmage, the story isn't much better on the opposite side of the ball. They might struggle to contain the Huskies' ground attack of Wayne Taulapapa and Cameron Davis. Penix, Jr. has been precise with a 66% completion percentage, along with ten TD throws and just a single pick. Washington receivers Jalen McMillan and Ja'Lynn Polk should push this Cardinal secondary to their limit.
Being Cautious
The dichotomy is strong. Washington's 3-0 start and the win over the Spartans is a strong image, with Stanford out of sight and out of mind. Their 41-28 loss to the Trojans seems respectable enough, but it was really a rout with the Cardinal adding a couple of garbage touchdowns late. Last year, this was a 20-13 game, with two picks by McKee making a big difference. It's not inconceivable that a rested Stanford team can cut out some mistakes and make this one of those all-too-typical conference games that buck the script.
The recipe for the Huskies is far from an automatic one. It can be a delicate balance, where a lot is asked out of their DBs, while the offense pokes and presses their way to an upper hand. If the Huskies bust a leak, it can all come down in shambles. And as conference play commences in its full-fledged form, it's easy to forget the very nature of this conference, where virtually no one gets a free ride. Double-digit bucking of the odds is not an exception. It's the norm.
Take the Points
Washington is the stronger team. Whether they're bankable in the role of the offensively-supreme conference team that lays the smackdown on all the mid-level Pac-12 fodder they face is another issue. I think the run game is something where the Cardinal "D" can roll with the punches and absorb some setbacks, as long as they don't completely melt in the face of Penix, Jr. and the aerial attack. But something tells me they won't. While coach Shaw doesn't have the horses he would want to carry out his ideal M.O., they're a bunch that gives a strong effort, Rested, I see them fighting to the bell and getting out of Husky Stadium with the cover. I'll take the Cardinal in this one.
Loot's Pick to Cover the Point Spread: I'm betting on the Stanford Cardinal plus 13.5 points. Bet your Week 4 NCAA football predictions for FREE by taking advantage of a 100% real cash bonus up to $500 when you use bonus code PREDICTEM on the special offers page at the oldest and most trusted sportsbook on the web: Everygame!