Big Ten Title Odds & Predictions for 2022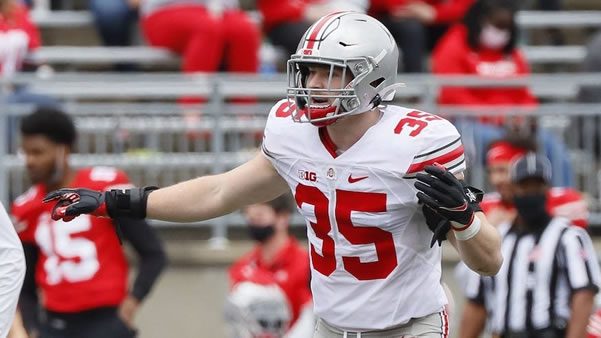 Finally, Jim Harbaugh has a Big Ten title to his name. Will that make it easier to get the next one? Probably not, as Ohio State is going to be more motivated than ever to get its title back after seeing its four-year grip on the Big Ten championship come to an end. Beyond that, the Wolverines are now the team that everyone in the Big Ten wants to take down and don't have a lot returning on defense, which could make it tricky for them to make it through the loaded East.
Still, I'd feel better about taking the Wolverines than most of the West, as the Big Ten championship has basically been one-way traffic since the league realigned itself. The West is 0-8 against the East in Indianapolis, and it's not looking great for the West to finally break through against the East this year either. With the three most talented teams in the league all residing in the East, it's going to be hard to find value outside of it. You'll get great numbers, but they're not all that likely to cash.
We'll try to find value where we can, though; here are my best bets for the Big Ten championship.
Best Bet: Ohio State, -225
Let's be honest: there is absolutely no value here with the Buckeyes. You're paying plenty of juice on a season-long bet, which is never a great thing, and if anything goes wrong and Ohio State has something weird happen, this bet could go down in flames. But in this league, Ohio State is head and shoulders above the rest of the conference in terms of talent and has a relatively manageable schedule this season. The Buckeyes return quarterback CJ Stroud, running back TreVeyon Henderson, and top receiver Jaxon Smith-Njigba, which should make it very difficult for opponents to keep up with the Buckeyes' offense. Note: If you're going to bet futures, you need to place those wagers at an online sportsbook that you trust to be in business at season's end. The answer to this question is Everygame Sportsbook, as they've been in business since the 1980's! Tjhey offer some pretty sweet incentive bonuses too!
And that hasn't even touched the experienced defense, as the Buckeyes return all their linebackers and 75% of their secondary. This should lead to a much stronger defensive effort than Ohio State put forth a season ago. The Buckeyes held seven of their final nine opponents to 17 points after an ugly start on defense, and this year's unit should be a much stronger group from the word go this season. They drew only one road game against the West, and it's Northwestern, and they don't have to travel to Ann Arbor this year. As long as the Buckeyes can get the job done at the Horseshoe, the only real problem on the slate comes on Oct. 29 at Penn State. Win there, and Ohio State should be on track to face Michigan for the Big Ten East title. With the Wolverines coming to Columbus this year, the Buckeyes have a big edge.
Best Value Play: Penn State, +1400
If it isn't Ohio State getting the job done, it's likely going to be Penn State, as the Nittany Lions have both the talent and the schedule to make a real run if they can survive the early part of the season. Penn State won't face Iowa this year, as they've drawn Minnesota, Northwestern, and Purdue out of the West for a very manageable schedule. They do have to play at Michigan, but they go to Ann Arbor off a bye, and they have Ohio State coming to Happy Valley.
The key for Penn State will be getting the offense working properly and figuring out how to handle close games. The Nittany Lions did a fine job in tight games early in the season before Sean Clifford got injured, but after he got hurt against Iowa, Penn State had four losses out of five by four points or less. The defense will also have to grow up rather quickly, as only four starters return from last year's unit. But there's plenty of promise here for James Franklin's squad, and the value is much better at +1400 than taking Michigan at +700 when the Wolverines have to play at Columbus.
Best Longshot Play: Minnesota, +2500
The Golden Gophers really should have been the West champion last season but botched a home game against Illinois that allowed Iowa to claim the tiebreaker. Given what Michigan then did to the Hawkeyes, that might have actually been for the best, but P.J. Fleck's team has the talent to claim the division title this year if it can avoid a head-scratching loss. That's been a staple of Fleck's teams in Minneapolis (see: Illinois and Bowling Green, 2021 and Maryland, 2020), and this year's schedule is full of opportunities for the Gophers to stub their toe somewhere.
That said, Tanner Morgan has the skills to run the Minnesota offense well, and Mohamed Ibrahim is back after going down with an injury in game one against Ohio State. As long as the line can handle losing four starters — never a sure thing — Minnesota's offense should look a lot like the unit that scored 31 on Ohio State to open the year. The Gophers don't see the Buckeyes or Michigan this year, and their most challenging tests will be trips to Penn State and Nebraska over a three-week stretch. Win those two, and the Gophers will likely be playing for the Big Ten West title when they end the year in Madison against Wisconsin.
Team to Avoid: Iowa, +2000
You probably weren't going to touch Iowa anyway at these prices, but just in case you get tempted, don't. First, the Hawkeyes' offense over the second half of the season looked like something that was killed crossing the street, and there is no sign things are any better with Spencer Petras back under center. Iowa is going to be relying heavily on its defense, which isn't a bad thing on its own, but the offense has to be counted on to do something productive. If you watched the Purdue game last year, you know that Iowa's offense isn't trustworthy.
Plus, the schedule is brutal this year. The Hawkeyes say goodbye to Maryland and Indiana from the East and say hello to Ohio State and Michigan, with the Ohio State game taking place in Columbus. They also face a road game at Rutgers, which isn't the pushover it's been in previous seasons. There isn't one sure-fire win at home in the Big Ten this year (maybe Northwestern), which means Iowa will have to be on its game on the road just to make it to Indianapolis. It's just not likely to happen.
Overall Pick: Ohio State, -225
There's just no getting around it: the Buckeyes are the most talented team in the Big Ten and should have little problem rolling through most of the schedule. As long as Ohio State can avoid a setback at Penn State, the Buckeyes should be unbeaten in Big Ten play when they welcome in Michigan after Thanksgiving, which poses a much more challenging hurdle than the West champion likely provides.
Given the one-sided nature of the Big Ten title game, you likely won't do better than this number when we reach December, so even though it's a lot of juice, Ohio State makes sense here. Bet your Big Ten college football futures for FREE by taking advantage of a 100% real cash bonus on your first deposit of $100 to $500 when you use bonus code PREDICTEM at Betnow Sportsbook!