Boise State vs. New Mexico Analysis & Predictions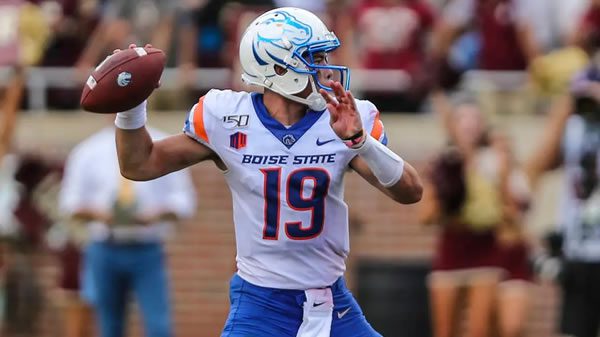 Boise State Broncos (0-1 SU, 0-1 ATS) vs. New Mexico Lobos (1-0 SU, 1-0 ATS)
College Football Week 2
Date and Time: Friday, September 9, 2022 at 9PM EDT
Where: University Stadium, Albuquerque, New Mexico
TV: CBS Sports Network
Point Spread: BSU -17/UNM +17 (Bovada - They let you bet the game live in progress on an amazing platform!)
Over/Under Total: 46.5
The Boise State Broncos come into University Stadium to take on the New Mexico Lobos in a Friday night Mountain West special. This will be the beginning of conference play for both teams. Last week saw the Broncos get off to a rough start with a 34-17 loss to Oregon State on the road. They are back on the road this week, albeit against a team they routed 37-0 last season in the New Mexico Lobos. Last week, the Lobos had a much easier time of it than Boise, flattening an outmanned Maine team, 41-0. They will be facing much tougher company this week. Who can get it done in their conference opener?
Early Signs
When one team faces Maine and the other faces a Pac-12 upstart like Oregon State, it's important to grade on a curve. Suffice to say, however, that the lopsidedness of the loss should warrant some early concern for Boise. Turnovers were rampant, forcing the early hook for QB Hank Bachmeier, as he was replaced by backup Taylen Green, who tried to spark a second-half comeback. For a four-year starter like Bachmeier to get such an early hook, even as he was being ineffective, was a bit startling, and Green's subsequent performance creates what might seem like a bit of a QB controversy. Notable was Green's 102 yards on the ground to go along with what seemed like a pretty decent arm. Nevertheless, the presence of turmoil in the offense isn't a really great sign.
There won't be much to take from New Mexico's romp of Maine. They at least get a version of the same team that beat them badly last year at home and in apparently worse shape. New Mexico QB Miles Kendrick had an efficient day other than two picks. Their running back by committee worked well, with Sherod White scoring twice and freshman Jah'Mar Sanders also getting in the end zone. They look to see more good play from Luke Wysong, who ran in a TD and caught a TD reception, as well. We'll see if this offense can perform close to similarly in a heightened context this week. Last season was a total disaster. Will this season be any different with some new faces to throw at a Broncos "D" that didn't hit the ground running last week?
Not So Fast
Let's face it, under the quarterback play of Bachmeier over the last several seasons, the Broncos have not been at their best. Maybe Green can offer some upside that Bachmeier lacked. And sure, they fell last week in a hail of mistakes, and it wasn't a very good look for the Broncos. But taking on a perennial conference doormat like the Lobos could offer some relief. And if it's, in fact, Green who gets the nod, he could feast on a New Mexico run defense that typically struggles in this particular matchup.
Boise State can be a peculiar team to get a read on, especially as they've settled into this post-heyday mode. They're still among the best of the Mountain West but will oftentimes fall worryingly short, either against the better conference teams they play or teams from better conferences like the Beavers. But that doesn't mean that they won't still drop the hammer on lesser Mountain West teams. And even if you think New Mexico is primed for a little uptick this season, this still looms as a troublesome matchup.
Hope for the Lobos
With an offense that looked to be standing still and was ranked last in 2021 with 235 yards a game, New Mexico faces a tall task in turning that around. Kansas transfer QB Miles Kendrick has Big-12 experience and can run a little. He adds a dash of hope. But that O-line could be easy pickings, and they really need their playmakers to step up substantially. Head coach Danny Gonzalez, whose specialty is defense, returns eight starters and hopes the shutout of Maine wasn't just a mirage and that maybe there is hope after all. Rocky Long's unit should be in good shape and could really make headlines if they get a little more support from the other side of the ball.
More Picks: Washington State vs. Wisconsin Week 2 Betting Predictions
Tough Spot for Lobos?
In their favor is that this one is at home. The mile-high altitude and still-formidable heat of early September offer opponents some challenges in the early part of the season. It's unclear how much it's helped lately, with the Lobos being in a several-year funk, but it's food for thought when laying a bunch of points. It's also a bit of an indictment when your biggest weapon is not offense or defense but just Albuquerque. Sure, week one was nice, and that defense could be better, bolstered by an offense that is something more than a unit stuck in the mud. This is still asking an awful lot.
Take the Road Favorite
An irritated Boise State squad, possibly playing with a new QB who will be eager to make an imprint, all shakes out badly for the Lobos. It's hard enough for them taking on teams like Boise, but when that team has an agenda or an ax to grind, it makes for a double-tough spot. I see the Boise State "D" finding its legs in this one, with the run-game running a bit wild en route to a win and cover for the Broncos. I'll take Boise State.
Loot's Pick to Cover the Point Spread: I'm betting on the Boise State Broncos minus 17 points. Make BSU a +3 underdog by inserting them into a massive 20-point college football teaser only found at Wagerweb Sportsbok!
CFB Big 10 Total of the Year *13-2 Last 15!*

21-4 last 25 plays overall! On a BIG 13-2 run in my last 15 college football selections. Clients have been cashing in BIG. This Big 10 Total of the Year is all set for this coming Saturday. This is a big 4 star rated selection. Grab this Big 10 Total of the Year winner and join this hot streak!