Washington State vs. Wisconsin Odds & Pick ATS 9/10/22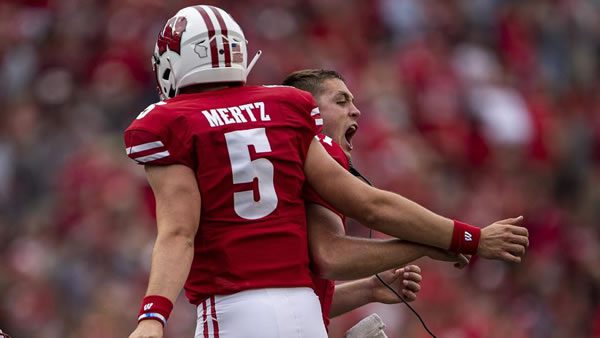 Washington State Cougars (1-0 SU, 0-1 ATS) vs. Wisconsin Badgers (1-0 SU, 1-0 ATS)
College Football Week 2
Date and Time: Saturday, September 10, 2022 at 3:30PM EST
Where: Camp Randall Stadium, Madison, Wisconsin
TV: Fox
Point Spread: WSU +18/WIS -18 (BAS – Did you know you can bet on games at -105 instead of -110? HUGE savings!)
Over/Under Total: 46.5
The Washington State Cougars make the trip to Madison to take on the Wisconsin Badgers in week two action. It's a bit of a strange matchup, as the Cougars last faced the Badgers back in 2007. Both teams took care of business in their week one matchups. Wisconsin showed a lot more dominance with a 38-0 win over Illinois State. Washington State, meanwhile, labored a bit with a 24-17 win over the FCS' Idaho State, not really ever taking full control of the game. Who can rise to the occasion in their first real test of the year?
Cougars in a State of Flux
Jake Dickert came in as the interim head coach for the Cougars last season and returns for his first full year. They also got a transfer in top FCS passer Cameron Ward, whose arrival led to Jayden de Laura transferring. There were some kinks in week one, as is to be expected with a coach who had his first offseason with this bunch, a new philosophy, and so many new faces at the top. There were drops, turnovers, and some key mistakes, like a late, missed 23-year-yard field goal from Dean Janikowski (no relation to Sebastian) that would have helped sew it up late. While they were able to overcome the mistakes against a scrappy FCS opponent, a similar performance this week would make winning impossible and covering very difficult.
At some point, however, the Cougars are hoping for some high-flying aerial acrobatics from Ward. It's not completely clear if they have the guys around him, with no one establishing much star power lately on this offense. RB Nakia Watson, once in the Wisconsin backfield, put up over 100 yards for the Cougars last week, and more of the same would really help give Ward a solid piece. And while receivers like Donovan Ollie, Renard Bell, and De'Zhaun Stribling haven't managed to become stars, they are respectable and experienced contributors who could maybe see a boost with the lively arm of Ward.
Early Signs from the Badgers
A 38-0 home win over Illinois State doesn't mean much, perhaps, but we did see the formation of some things Wisconsin and their backers hope will lead to a big season. QB Graham Mertz was his typical accurate and efficient self on Saturday. He won't be asked to sling it too much in this offense where the run is the name of the game, and the "D" does a lot of the heavy lifting. Illinois State got little to nothing done, and they're hoping that translates to a higher level against the Cougars on Saturday.
Mertz was 14-for-16 last week, connecting well with receiver Chimere Dike, who went over the 100-yard mark. Running back Braelon Alen ran for 148 yards and two TDs, as he gets warmed up for what the Badgers are hoping is another vintage Wisconsin RB season. Again, it's hard to read much into an Illinois State rout, but the "D" was all over the quarterback. They got a 100-yard pick-six from John Torchio and were stout on all fronts.
Bad Spot for the Cougs?
For a bottom-end Pac-12 team trying to find its bearings, a road trip to consistent conference power Wisconsin might not be the preferred path. It's a considerable road trip for one, and just because the Badgers opened last week in Madison shouldn't suggest a muted home atmosphere this week, as it will be among the more hostile they face all season. And when you're a mistake-prone young team trying to work in new players, a solid run-first/defense-heavy team like Wisconsin seems like the opposite of what you want to see. Ward and this whole WSU crew barely has their feet wet and might be seeing their toughest test of the whole season.
More Picks: Crimson Tide at Longhorns Pick ATS 9/10/22
We saw the Cougars struggling to gain a real foothold against a Big Sky team last week. And while those FCS early-season matchups can be faulty barometers with which to measure more-difficult games, one would have liked to see a more-routine win from the Cougars. But whereas they survived mistakes and being off-key on both sides of the ball last week, there will be a fat bill to pay this week if those same things surface.
The Cougars need a very specific set of things to play out to really be in this game. They aren't going against one of the more offensive Big Ten teams this week and can at least know they aren't likely to get walloped in short order. If the defense that didn't look so good against Idaho State last week can just tighten up and give the Badgers something to think about while Ward finds his rhythm with a varied aerial cast, who knows? In any event, it's not the total lost cause. It would be against some of the other premier road opponents from this conference.
Take the Home Favorite
Granted, it's built into the point spread to some degree, but I can't help but think Wisconsin is all wrong for Washington State matchup-wise. When you're trying to work in new pieces and establish a rhythm with so many different faces across all areas and on the coaching staff while coming off a pretty mediocre run lately, a game in Madison isn't what the doctor ordered. I see a deliberately-applied Wisconsin game plan unfolding on both sides of the ball, with the Cougars melting in the second half as the Badgers get the win and cover at home.
Loot's Pick to Cover the Point Spread: I'm betting on the Wisconsin Badgers minus 18 points. Double your bankroll by cashing in on a 100% real cash bonus up to $300 when you use bonus promo code PREDICT100 at MyBookie Sportsbook!