CFB Futures: Oregon BCS & Season Wins Picks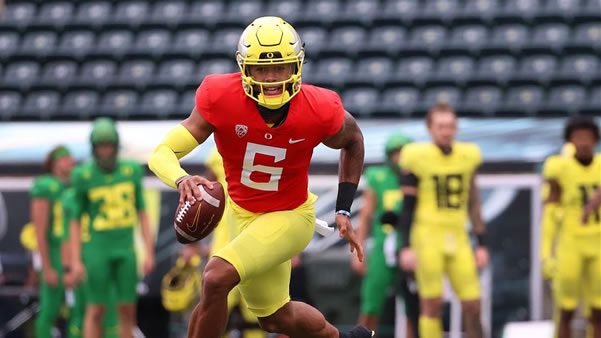 Oregon Ducks Futures Bets
Oregon's Odds to Win the CFP: +3300 (MyBookie.ag)
Ducks Poised for a Breakout?
Last year was a letdown, in a season where it was hard to hold a tough season against a team. First, the whirlwind of canceled, postponed, and moved games was enough to set any team off-center, especially an Oregon one that was working in a lot of new pieces and had a lot of critical holdouts. Their 4-3 mark from last season wouldn't seem to bode well, but there were last-second comebacks, injuries, and weirdness on all fronts. They were getting over losing Justin Herbert, and with Tyler Shough transferring, they turn to Anthony Brown, who shined in his work last season. They also have 5-star prospect Ty Thompson. All their losses were by one score or less, and those using last season's W-L mark as ammo against a good Ducks' season this year could be way off-track.
The Pac-12 hasn't gotten much love from the CFP, and it's really the cost of doing business in this conference. There is a ton of parity and getting through the conference unbeaten is a tall task that no team has really managed to pull off recently. With one conference loss, the Ducks made it to the CFP in 2014, losing in the championship game. It's just that the route is a bit more difficult for a Pac-12 team. That's not to say the Pac-12 is more dangerous than the SEC, but it's perhaps deeper with more teams realistically capable of springing upsets in what might be the most chaotic conference in college football.
The Ducks will have ample opportunity to build a resume befitting a bid into the College Football Playoff. But maybe it's too much of an opportunity, and there are simply too many landmines. Week two of the season finds them in Columbus taking on Ohio State. Then begins their conference schedule, with home games against Arizona, Cal, Colorado, Washington State, and Oregon State. That seems doable. But road games against Stanford, UCLA, Washington, and Utah present some tough challenges.
One figures that Ohio State will be tough, despite some critical departures, and that's a tough road-spot regardless. Their conference schedule, especially at home, seems a bit on the cushy side. Those road games are dangerous. It's just a tough proposition. Head coach Mario Cristobal has gotten the Ducks on the cusp before, but the margin for error is small. One-loss teams from the SEC or a one-loss Clemson team will likely have the edge over a one-loss Oregon. You need perfection. Or you need near-perfection and to catch a break. And that's just to get into a position to win two games against the best teams in the nation.
Mario Cristobal is coming off another top ten recruiting class with a ton of compelling offensive talent. It's not beyond the scope of sound reason that he can get the Ducks back on a CFP trajectory. If their offense takes off under coordinator Joe Moorhead's RPO system and they can get more consistent QB play, the offense has a chance to be special. They return a bulk of their line. The defense took a step backward last season—a big letdown considering their strong recruiting the last few years in that area. Still, maybe incoming D.C. Tim DeRuyter can make some headway. All in all, +3300 for the Ducks can be justified for those looking for a viable mid-range choice. The path there isn't terribly easy-to-picture, but they possess enough of a danger-potential to give the choice some decent value.
How Many Games Will the Ducks Win?
Regular Season Wins for the Oregon Ducks Over 9 -130, Under 9 +100 (MyBookie)
The line in the sand is a 9-3 record, with the choice being whether you think they will do better or worse than that. And better is slightly favored at -130. This is right on-point. A tough season wins total line where the argument is just what they designed—where either stance is justifiable. There is that road Ohio State game early in the season. Maybe the timing of that game favors Oregon a bit. But all those conference landmines loom.
Again, the stacking of three straight stellar recruiting classes could manifest in such a way where this nine-win total is a breeze by season's end. The shuffling at QB isn't comforting and whether Brown or Thompson can be stars is still up in the air. But it does help to have talent around them, guys who seemingly have been on this team for ten years—contributors like CJ Verdell, Jaylon Redd, Travis Dye, and Johnny Johnson, III. Injuries and inconsistent play caused this offense to hit a wall last season after a promising start. To go "over" they will need a better season. They should get one.
A disruptive defense of increasing stoutness in 2019, the Ducks couldn't follow up last season, and coordinator Andy Avalos is now gone. DeRuyter is established for turning around defenses. He has the tools with which to work, the only question being whether they can adjust to his philosophies in time to hit the ground running. Even sub-.500 teams in this conference can maul you with their offense on the right day. Throw in the Buckeyes game, and this defense will have its work cut out, to be sure.
Oregon Ducks Season Predictions and Final Thoughts:
An over/under season wins total bet is a numbers game, not an informal approximation of how well you think a team will do. Sure, over nine wins seems doable. But let's say they drop that early-season road game at Ohio State. For "over" to win now, you need 10-2. So now they have to go the whole rest of the season and lose just once more? That's a tough ask. And that doesn't mean they're not among the conference elite. But in the Pac-12, you have to be really good to get through with just one loss. I think the betting line of "under" 9 wins at even-money is the better value. You can bet this pick for FREE by scoring a 100% real cash bonus on your first deposit up to $300 at MyBookie! (Must use this link to sign up and enter promo code PREDICT100 to get the extra bonus credited!)