[et_pb_dcsbcm_divi_breadcrumbs_module hide_homebreadcrumb="off" homebreadcrumbtext="Home" separator="sep-raquo" hide_currentbreadcrumb="off" homebreadcrumborientation="left" _builder_version="3.8″ fontsbreadcrumbs_font="Lato||||||||" fontsbreadcrumbs_text_color="#000000″ fontsbreadcrumbs_font_size="15px" fontsbreadcrumbs_line_height="16px" fontsseperator_font="||||||||" fontsbreadcrumblinks_font="||||||||" fontsbreadcrumblinks_text_color="#2567cf" custom_margin="25px|||" custom_margin_phone="30px|||" custom_margin_last_edited="off|desktop" custom_css_main_element="font-family: Helvetica Regular;" global_module="3641″ saved_tabs="all"][/et_pb_dcsbcm_divi_breadcrumbs_module]
Cincinnati Bearcats vs. UCLA Bruins Total Pick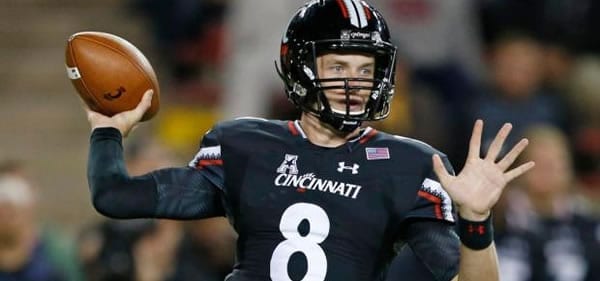 Cincinnati Bearcats (0-0 SU, 0-0 ATS) vs. UCLA Bruins (0-0 SU, 0-0 ATS)
College Football Week 1
Date/Time: Saturday, September 1, 2018 at 7PM EDT
Where: Rose Bowl, Pasadena, California
TV: ESPN
Point Spread: CIN +16.5/UCLA -16.5
Over/Under Total: 62
The Cincinnati Bearcats take on the UCLA Bruins in week one action from the Rose Bowl on Saturday. It's not Clash of the Titans exactly, and it's a random matchup, with this being their first-ever meeting. But it's an interesting matchup pairing two hopeful programs coming off some recent hard times. Not to start hitting you with the numerals from the top, but the Bearcats are on the heels of consecutive 4-8 seasons where they've been murder at the betting windows. UCLA is limping off a 10-17 mark over their last two seasons and look for an upturn moving forward.
3 Season Win Total Picks for 2018
Second-year Cincy head coach Luke Fickell, who made his bones as an Ohio St. assistant, didn't have much success last season and after beating Austin Peay, they only won once more at home all season, with all their wins by a combined six points. While this seems like a daunting road assignment in week one for a team trying to find its bearings, UCLA's recent defensive woes make it somehow seem doable. Granted, Cincinnati has been crescendoing downward the last several seasons, but some good things are supposed to manifest.
A Contrast in Styles
Chip Kelly promises to bring that rapid-fire, down-your-throat approach on offense for UCLA, as he returns to the ranks where he had massive success. Defense? Yeah, they're gonna work on it. But this is about suffocating opponents with the offense and running opposing defenses into the ground. The "D" stands out as a major liability. Last season, they yielded close to 300 yards a game on the ground. That side of the ball didn't figure to get a ton better. The good news for them is that if Cincinnati's offense is even average, that would be a significant upgrade from where the Bearcats were the last few seasons.
Even as of press-time, UCLA hasn't announced a starting QB. Kelly hasn't really had a chance to make a substantial impact on bringing in his own people yet, though some game-changing freshmen could emerge. But in this business of covering the numbers, you need the beef up-front to carry the day, or it's all window dressing. Kelly should be able to get the Bruins on the right track, but it's not likely to be a drastic ascent to the rarified air he once occupied.
Cincinnati put up ten or fewer points last season four times and had a ton of issues. Fickell is more of a defensive guy, and even a so-so offense would be unexpected from third-year starter Hayden Moore and Company—an altogether dull bunch. Moore has shown flashes, and his arm and legs are increasingly becoming weapons, but he's unlikely to develop into a "changer of fortunes". Stylistically, it's doubtful the Bearcats suddenly turned into a team that can run the ball well and ground down their opponents—the kind of teams that will give the Bruins a lot of problems this season. Like the Bruins, the Bearcats have iffy big boys manning the trenches. This is a spot where UCLA could be made to look better than they really are.
Teams on the Rise?
This could be a case where signs on paper lead one to a conclusion that doesn't pan out. Cincinnati has a high-price head coach in his second season who is expected to start putting things together. UCLA gets Chip Kelly fresh off two NFL gigs back to a conference he set on fire not too long ago. Do the still-prevalent growing pains, however, outweigh the causes for all the optimism? In both cases, that could be the case. Cincinnati has a lot of the same faces and experience doesn't always equal success.
Meanwhile, Kelly didn't exactly hit the ground running even with Oregon. Ideally, one would like to see what each team looks like first, but alas, it's week one. We are a bit in the dark.
Take the Under in the Cincinnati-UCLA Game
The spread is 16.5, which might seem big. But the Bearcats are crossing the country in the first-ever meeting with a team that figures to put up points. But not knowing if Kelly has the horses to hit the ground running makes one rightfully-hesitant to come out of the gates laying the significant number. Even worse-case scenario, the Bearcats figure to have some increasing defensive prowess. Their pass-rush and line, in general, is suspect, but they have some playmaking components that could upset a still-developing Bruins' offense that is going through massive transition.
I see two teams groping for success to start. Like newborn deer, they're eventually gonna run, but there's gonna be a lot of flopping around first. The Bearcats' defense might show up a little. Their offense, well, that's a different story, even against a UCLA defense that couldn't stop a nose-bleed last season. There will be points, but I see a 31-17, 34-17, 30-16 type of affair and therefore, under 62 points at Bovada.
<div style="width:340px; margin: 0 auto;"><!-- [et_pb_line_break_holder] --> <a class="twitter-timeline" data-width="340" data-height="500" data-link-color="#008156" href="https://twitter.com/PredictemPicks?ref_src=twsrc%5Etfw">Tweets by PredictemPicks</a> <script async src="https://platform.twitter.com/widgets.js" charset="utf-8"></script><!-- [et_pb_line_break_holder] --></div>
<div class="widget105"><!-- [et_pb_line_break_holder] --><h3>Biggest Sportsbook Bonuses</h3><!-- [et_pb_line_break_holder] --><!-- [et_pb_line_break_holder] --> <!-- [et_pb_line_break_holder] --><div class="widgetlist"><!-- [et_pb_line_break_holder] --> <div class="col1"><!-- [et_pb_line_break_holder] --> <img src="https://www.predictem.com/wp-content/uploads/2018/04/bovada.png" width="150" alt="" /><!-- [et_pb_line_break_holder] --> </div><!-- [et_pb_line_break_holder] --> <div class="col2"><!-- [et_pb_line_break_holder] --> <span class="list">50% Cash</span><br><!-- [et_pb_line_break_holder] --> <span class="list">5x Rollover</span><!-- [et_pb_line_break_holder] -->  </div><!-- [et_pb_line_break_holder] -->  <div class="col3"><!-- [et_pb_line_break_holder] --> <button class="btn-widget" href="#">Review</button><!-- [et_pb_line_break_holder] --> </div><!-- [et_pb_line_break_holder] --></div> <!-- [et_pb_line_break_holder] --><!-- [et_pb_line_break_holder] --><div class="widgetlist"><!-- [et_pb_line_break_holder] --> <div class="col1"><!-- [et_pb_line_break_holder] --> <img src="https://www.predictem.com/wp-content/uploads/2018/04/intertops.png" width="150" alt="" /><!-- [et_pb_line_break_holder] --> </div><!-- [et_pb_line_break_holder] --> <div class="col2"><!-- [et_pb_line_break_holder] --> <span class="list">50% Cash</span><br><!-- [et_pb_line_break_holder] --> <span class="list">4x Rollover</span><!-- [et_pb_line_break_holder] -->  </div><!-- [et_pb_line_break_holder] -->  <div class="col3"><!-- [et_pb_line_break_holder] --> <button class="btn-widget" href="#">Review</button><!-- [et_pb_line_break_holder] --> </div><!-- [et_pb_line_break_holder] --></div><!-- [et_pb_line_break_holder] --><!-- [et_pb_line_break_holder] --><div class="widgetlist"><!-- [et_pb_line_break_holder] --> <div class="col1"><!-- [et_pb_line_break_holder] --> <img src="https://www.predictem.com/wp-content/uploads/2018/05/gt-bets.png" width="150" alt="" /><!-- [et_pb_line_break_holder] --> </div><!-- [et_pb_line_break_holder] --> <div class="col2"><!-- [et_pb_line_break_holder] --> <span class="list">150% Cash</span><br><!-- [et_pb_line_break_holder] --> <span class="list">4x Rollover</span><!-- [et_pb_line_break_holder] -->  </div><!-- [et_pb_line_break_holder] -->  <div class="col3"><!-- [et_pb_line_break_holder] --> <button class="btn-widget" href="#">Review</button><!-- [et_pb_line_break_holder] --> </div><!-- [et_pb_line_break_holder] --></div><!-- [et_pb_line_break_holder] --><!-- [et_pb_line_break_holder] --><div class="widget-footer"><a href="#">See all sportsbook bonuses</a></div><!-- [et_pb_line_break_holder] --> <!-- [et_pb_line_break_holder] --></div>