College Football Pick: Illinois vs. Wisconsin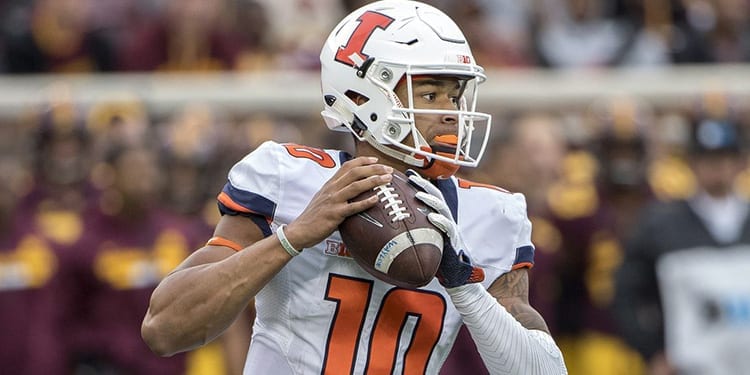 Illinois Fighting Illini (3-3 SU, 3-3 ATS) vs. Wisconsin Badgers (4-2 SU, 1-5 ATS)
College Football Week 8
Date and Time: October 20 at 12pm ET
Where: Camp Randall Stadium
TV: FS1
By: Ted Walker, College Football Handicapper, Predictem.com
Point Spread: ILL +25/WISC -25
Over/Under Total: 56.5
There is clearly a very elite tier in college football these days and then just a bunch of good, but ultimately flawed teams. The Wisconsin Badgers proved they are among the pretender group during a 38-13 drubbing last weekend in the Big House. The Badgers get a chance to stay on track in terms of winning the Big Ten West this weekend as they welcome Illinois to Camp Randall. UW has beaten up on its neighbor to the south in winning nine of the last ten meetings in the series but the Illini have played well enough to go 5-5 with the points over that span. Wisconsin got a 48-3 win against Illinois in Madison in 2016 and that was the only time in the last ten meetings where the Badgers won by a margin of at least 25 points. With Saturday's line set at 25, it will take a remarkably clean effort for Wisconsin to get what would only be their second ATS win of this season.
Free Pick: Colorado vs Washington
Run, Run, Run
If you take a nap around kickoff, you might miss most of the first half as both of these teams are going to keep the clock moving with run-heavy schemes. Illinois enters the week 22nd in rush offense with Wisconsin at 6th in the nation. That marks a slight edge to the home team but the more important factor will be impact on the clock. Illinois can stay in the game to a large degree by limiting the amount of possessions Wisconsin has through the game. The Badgers should see success against the 105th ranked run defense of Illinois but if they cannot score quickly, it will be tough to push past that 25-point threshold. The Illini should be able to move against a Wisconsin defense that has regressed to 69th against the run and if they can get to 14 points themselves, that will put a lot of pressure on Wisconsin to be efficient. The Badgers average 30.3 points per game but without a ton of quick-strike potential, UW would have to score touchdowns on a majority of what might be as few as nine or ten total possessions. If Wisconsin comes out flat, turns the ball over or has to settle for field goals, Illinois could be a comfortable cover deep into the second half. A quick game hurts Wisconsin's chances to cover.
One-Trick Team
Wisconsin was a playoff hopeful to start this season because they were supposed to be one of the best offenses in the Big Ten. The Badger defense was going to be young but they were going to be allowed to develop with the offense covering their backside. That has not materialized however and much of the offensive inconsistency is due to a lack of progression by QB Alex Hornibrook. The third-year starter showed he is a shell of himself under pressure last weekend, going 7-for-20 passing for just 100 yards with two interceptions. A deep Badger wide receiver corps has not become a strength with A.J. Taylor and Jake Ferguson the only two consistent performers. That Wisconsin offense is limited to whatever Jonathan Taylor and that offensive line can produce. Taylor has seen a boatload of success in running for nearly 1,000 yards already while averaging 6.6 yards per carry but this offense has a very real ceiling with Hornibrook struggling to make big plays in the pass game. That is giving the defense very little room for error and it has shown in their rankings which are now outside the top-40 in rushing, passing and total yards allowed. Outside the run game, Wisconsin simply isn't as good as they have been in recent years and it is hard to imagine they are 25 points better than anyone at the moment.
The Illini Angle
I already stated that Illinois likes to run and they should be able to stay on track against Wisconsin. The Badgers allow 161 rushing yards per game and they are fresh off giving up 10 yards per carry to Michigan QB Shea Patterson. Illini QB A.J. Bush is a better runner than he is a thrower and he has rushed for 282 yards with three touchdown runs. Wisconsin is giving up nearly five yards per carry and Illini backs Reggie Corbin and Mike Epstein are both north of six yards per tote. That duo has eight rushing scores as well. The Illinois wide receivers have not shown much big play potential but they will be valuable underneath if Illinois can use that ground game to set up short third down looks. From a defensive perspective, there isn't much to write home about as Illinois is 124th of 130 teams in total yards allowed. They have won the turnover battle in five of six games this season and Jartavious Martin has had a nice year with three interceptions. Jonathan Taylor has seen fumble issues in the past and while Hornibrook has cleaned up his interceptions for the most part, he still offers the defense a chance or two to make a play each week. If Illinois can simply stay even in the turnover battle, it will add to their ATS chances.
It is a near universal opinion that Wisconsin is going to bounce back this week - Illinois is still -2700 on the moneyline - but the Badgers have not won an ATS decision in any of their last five at home. Illinois allowed 611 yards to Purdue, including 18 plays that went for at least ten yards but the Boilers are a better offense than the Badgers right now. Wisconsin comes in at 109th in passing and that should let Illinois focus on limiting Taylor and the run. Now, they won't probably be able to shutdown the Heisman contender completely but simply making that Badger run game grind out full field drives will help keep that clock rolling and give them the ability to keep in touch.
Wisconsin has the worst of the injury issues as DL Isiahh Loudermilk is out with S D'cota Dixon listed as questionable. Both are solid contributors on the Wisconsin defense with Loudermilk's absence further handicapping a lackluster Badger pass-rush that has only netted eight sacks.
Lovie Smith was correct in categorizing Illinois 46-7 loss to Purdue as a collapse and they had a similar letdown in the second half against Penn State. The good news is that Wisconsin hasn't shown the four-quarter offensive ability that the Boilers or Lions possess. Look for a similar outcome to when Nebraska visited Madison a couple of weeks back. Wisconsin showed enough to win 41-24 in that one and we should expect a similar outcome here with Illinois able to score enough to get an ATS win. Im calling for a 38-20 Wisconsin win.
Your Name's Pick to Cover the Point Spread: Illinois